They say that the three most mistrusted professions in the world are car salesmen, real estate agents, and lawyers. Now, being a real estate agent myself, I wouldn't necessarily agree that all real estate agents are lowlifes. There are a lot of good agents – great agents, in fact. Of course, there are a lot of very bad agents as well. As for lawyers I can't make generalizations, since I have the world's greatest attorney, Jay Wheless, here on the Outer Banks. And until this recent experience of buying a car, I would have said that there are a lot of good car salesmen, too, because I have been fortunate to have a relationship with Hal Chappell at Biggs GMC in Elizabeth City (Hal is wonderful!) But after this experience I have to believe that the good car salesman is an exception. I think the majority of them must be grown in pods where subliminal sleazy sales training techniques are endlessly broadcast during the cocooning process. When mature, these salesmen and women burst forth in all their glory, fully prepared to do whatever it takes to bully the customer into buying a a new car.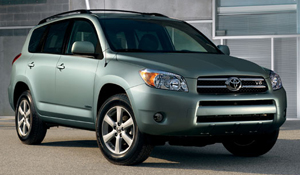 My search for a Toyota Rav4 took me to five different dealerships in three different states. The closest North Carolina dealer is in Elizabeth City, which is an hour away from the Outer Banks, so I decided to call first and see if they had what I was looking for. I got some yahoo on the line who talked in circles and couldn't give me a straight answer to any of my questions, so I decided I'd better make the hour drive and talk to someone face-to-face. "So, Ted (not his real name), what hours are you open?" "I'll be here until eight tonight," he replied. I tried again: "Well, I don't know if I can come tonight – what are the dealership's hours of operation?" "I'll be here tomorrow and Wednesday," he answered. Getting frustrated now, I became just a tad sarcastic: "Let me put it this way, Ted, is the dealership open seven days a week?" "I don't work seven days a week," he said. I gave up. "OK, Barbie – see you when you come in," he said (I had introduced myself as Barbara). And this guy really thinks I'm gonna buy a $24,000 CAR from him?????
Time for Plan B. There are multiple Toyota dealers in the Tidewater area of Virginia, which is only an hour and a half from the Outer Banks. I hit the phones again. The first dealer didn't have what I was looking for and didn't seem to have any interest in locating a car from another dealer, so I tried a second dealer. This salesman was a lot more helpful and told me he was sure he could locate a vehicle that would be to my liking, so off I went to Virginia Beach. I drove an hour and a half to find out they only had one car in stock and no idea when more would be arriving. To his credit, over the next couple of days this salesman did a search of the entire region and of the cars due to arrive from overseas. But he could never get straight what I wanted. He would call to tell me he'd found a car, but each time I would discover that something didn't meet my specs – either it was a 4 cylinder rather than a V6, or it was 4 wheel drive rather than 2 wheel drive, etc.
I finally decided that it made more sense to buy a car in Florida, since I am moving there soon and was scheduled to be in Sarasota this week. I found an area dealership online and again called to hook up with a salesperson – this time a woman I'll call Lola. I arrived on a Friday evening in the midst of a Sale-A-Thon. Salespeople spilled out of the showroom floor and loitered in front of the entry like hawks circling for the kill. Inside, more salespeople hovered – there must have been more than a dozen behind glass-fronted partitions or standing around the sales floor. I connected with Lola and we went to her cubicle, where the games began. Again, they did not have the model I preferred, but by this time I was willing to compromise – I'd take the 4 cylinder rather than the V6, but I preferred the Everglades Metallic color, rather than Silver Metallic they had in stock. I asked them to see if they could find me one in Everglades and was led to believe they would search the Region, so the negotiations began in earnest.
Over the next three hours I was left sitting alone five separate times while Lola "checked with her sales manager." At one point, while waiting for her to return, I decided to call the people who were going to buy my GMC Yukon to make sure we still had a deal before I signed on the dotted line for a new car. Lola sauntered over, saying, "Done with your phone call now?" as if I had been keeping HER waiting. On another occasion some guy walked into the cubicle and interrupted our conversation, trying to convince me that he could save me money on taxes if I traded in my Yukon and let them handle the sale to my buyers as a pass-through. Of course, he had no idea that my buyers were in North Carolina, since he had not been involved in the discussions thus far. It turned out he was from Toyota International, on site to do some training, and Lola didn't even know his name.
By now, more than a little aggravated, I asked to see the factory invoice. Since I'd been to other dealerships, I knew what a factory invoice looks like. But when they printed out the invoice for me it bore absolutely no resemblance to other factory invoices I'd seen. It was obviously a manufactured document. That's when I asked whether they'd found a car in the Everglades color and Lola said her sales manager had told her to try to sell me the Silver one first, since that's what they had in stock. Now there's good old American customer service. Let's not give the customer what they want; let's try to cram what we have in stock down their throats. I insisted she go back to the sales manager and tell him I was only interested in the Everglades color. Suddenly, magically, they could get me the Everglades model. That's when the sales manager stepped in to close the deal. He actually sat down in Lola's chair and made her stand against the wall. He was a nice enough guy, but by that time I felt so disrespected that I backed off and said I had to think about it some more before I made a final decision.
The next day I got the phone book out and looked for other dealerships. I discovered that Gettel Toyota of Bradenton was just down the road, so I headed off to do battle once again. To my surprise, my reception and treatment at Gettel was much different than previous experiences. I met with the Sales Manager, Todd, who treated me fairly and with respect. I told him what I wanted and within 10 minutes he had located a suitable vehicle at a Tampa dealership. He didn't play games with me and I didn't grind him down too much on the price. I got a good deal and he made a fair profit. The whole process took no more than 30 minutes from the time I walked in the door. I pick up my brand new Rav4 next week and I couldn't be happier. Maybe all those other dealerships should take lessons from Gettel. I'll be recommending them for a long time to come.