I sell real estate. I've been doing that for the past 10 years on the Outer Banks of North Carolina. It's not my profession of choice – I just sort of fell into it (you can read more about that on my "About" page). But it's been good to me and I've invested in property here and there.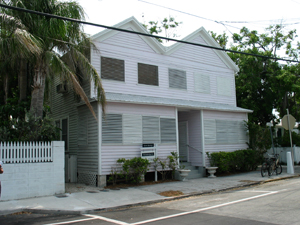 One of my more recent Key West Real Estate projects is an old house (circa 1870) in Key West that I bought this past July. Over the years it has been a single residence, a church, a school, and eventually it was converted to its current configuration of three legal apartments. The place has been uglified over the years – old metal shutters installed across the front and the exterior painted a pale pink that has long since faded to nothing. But where others saw ugliness, I saw opportunity.
Since I'm retiring from real estate and leaving the Outer Banks at the end of the year anyway, the plan was to sell my home here and use the proceeds from that sale to restore the exterior of the Key West property to its former glory – then sell it at a profit. In the meantime, there were existing tenants living in all three apartments (all of whom wanted to stay, according to the Seller), so I would be receiving income from the property while I restored it.
There's an old saying, "If you think God doesn't have a sense of humor, tell him your plans." On the day of closing, all three tenants gave their notice for one reason or another. Although I hadn't planned to re-do the INTERIOR of the building, it became painfully apparent that I would have to do the inside if I wanted to maximize the rents. In the meantime, however, the real estate market on the Outer Banks ground to a halt and I couldn't sell my house. What to do?
Fortunately, I have a high tolerance for change. If you can't get something done one way, shift gears and go at it from another direction. So, I dipped into what little savings I had, rolled up my sleeves, and got started. This is my second working trip to Key West. I've been sleeping on the floor of each of these apartments as I restored them, making do with a sleeping bag and a coffee pot. It's not the easiest way to go, but it's cheap, and it ensures I'll find out what is wrong with each apartment. One thing you need when you restore a 125 year old building is patience. Another is flexibility. Every time I tore something apart I found three more unexpected problems. But I am happy to say that all three are now done and rented out. The outside is still ugly but the inside is cute as a button. Here are a couple of photos showing before and after shots, apartment #2:
I'm on my way home in a couple of days. I'm exhausted and ready for a couple days of rest. But the Universe works in mysterious ways, as long as you are open to receiving the message it sends. My "plan" was to move to Key West when I sold my house on the Outer Banks. But now, having spent a considerable amount of time in Key West over the past few months, I realize that it is not my cup of tea. Too much a party town for me – and too transient. So I've listed the Key West property for sale and I'm reverting to my backup plan to move to Sarasota, Florida. Sarasota was my second choice and I think it will be a much better option for me – unless of course the Universe intervenes once again. Which is OK with me – as long as I stay in the moment I can enjoy the ride!