Is there anyone out there old enough (like me) to remember the classic movie "The Long, Long Trailer," starring Lucille Ball and Desi Arnaz? Well, for the young pups, let me explain. The storyline centers around a cross country road trip in a loooong pull-behind trailer. In one classic comedic scene, Lucy falls out the door of the trailer into the mud; in another she is bounced around the inside of the trailer as she tries to fix dinner while Ricky drives. But the funniest moment of the film is when they are going up the Rockies. Prior to starting up the mountains, Desi demands that Lucy get rid of the 'pretty' rocks that she had collected throughout the trip. Unable to bear parting with them, she hides rocks inside drawers and cabinets and tells Desi she has thrown them out. Well, you can just imagine what happens when he starts up that steeeeeep, steeeeep slope.
Now, you may be asking what an old movie has to do with this post. It's quite simple. I have been a rockhound from the time I was old enough to pick up my first pebble. I carry home rocks from every place I visit. I dig geodes from hillsides, chip crystals out of boulders in quarries, and hunt for fossils in muddy creeks. This has been a constant source of amusement to my family. Although I have moved more than 30 times in my life, I cannot bring myself to part with my gems and minerals. Boxes of rocks were stored at my sister's house when I lived in Puerto Rico, causing my brother-in-law to grouse incessantly whenever the heavy cartons had to be moved. When I sold my house in North Carolina and moved to Florida I stored most of my personal belongings at my Dad's house – yes, even the rocks…especially the rocks. So I can relate to the Long, Long Trailer. Like Lucy, I would not have been able to get rid of the rocks.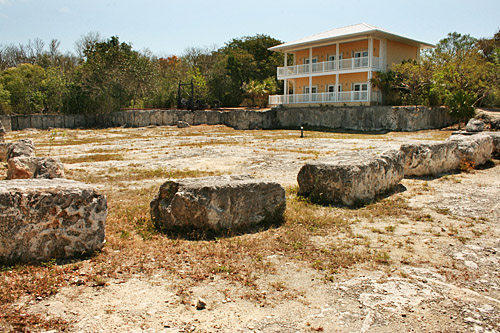 Now that you know this tidbit about me, you can just imagine my excitement when I discovered Windley Key Fossil Reef Geological State Park in the Florida Keys. The site is actually three old quarries where limestone was mined between the early 1900's to the early 1960's. The limestone found at these quarries is actually a fossilized coral reef that formed during the higher sea levels of the last interglacial episode, approximately 100,000 to 125,000 years ago. With a sea level approximately 25 feet higher than present, most of the Florida Keys were underwater. When the waters receded, the reef was exposed. Over eons, acid rain fell on the exposed coral, dissolving the uppermost layer into a sediment that flowed into the porous surface, cementing the material into a moderately hard limestone matrix that is still about 30% fossilized coral.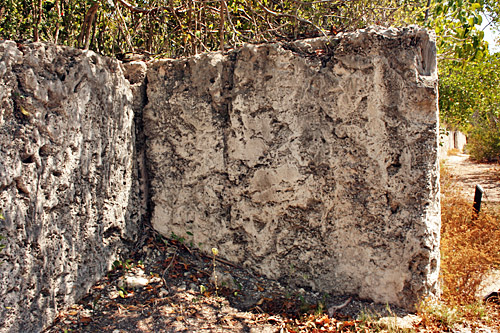 When Henry Flagler decided to build the Florida East Coast Railway from Miami to Key West, he needed a source of fill for the railroad bed and bridge approaches. He purchased the land where the quarries are now located in 1908 for $852.80 and began mining the limestone. By the time the railway was finished, the limestone was being polished into "Keystone," a decorative building stone. This keystone was used on several buildings throughout the U.S., including the St. Louis Post Office, an altar in a New York City chapel, and in the construction of the Hurricane Monument, just a few short miles away in Islamorada.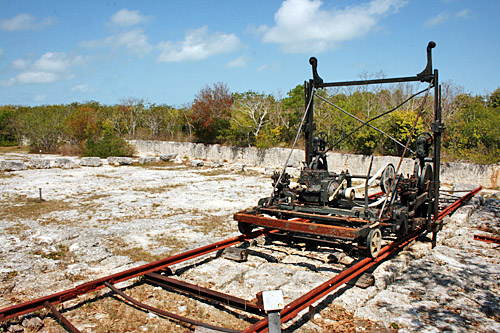 Although the quarries are no longer active, they have been preserved as a geological treasure. For hours, I wandered along trails leading along the rim and into the belly of the pits, viewing perfectly preserved fossilized specimens of ancient coral animals exposed by the clean cuts of the quarry machinery. I easily identified star coral, porous coral, and brain coral in the vertical quarry wall and am happy to report that I restrained myself from picking up a sample – these days I am trying to simplify my life and eliminate extraneous stuff. My family would probably be pleased to hear this; I suspect my father would be especially happy if I decided to get rid of the boxes of rocks that clutter his spare bedroom closet. But, one step at a time…..
Guided tours are available at 10 a.m. and 2 p.m., Thursday through Monday, for $2.50 per person (reservations recommended, call 305-664-2540). Visitors who prefer to follow the self-guided trails of the quarries and hammock pay a $1.50 fee, which may well be the best bargain in the Keys. The park is closed on Monday and Tuesday. Windley Key Fossil Reef Geological State Park is located on Windley Key at mile marker 85.5 near Islamorada.