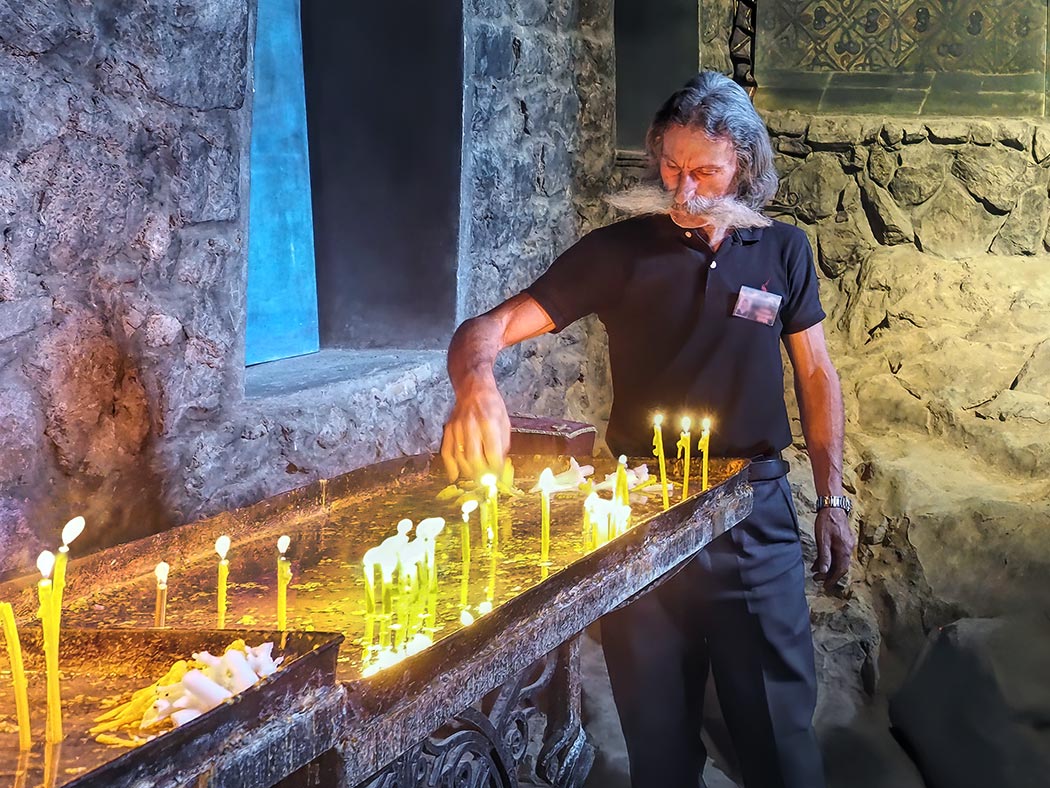 In the dim light of Saint Astvatsatsin chapel at Khor Virap Monastery in Armenia, I carefully picked my way over the uneven stone floor. I was concentrating so hard on where to put my feet that I didn't look up until I reached the center of the candlelit cavern. Having visited pilgrimage sites all over the world, I wasn't surprised to find someone lighting a candle. What astonished me was the man doing it, specifically his wide mustache. I could barely look away. He was just one of thousands of people who make their way to this famous pilgrimage site each year.
At the end of the second century, King Tiridates III of Armenia imprisoned Gregory the Illuminator in a cave on this site. Gregory languished in the small stone hole for 14 years, until the king fell ill and asked for Gregory's help. He miraculously cured the king, who then converted to Christianity and became an ardent follower of Gregory. In the year 301, King Tiridates III declared Armenia to be a Christian nation, the first nation in the world to do so.
A small chapel was built over the cave site in 642. It was rebuilt and enlarged multiple times, until 1662, when St. Astvatsatsin (Holy Mother of God) chapel was built around the ruins of the old chapel and the monastery. Today Khor Virap Monastery is considered to be one of the most important pilgrimage sites in Armenia, some say in the world. It is also a popular site for traditional Armenian weddings and baptism ceremonies; indeed, there was a baptism occurring on the day I visited.
You may also enjoy:
Magical, Mystical Pena de Bernal, Mexico
Grave of Princess Grace in Saint Nicholas Cathedral, Monaco
Miracle Cure in the Thermal Baths of Banos, Ecuador