I sat at the foot of Pena de Bernal, the world's third tallest monolithic rock, and concentrated on what I felt. Residents in the tiny town of Bernal de la Pena insist that the formation, which is exceeded in height only by Gibraltar and Sugarloaf Mountain in Brazil, has mystical powers. Some say it exudes a magnetic force, others say its energy comes from giant Amethyst crystals buried deep within its core. One legend insists there is a hidden cave within Pena de Bernal where a giant snake sleeps. Anyone who can get past the snake and into its secret lair will discover riches and learn the origin and destiny of the human race. What we do know for sure is that this eroded volcanic plug was formed in the Jurassic period 180 million years ago, but a giant thumb of cooled magma does not explain the strange and mysterious things that regularly occur in Bernal de la Pena.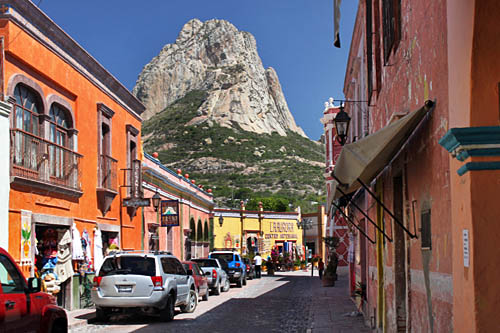 Although I could never confirm the rumors, the town is reputed to be home to more centenarians than any other town in Mexico. I read one claim that the average life expectancy in Bernal de la Pena is 94.5 years, and indeed many elderly residents still work every day in the artisan shops that surround its pretty town square. At the edge of town is the Capilla de las Animas – literally the Chapel of the Lost Souls of Purgatory. According to another legend, a merchant who was being chased by robbers hid in the bushes at the site of the present day chapel and entrusted his safety to the souls of purgatory. When the robbers passed him by, the merchant built a church to honor the lost souls. Today they are still seen wandering by night, their faces lit up by candles. Even more mysterious are the sightings of flying saucers in the area; if Pena de Bernal looks strangely familiar it may be because it strongly resembles the rock in Wyoming that was the sight of the film Close Encounters of the Third Kind, which drew speculation that these formations are pointers to extraterrestrial travelers.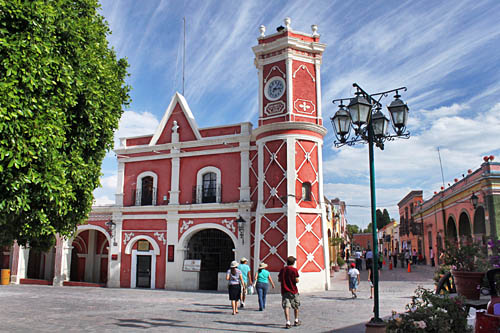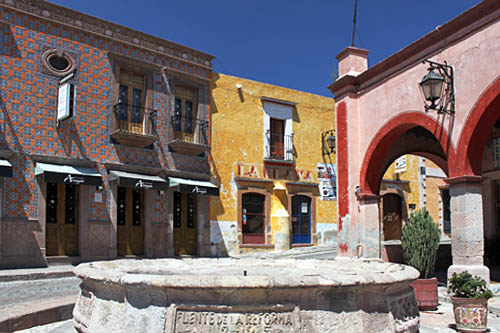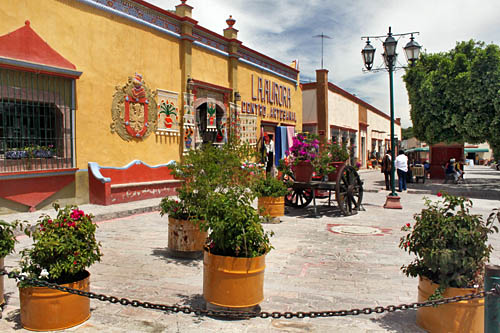 I'd had my own mystical experience in Bernal. Earlier in the week, upon arriving in Queretaro, I was sitting up in bed writing, when I was struck with a heavy chest pain in the center of my breast bone. When it didn't go away, I closed my laptop and laid down to rest, which seemed to help. Because I'd been carrying a heavy pack I assumed it was muscular, but the idea of a heart attack did cross my mind. And I was exhausted. I'd been traveling for about two months, moving every few days. It's not an easy way to travel, especially when simultaneously trying to manage a writing career. By the next morning the pain was gone so I never gave it a second thought, but upon arriving in Bernal a dull throbbing ache had resumed and I felt completely drained of energy.
About the same time I learned that Bernal is home to an inordinate number of Shamans, curanderos and healers. Curious, I started asking around. Again and again, locals referred me to Veronica – "Vero" – a local curandera who worked with crystals. No one knew her last name or where she lived, but everyone was adamant about her ability to heal. I turned the process over to the Universe – if I was meant to find Vero it would happen. Within two hours she was delivered to me by a woman who worked in the kitchen of a restaurant where I'd had dinner. An hour later, Vero was working her magic on me, and I have felt marvelous ever since.
Can't see the above slide show of Bernal, Mexico? Click here.
Now, sitting beneath the Pena de Bernal, I speculated whether it has some mystical power to heal. Mexicans believe it does; they flock to the town every weekend, hoping to absorb some of its healing energy. Indeed, Bernal is one of Mexico's Pueblos Magicos, or Magic Towns, a designation awarded to villages with symbolism, legends, history, or important events – in other words, "magic" – in its social and cultural tapestry.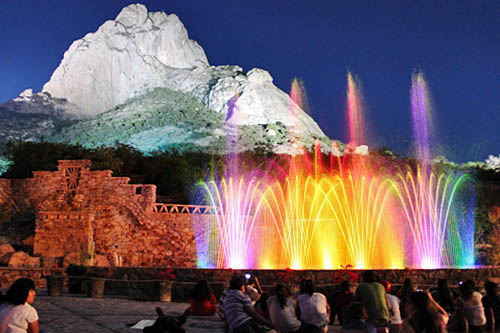 I looked up at the massive rock as daylight waned and gave a start; a glow seemed to emanate from within it. Hundreds of hawks swirled around the massif, crossing in and out of the golden band that outlined its jagged edges. Suddenly, the fountain in the courtyard began to spout and dance to music, reflecting rainbow colors from colored lights. When the last rays of daylight had faded, powerful spotlights were fired up, alternately illuminating Pena de Bernal in shades of green, purple, blue, and red. My hands, held palms up in my lap with thumb to forefinger, grew hot. Energy swirled and throbbed like two miniature suns, radiating from my palms outward until my entire body was completely enveloped in a calming warmth. An hour later I departed, filled with the most incredible sense of well-being. I don't know about extraterrestrials or giant Amethyst crystals, but I can say with certainty that something special is going on in Bernal.