I debated whether or not I wanted to skip seeing Perito Moreno Glacier in El Calafate, Argentina. After all, I'd just returned from Antarctica, where I'd seen dozens of glaciers. However, I hadn't see any glaciers calving, and I desperately wanted to see a giant chunk of ice fall off the face of a glacier.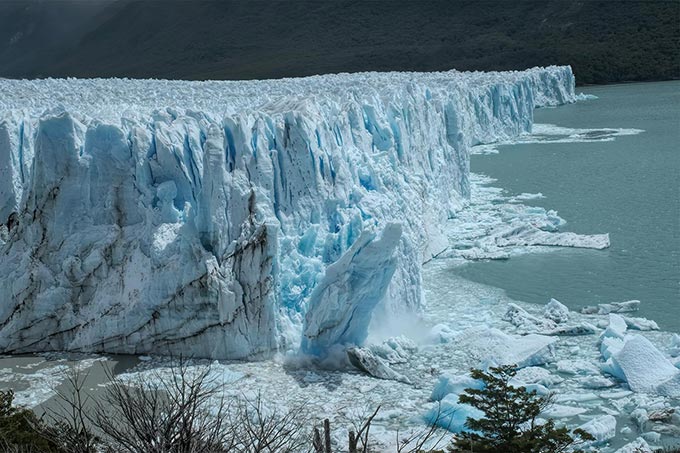 This year, Perito Moreno had advanced across the lake to the opposite shore, blocking off water that would normally feed into the downstream river. Between the immense pressure of the ice pushing from behind, and the higher water pushing from the side, I was almost assured of seeing some calving. I followed wooden walkways that paralleled the glacier, allowing astonishing close-up views of its face. The ice popped and crackled as it shifted and moved. On several occasions, mini explosions rent the air. Each time, I scanned the face of the glacier excitedly, hoping to witness the glacier calving. Each time, I spotted only small pieces of ice plunging into the water below. Nothing to rave about.
I paused at one platform and looked back at the "nose" of the Perito Moreno Glacier, where a pointed spire of ice was leaning away from the body of the glacier. As I watched, a few small pieces broke away and splashed into the lake. But wait! Were my eyes playing tricks on me? I could have sworn that pinnacle of ice moved just a fraction. I thought maybe it was my imagination, so I watched it for a while. There was no doubt about it, that enormous spear of ice was tilting forward in tiny increments.
What to do? If I retraced my steps to the front, where I would have a head-on view of the glacier, I might miss it falling. I decided it was worth the risk. I ran up and down endless stairways until I was back on the main viewing platform. I made it just in time. With a mighty roar, the nose calved off the glacier and toppled into the water, sending torrents of water spouting into the air.
You may also enjoy:
Magnificent Monte Fitz Roy in El Chalten, Argentina
How I Scored a Deeply Discounted Antarctic Cruise
VIDEO: Escapades with the Animals of Antarctica