When discussing what to do in Munich, Germany, many travel writers wax lyrical about Oktoberfest. Ah, the beer! The sing-alongs! The pretzels, bratwurst, and schnitzel! But the festival also has its drawbacks. More than 6 million visitors descend upon the city every year beginning on the third Saturday of September. If, like me, you're no fan of crowds, Oktoberfest may not be the best time to visit Germany's third largest city. Fortunately, Munich has so much more to offer than the world's biggest beer festival.
Palaces and Castles:
Construction on Residenz Palace (Munich Residence) was begun in the 14th century. From an inconsequential castle, it grew to become a grand palace. Today the building is a museum to its patrons, the rulers from the House of Wittelsbach, who governed Bavaria from the 17th century. Located in the center of the city, its scores of rooms display lavish furniture, paintings, tapestries, treasures, and religious items.
Nymphenburg Palace, located on the outskirts of Munich, was the main summer residence of the House of Wittelsbach. This magnificent Baroque structure and its stunning gardens are open to the public, however it also continues to be home to the current head of the House of Wittelsbach, Franz, Duke of Bavaria.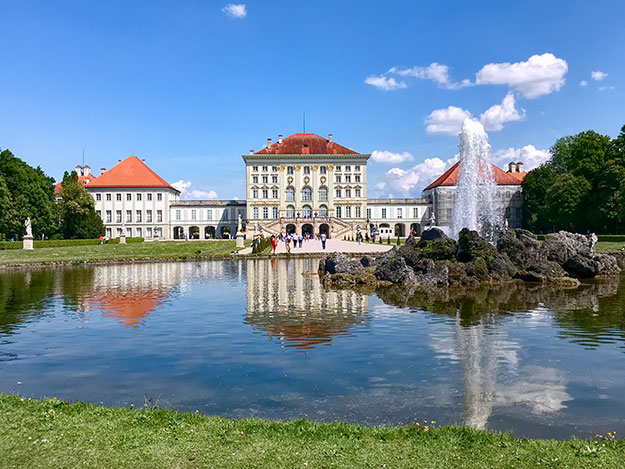 An additional three castles are close enough to Munich to be visited on a day trip. Perhaps the most famous of the three is Neuschwanstein Castle. Built by King Ludwig II of Bavaria, it is reputed to be the inspiration behind Walt Disney's Cinderella Castle. The Neo-gothic style Hohenschwangau Castle, located in the same village as Neuenschwanstein, was built by Ludwig's father, King Maximilian II. Rounding out the trio is Linderhof Palace, a forester's house that was transformed into an opulent palace by Ludwig II before he dreamed of Neuschwanstein. All three can be visited on a single day by taking any one of numerous bus tours available from the city center.
Parks:
Munich is full of parks, but my thee favorite were the Hofgarten Royal Gardens, the Englischer Garten, and the Botanical Gardens. Originally a private garden attached to the Munich Residenz, the Hofgarten was converted to a public park. This formal garden always features blooming flowers in the spring, summer, and fall and buskers often provide entertainment inside the central pavilion. At the far end, the park opens up to the grounds of the Bavarian State Chancellery, with its impressive curved glass roof.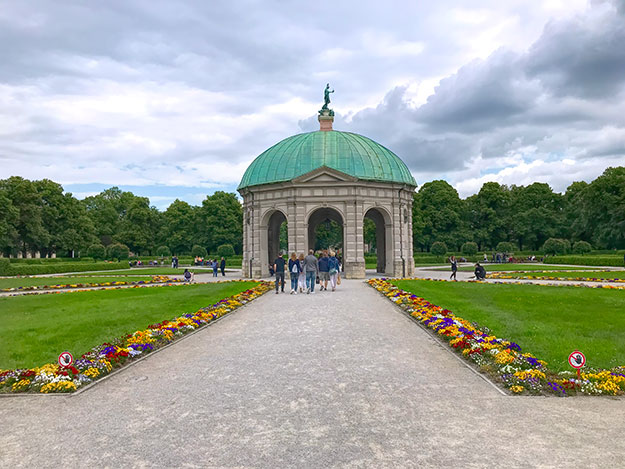 The Englisher Garten, adjacent to Hofgarten, is so immense that is stretches from the center of town to the outskirts. Really, more than one day is needed to explore this wonderful green space. The Monopteros, located atop the highest point in the park, offers a great view of the city. Traditional tea ceremonies are performed at a Japanese tea house, while a pagoda-style, all-wooden Chinese Tower is a popular beer garden. But more fascinating than any of these attractions is the Eisbach River, a two-kilometer (1.2-mile) man-made stream that runs through Englisher Garten. The icy cold water shoots out from beneath a bridge, forming a wave that surfers ride 365 days a year.
The Botanical Gardens are away from the center of town, adjacent to Nymphenburg Palace. It features approximately 19,600 species and subspecies, spread across more than 50 acres, as well as a Glasshouse Complex that houses specimens from temperate, tropical, and desert regions. Some of them are so otherworldly looking that you will have a hard time believing they originated on this planet.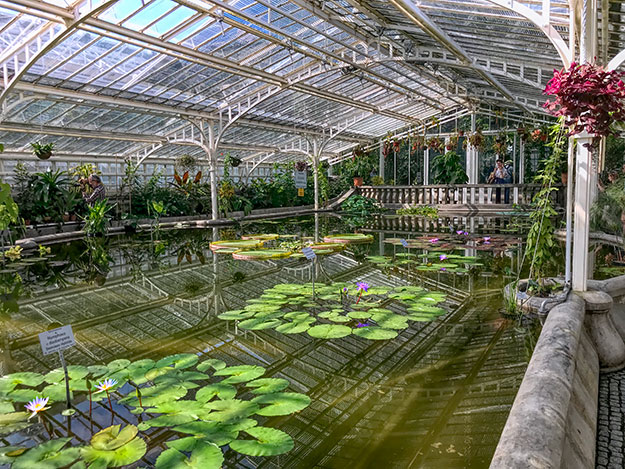 Festivals and Lederhosen:
Munich (and Bavaria) has no shortage of festivals, and Münchners are always up for a party. So how do you know when one is happening? Look for the handsome men dressed in traditional Lederhosen. Not only will they happily tell you about the festival they are headed for, they will probably give you directions how to get there on the U-Bahn, S-Bahn, or suburban trains.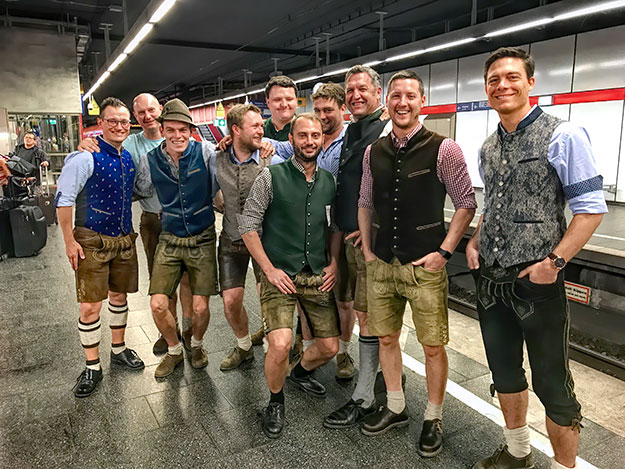 Cars:
German cars are coveted by the rich and famous…and there is no better place to see them than in Munich. Not only does the BMW Museum display the BMW owned by Elvis Presley, it showrooms house vintage BMW cars, aircraft, motorcycles, turbines, and a variety of concept vehicles. Even better is the world's biggest Mercedes Benz showroom, where floor after floor of Mercedes Benz's are displayed through clear glass walls.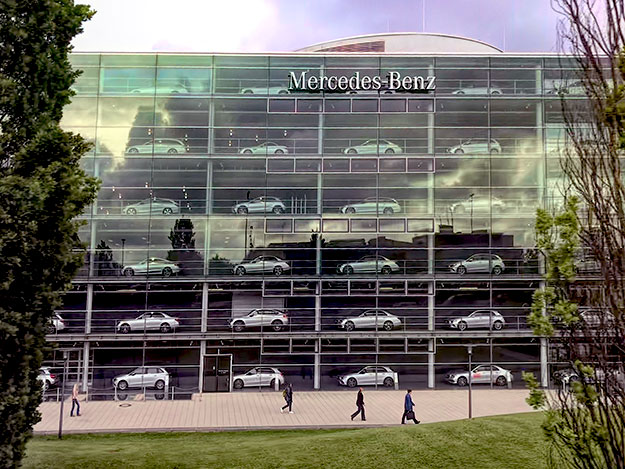 Viktualienmarkt:
With more than 140 indoor and outdoor stalls and shops, this vast Farmer's Market is one of the largest in the world. With a name that translates to "victuals market," it's no surprise to find stands that offer fresh fruit and vegetables, sausage, butchered meats, seafood, cheese, wines, spices, eggs, butter, fresh-baked breads, honey, chocolate, olive oil, tea, and flowers and plants. Ice cream shops, restaurants, and delicatessens also abound, thus many Münchners come early to shop, followed by a couple of hours chatting with friends and family at an outdoor cafe.
A soaring Maypole stands at the center of Victualienmarkt. While most of us conjure children holding onto streamers and dancing around a Maypole on May 1st, these tall wooden poles had a much more important function. During the 18th and 19th century, when village markets were the main source of goods that could not be grown, the bulk of the population was illiterate. The Maypole illustrated what goods could be acquired in the village and which trades might offer apprenticeships. Every part of the Maypole is symbolic. In addition to broadcasting the traditional trades of the city, the blue and white pole represents the colors of Bavaria and the yellow and black flags represent the colors of Munich.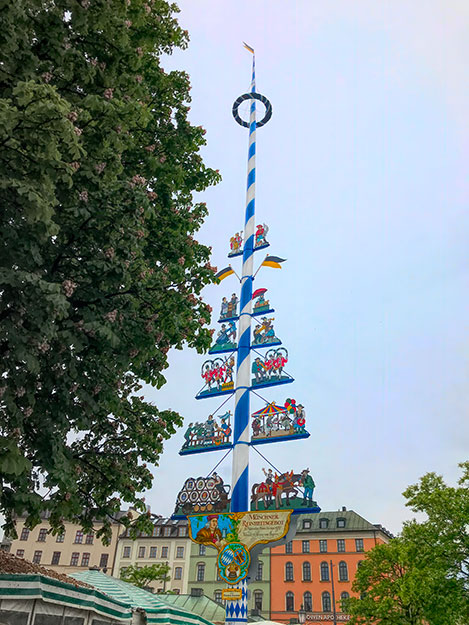 Some historic May Day traditions are still honored. Each year, folks across southern Germany raid rival towns in an attempt to steal their Maypoles. In 2017, three small towns located on the outskirts of Munich conspired to steal the city's Maypole. It had been removed from the square for repainting and stored in a warehouse, the location of which was thought to be a closely guarded secret. There must have been a mole in the ranks, because the villagers crept in under cover of darkness and removed the Maypole, toting it away on a tractor. The following evening, the robbers met with the Munich Brewers' Club to lay down their terms for its return. After hard negotiations, they agreed to give the Maypole back in return for two hearty meals accompanied by some of Munich's finest beer.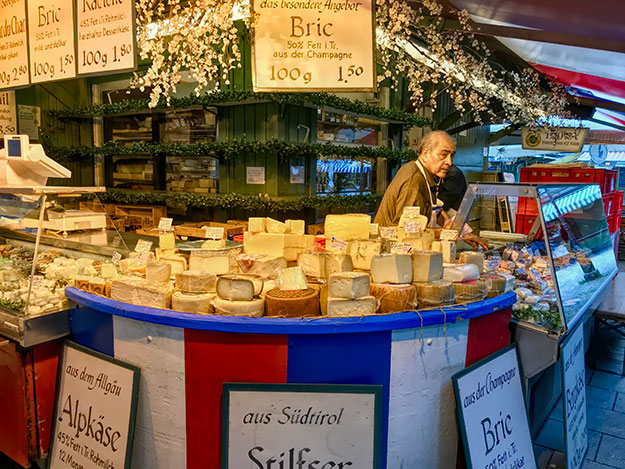 Marienplatz, Heart of the City:
Of all that Munich has to offer, the city's main square, Marienplatz, is the one thing that absolutely should not be missed. Marienplatz, which has been the city's main square since 1158, is dominated by the Neo-Gothic New City Hall (Neues Rathaus); the Old Town Hall (Altes Rathaus); and the Mariensäule (Marian Column). The square took its name from the Marian Column, which is topped by a golden statue of the Virgin Mary standing on a crescent moon. It was erected in 1638 to celebrate the end of Swedish occupation.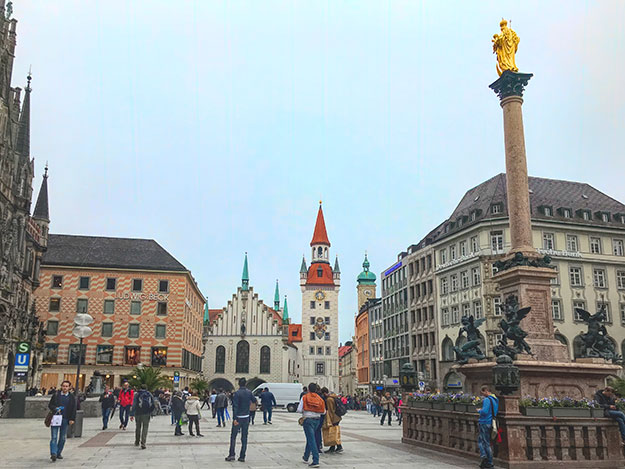 Visitors and locals alike have always been drawn to this square. Markets and tournaments were held here in the Middle Ages. Likewise today, Marienplatz and the broad boulevards leading up to it are filled with designer stores, shops, and restaurants. During the Christmas holiday, Marienplatz is home to Munich's famous Christkindlmarkt. This is one of the best places in Germany to buy Christmas related items while enjoying seasonal food, drink and entertainment. Many come specifically to see the nearly 100-foot tall Christmas tree that is erected each year in front of the Neues Rathaus (New Town Hall) and decked out with some 2,500 lights.
Neues Rathaus may be the biggest attraction at Marienplatz. The 300-foot long Neo-gothic facade spans the entire north side of the square. The central tower holds a Glockenspiel, a mechanical clock, which chimes at 11 a.m. and noon each day (and also at 5 p.m. from March through October). The music is accompanied by animated figures that depict scenes from Munich's history and culture.
Figurines in the upper balcony reenact the 1568 wedding of Duke William V. with Renate of Lorraine, complete with a jousting tournament. The lower balcony depicts Schäffler (coopers, or barrel-makers) performing their traditional Schäfflertanz dance during the plague of 1517. According to legend, these journeymen heroically took to the streets when the plague began to abate, dancing and cheering on people who were terrified of a disease that had killed nearly half of the city's population. Hearing the commotion, people threw open their shutters and decided it was once again safe to venture outside.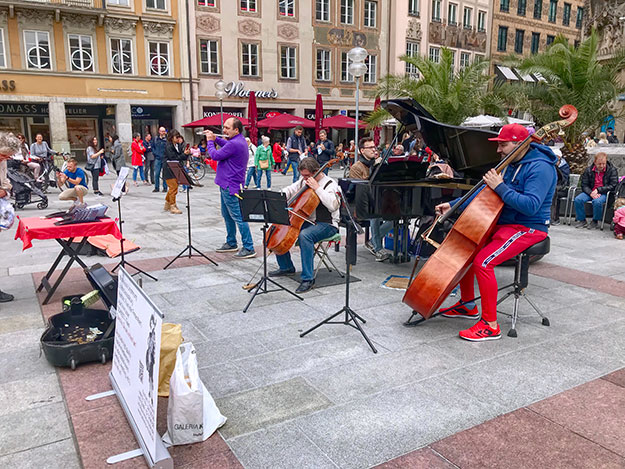 And if you Absolutely MUST Have a Beer:
Last but definitely not least, beer lovers are duty bound to quaff a pint or two of Munich's fine brews. Numerous traditional Bavarian beer halls are scattered around the city for just this purpose. One of the most popular is  Hofbrauhaus, housed in the historic Staatliches Hofbräuhaus brewery, which was located here from 1589 until 1897. Though Hofbrauhaus is very touristy, a wall of beer steins belonging to regulars that are kept under lock and key are testament that locals also patronize this famous beer hall. Even if you're not a drinker, it's worth a stroll through to view the interior and listen to a tune or two played by the traditional Bavarian band.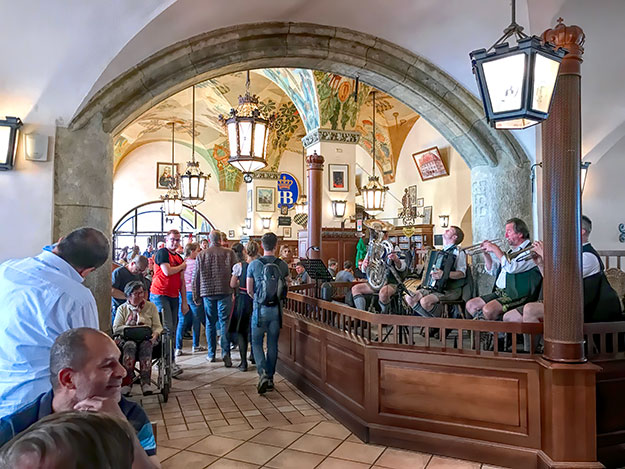 Frankly, there are so many more things to do in Munich than I have listed here. The city is rife with museums, gorgeous architecture, and historic churches. Though I didn't visit, the Munich Zoo is said to be first class. The Neoclassical National Theatre is home to the Bavarian State Ballet, Bavarian State Orchestra, and the Bavarian State Opera. You can tour the 66,000-seat Allianz Arena, home of FC Bayern Football (soccer) team, and spend a day at Munich's 1972 Olympic Park, with its zip line, lake, and ski hill. And of course if you don't mind crowds and love beer, there's always that little thing called Oktoberfest.
Author's note: Many thanks to the Munich Tourist Office, which gifted me with a Munich City Pass during my stay. Not only did it provide discounts for dozens of the city's best attractions, it also provided five days of unlimited free rides on the public transportation system.