Across Thailand, thousands of small craft villages dot the landscape. Each one specializes in the manufacture of a particular handicraft. Especially in northern Thailand, the choices seem endless. In tiny Ban Ton Pao in northern Thailand, everyone in the villages is involved in the production of handmade paper from Mulberry bark. In nearby Baan Tawai, the focus is on handmade furniture. Other villages produce lacquerware, silk clothing and linens, indigo dyed material, hand-woven baskets, hammered silver, jewelry, and more. But my all-time favorite is the village of Bo Sang, which specializes in handmade paper parasols.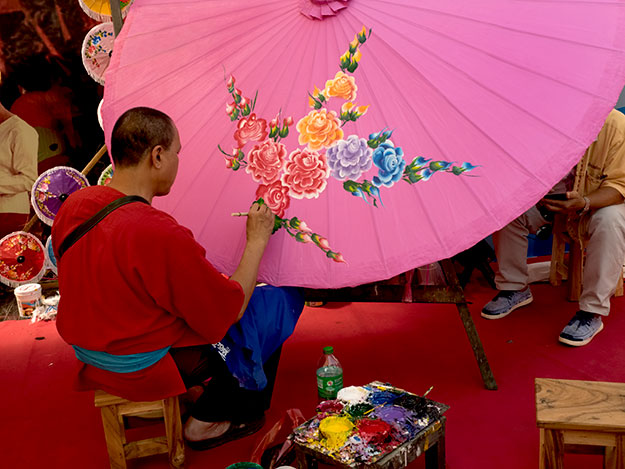 I had an up-close view of the process during this year's Umbrella Festival, held every year during the third weekend of January. For three days, local artisans demonstrated every step of the process, from shaving down bamboo strips for the ribs of the umbrellas to painting the parasol tops. In addition to umbrella making classes and demonstrations, bicycle parades featured elegant Thai women in traditional attire, each holding a gorgeous parasol aloft as they pedaled down the main street. The town was decked out as well. Multicolored parasols decorated the facades of buildings. Riotous umbrella arches spanned the streets. Even mosaic murals created from mini-parasols were scattered around town.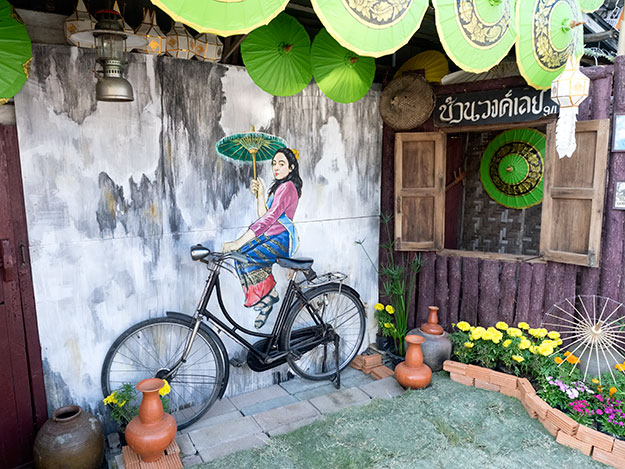 When I grew tired of walking the hot asphalt streets I fled to the shade of a canopy in front of a stage, where youngsters performed traditional Thai dances. Fon Lep dancers wearing long brass fingernails on the tips of their fingers bent their hands nearly backwards as they minced across the stage. King Ka-La dancers, bedecked in spectacular fan-shaped costumes, mimicked the movements of birds. But my favorite was the umbrella dance. Performed with a rainbow of twirling parasols, it was a fitting end to my day at the Bo Sang Umbrella Festival.
Author's Note: The best way to attend the Bo Sang Umbrella Festival is to use a Grab Taxi. From the city of Chiang Mai. It's about a 20 minute drive and the fare should run somewhere in the neighborhood of 200-250 baht (~$6-8 USD). Those with a more adventurous spirit (and a smaller budget) can catch a white songthaew (a local form of transport that is basically a pickup truck with a cap and bench seats) from Wororot Market, next to the Ping River in Chiang Mai. These trucks run up and down Sankanphaeng Road, which leads directly past the village. The fare should cost 20 baht (about 65 cents USD). Make sure to ask the driver if he or she is going past Bo Sang Village before climbing in!
Thinking about traveling to Thailand? I've been coming here since 2003, wintered here for five years, and am now living permanently in Chiang Mai. I've also written prolifically about the country. To read more of my stories about Amazing Thailand, click here.