I first met David Hogan, Jr., the publisher of the award winning Malaysia Asia Travel Blog, during a visit to Malaysia's Penang Island. On that occasion, he took me to one of the island's most popular "hawker centers," where we ate our way through outdoor food stalls that stretched for blocks. Some years later David and I reconnected in the capital city of Kuala Lumpur (KL). This time he treated me to a delicious lunch at a hole-in-the-wall restaurant located in the city's Little India neighborhood.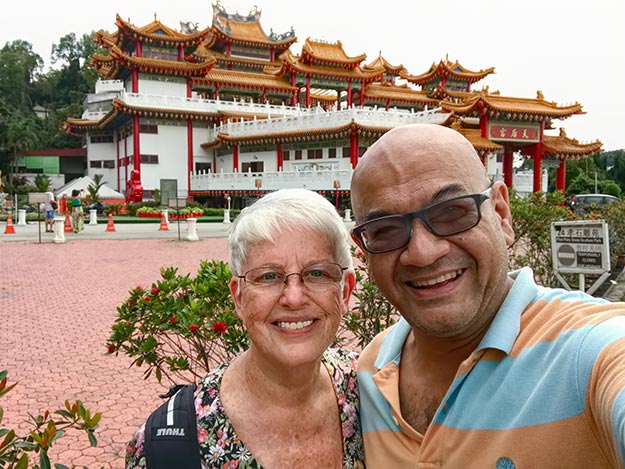 I recently returned to KL for a longer visit and, of course, I had to meet up with my Malaysian buddy again. This time he had a special surprise in store or for me. Just 15-minutes outside the city center we wound our way up a hill to Thean Hou Temple of Selangor Keng Chew Association, the most popular Chinese Buddhist temple in the city. This is where Chinese residents come to ask for marriage blessings. Thean Hou Temple is a one-stop shop for weddings. Couples pray to the goddess Kwan Yin, the deity believed to ensure happy and prosperous marriages. Once they have the blessing of Kwan Yin, couples can get a marriage certificate, get married, and even have their wedding reception in a huge banquet hall on the ground floor of the temple.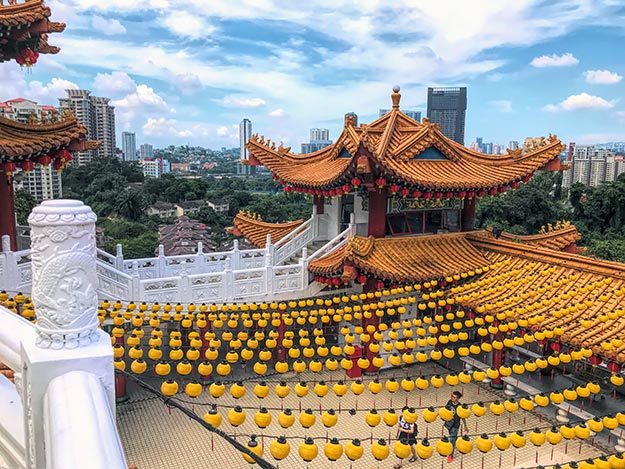 But since I'm not in the marriage market, the attraction for me was the gorgeous architecture of the temple. Gold lanterns were strung across a broad terrace on the upper level. Hip-roofed pagodas rose at each corner of the terrace, supported by bright red lacquered columns that symbolize prosperity and good fortune.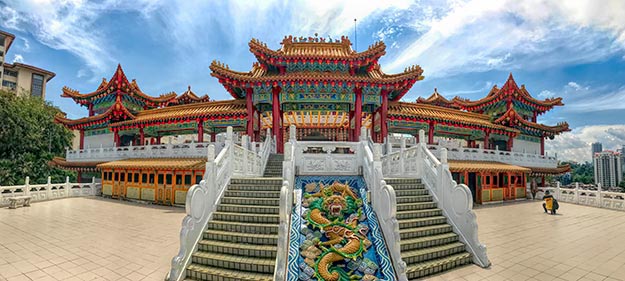 Each up-swept roof beam, exquisitely painted in jade, gold, lapis, and vermilion jewel tones, featured terracotta ridge beasts. I noted Chinese elders riding horses, birds, and mythical creatures from Chinese fairy tales, but my favorite were the ornate fire-breathing dragons with long claws, spiked tail, and bodies swathed in multi-colored ceramic tiles.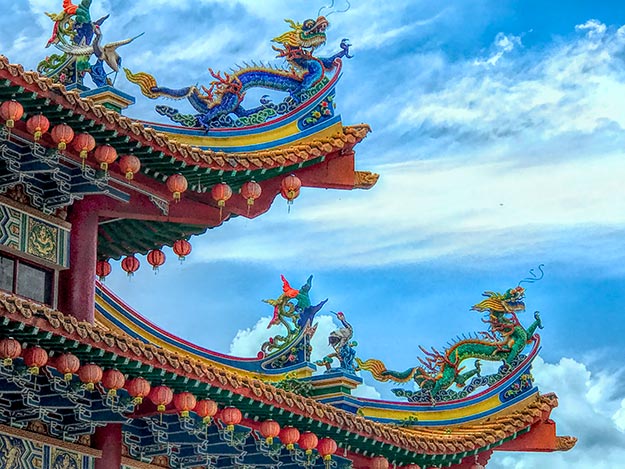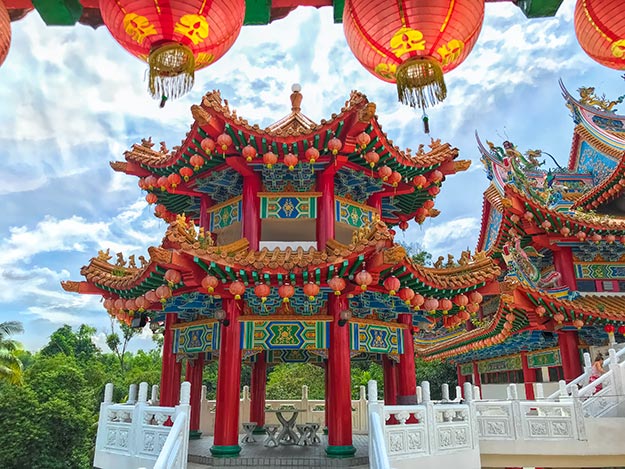 Inside the worship hall, statues of the three female goddesses to which the temple is dedicated sat regally in alcoves. We made the rounds and stopped to watch as visitors lit joss sticks and offered prayers before returning to the terrace for one last look at Kuala Lumpur's skyline, with its iconic skyscrapers. The sweeping 180-degree vista from Thean Hou Temple is unmatched and somewhat startling; the towers seem eerily like miniatures when viewed from the hilltop.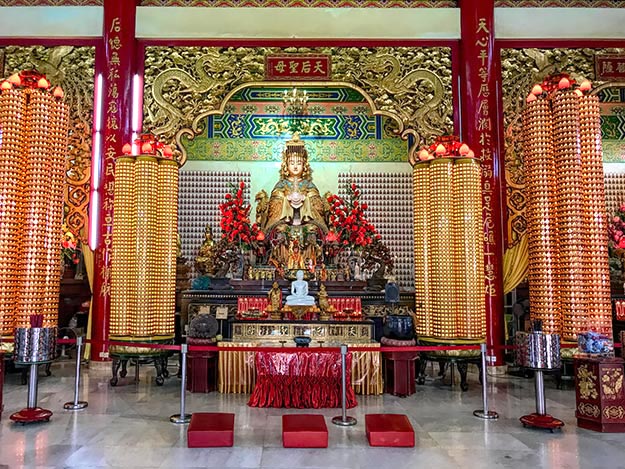 I finally tore myself away from the view and followed David down to the ground level, where he led me to a tiny cafe. I laughed. I should have known that no meeting with my Malaysian friend would ever be complete without food. The server piled rice on a plastic plate and told me to add whatever I liked to it. Though many of the items on the buffet looked like meat, David assured me that absolutely everything was pure vegetarian. I wanted to try it all, so I loaded up with two types of curry along with vegetarian pork, chicken, and beef. Everything was delicious but my favorite was a log roll stuffed with purple sweet potatoes. Perhaps best of all, the price for both of us was less than $8 US.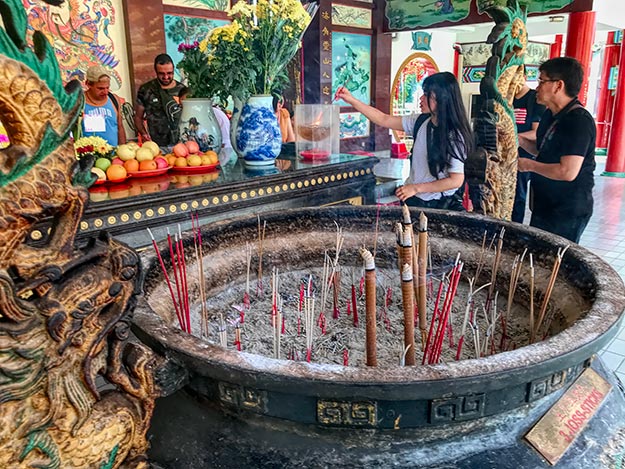 As in all Asian countries, food is an important part of the culture of Malaysia. I am blessed to have friends like David who make it their mission in life to help me immerse in their cultures, one spoonful at a time.