It wasn't easy to be a vegetarian when I began traveling the world in 1997. At best it was difficult to find food without meat; at times it was downright impossible. Thankfully, the vegetarian/vegan trend has taken off over the past few years. Rarely do I have problems finding my kind of food these days, regardless of where I travel. Recently, however, I discovered Away Chiang Mai Thapae Resort in Chiang Mai, Thailand, which takes vegetarian travel to a whole new level.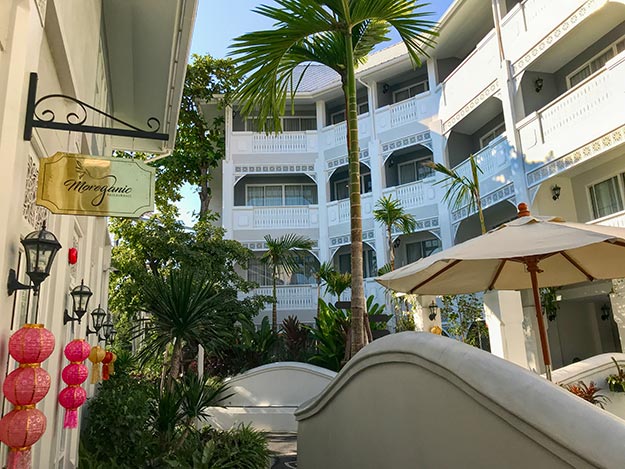 Away, which is located just outside the eastern walls of the Old City in Chiang Mai, opened in December 2017. Built in an architectural style that infuses colonial touches with the traditional northern Thai Lanna style, the interior of its 39 rooms feature soothing grey and green tones, dark wood floors, and plush comfortable beds with fine linens. Each room also features a private balustraded balcony with table and chairs, perfect for sipping morning coffee or enjoying views of the resort's gardens and lap pool. Accommodation prices for deluxe rooms range from 4,500 baht ($138 USD at this writing) per night in low season to 8,000 baht ($245 USD) per night in high season.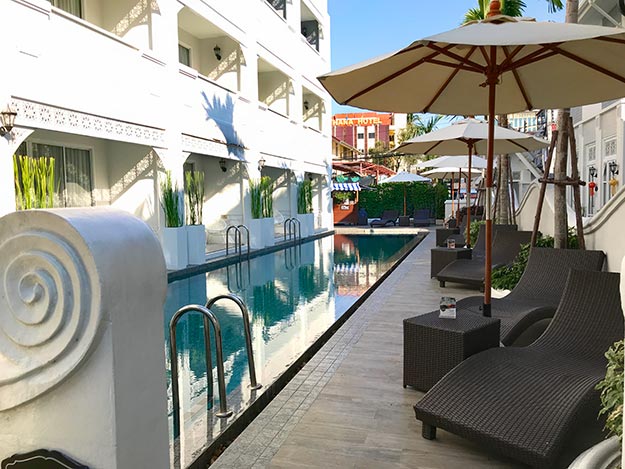 The grounds and accommodations were lovely, but I was more interested in the resort's focus on health and wellness, which includes a strict policy of vegetarianism. In keeping with the Buddhist tradition of abstinence, no alcohol is served on-site and smoking is prohibited throughout the property. Their Moreganic Vegetarian Restaurant offers an eclectic selection of Thai and Western vegetarian dishes, prepared with the fresh ingredients that are organic wherever possible.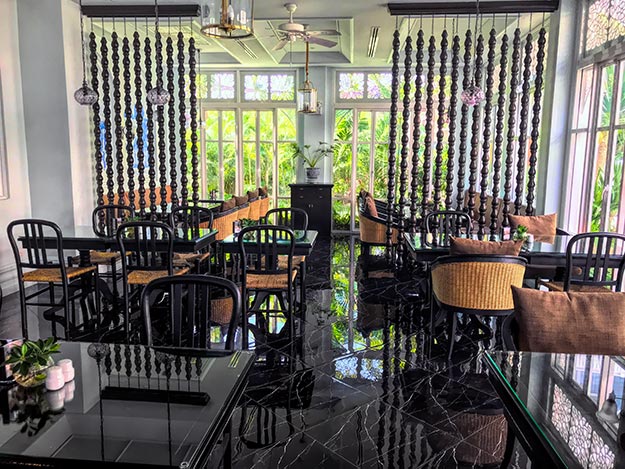 Intrigued, I visited Away Resort recently for a leisurely lunch at Moreganic. It was late in the afternoon and well before the dinner hour, so I had the place all to myself. My first impression was of calmness and serenity. Floor-to-ceiling windows looked out on lush landscaping that was mirrored in the black marble floor of the restaurant. Black lacquer chairs and tables provided a stunning counter-balance to the light that streamed through the windows.
I began with an Americano coffee that, while pricey by Chiang Mai standards (about $3.70 USD), was attractively presented on a wooden board and accompanied by fresh-baked cookies. For my main dish, I chose the Red Curry with soft tofu, served with Thailand's delicious jasmine rice. Though I am not normally a fan of soft tofu, this was absolutely delicious! Lightly fried, it had a thin, crispy crust that gave way to a mouth watering center. The red curry was perfectly balanced, with a hint of heat and an array of traditional flavors that included a healthy topping of fresh Thai basil.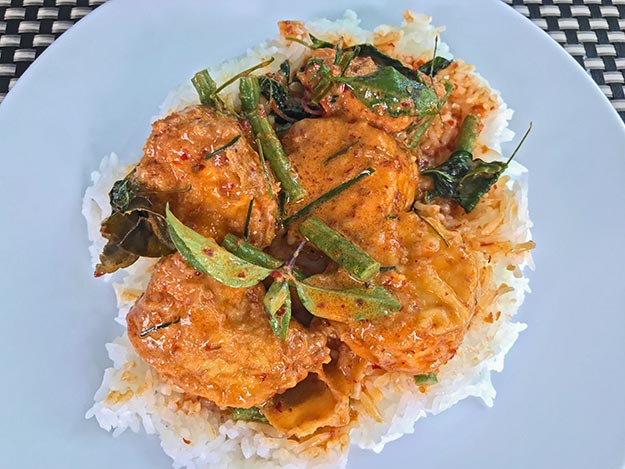 For dessert, I couldn't resist their Sticky Rice with Mango. This classic Thai favorite was enhanced with colored rice and blue coconut sauce, making it luscious on the eyes as well as the palate. Both my main and dessert were priced affordably, at $6.44 USD and $4.60 USD, respectively (yes, you read right – now you know why I said the coffee was expensive).
Not yet ready to pry myself from the comfortable surroundings, I stretched my stay by finishing with another Americano, and of course two more cookies. The staff wouldn't have cared if I stayed another hour. As with every dining experience in Thailand, there was no pressure to leave and I eventually had to ask for the bill. Of course, I now live in Chiang Mai, so I have no need to stay at Away Chiang Mai Thapae Resort, but if I was traveling it would be my perfect choice. On the other hand, they have sister resorts in Bali, as well as in other destinations in Thailand, including Kanchanaburi, Koh Kood, and Pranburi. Something tells me there's a weekend trip in the future for this traveling vegetarian.