I turned my nose up at the offer of a map. The narrow, stone-paved streets of Mykonos begged to be explored randomly. I wasn't quite sure what to expect. So far, my Greece tour with Collette had explored authentic sites on the mainland and the Peloponnese peninsula, but there were whispers among our group that the islands had been taken over by the rich and famous. Everyone was wondering, "Is Mykonos overrated?"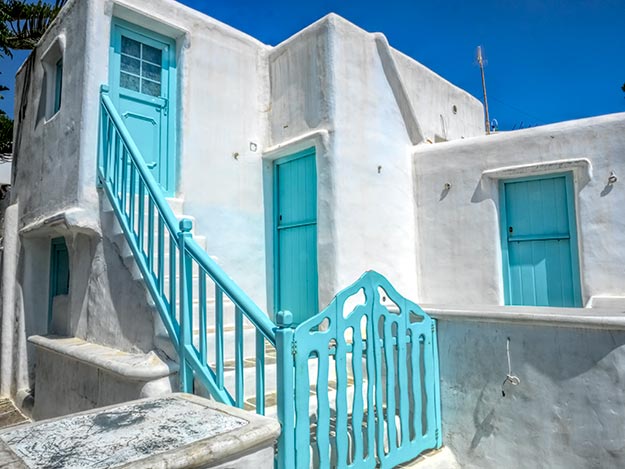 I caught the early morning shuttle bus from my hotel, hoping to experience the island's capital city of Chora Town before the tourist hordes descended. At the Old Port, I followed a path tucked between a seawall and the intensely turquoise Aegean. At every turn, another gorgeous view emerged. Tangled thickets of magenta Bougainvillea spilled over the stone retaining wall. Gentle swells splashed onto the walkway, straining to reach the thirsty vines. Seabirds screeched and dove beak first into the water, intent on breakfast. Brightly painted wooden fishing boats bobbed in the inner harbor. Ten minutes later, I rounded a final corner. Chora Town's perfectly circular bay, with its panoply of whitewashed houses, spread before me.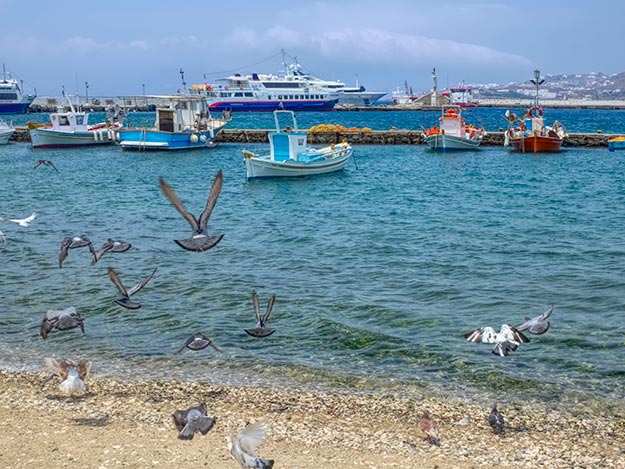 At the fish market, where the fresh catch of the day had been laid out for the perusal of homemakers and restaurant owners, I turned away from the sea. I wandered willy-nilly through narrow streets lined with designer stores. Though not yet open for business, the neighborhood was a beehive of activity. Shop owners were out in force, rinsing down the stone-pavers with soapy water and polishing stoops to a dazzling whiteness.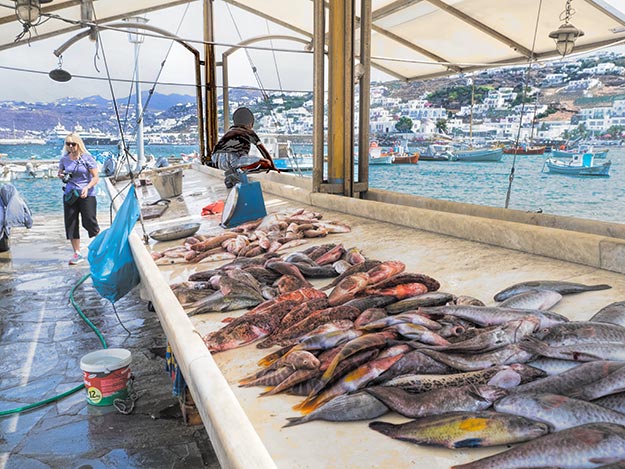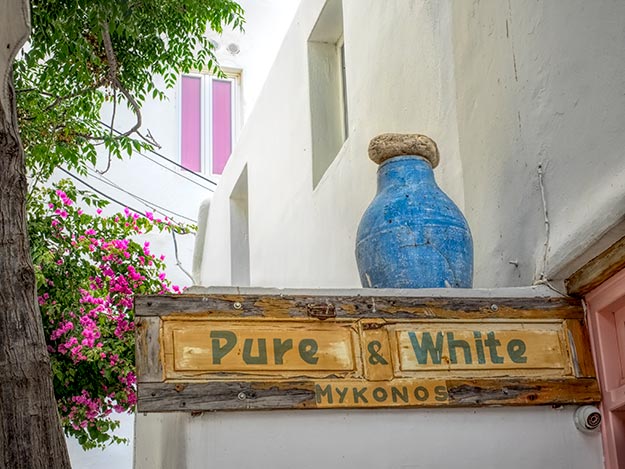 I turned again and began to climb into a residential area, where the streets gradually narrowed until they were barely wide enough for two people to pass. Here the whitewashed houses competed for attention with splashes of color: a doorway painted purple, window sashes of cobalt blue, aquamarine wooden staircases, and even a bright red dome.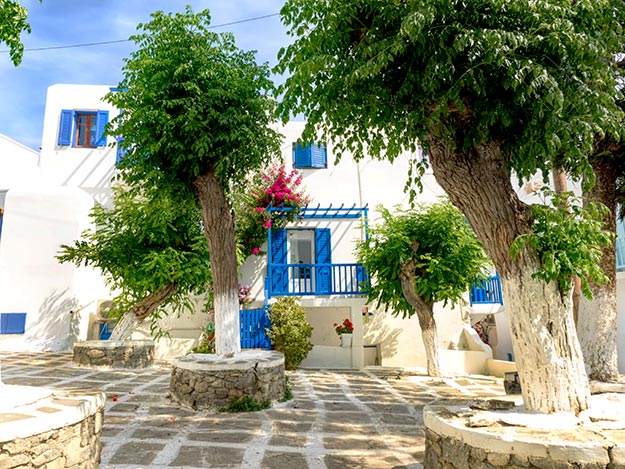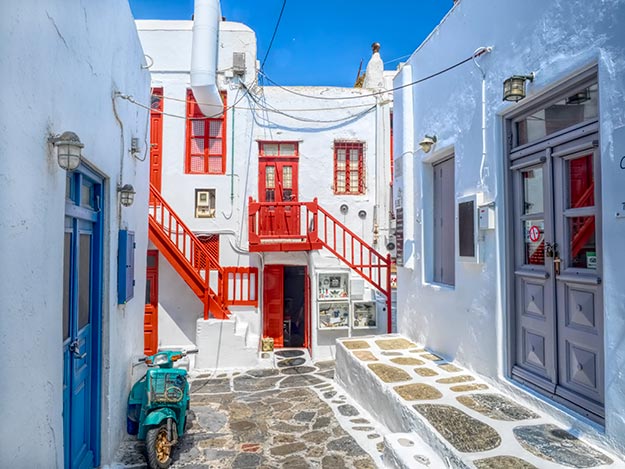 Suddenly, a door opened on my right. An elderly Greek woman, clad in black from head to toe, stepped gingerly out onto her stoop. Inch by wobbly inch, she tottered toward the edge of the step. I offered her my arm, which she gratefully accepted, and helped her across the street. I was rewarded with a broad smile and twinkling black eyes.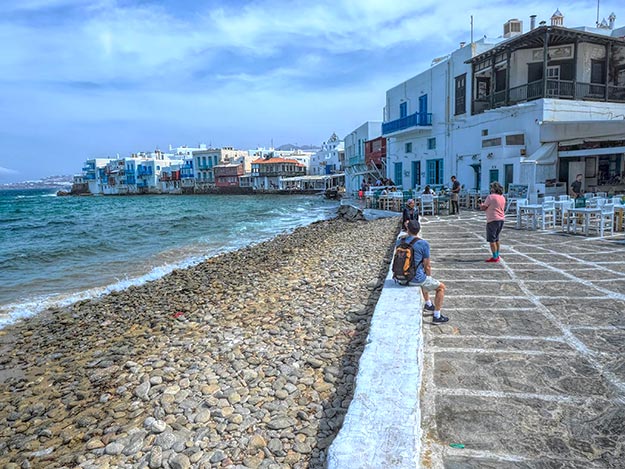 On the far side of the bay I discovered Little Venice, a neighborhood of elegant old houses perched precariously on the edge of the sea. I knew I was close to the Windmills of Kato Mili, a group of old flour mills spread across a low ridge, so I followed the winding paths down again toward the sea.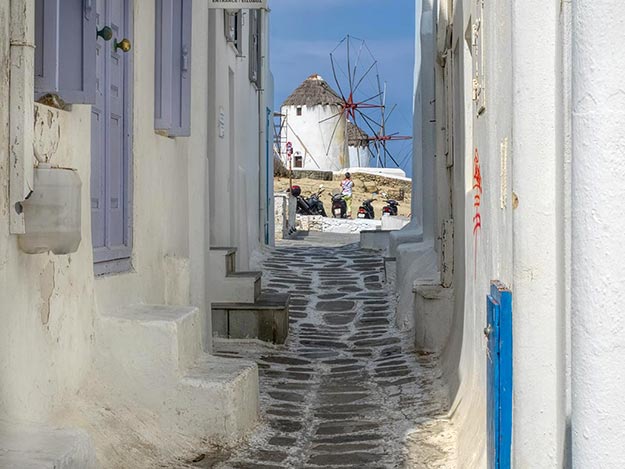 Just as one of the historic mills came into view at the end of a street, another door opened and a man stepped into the street. He grinned and tipped his hat. I pointed to my camera and back at him. Could I take his photo? He struck a pose, leaning ever so slightly on his gnarled wooden cane, and laughed. He didn't speak a word of English but we understood one another. We were just two blissfully happy senior citizens. I said the only word of Greek I knew – Kalimera – good morning, before we went our separate ways.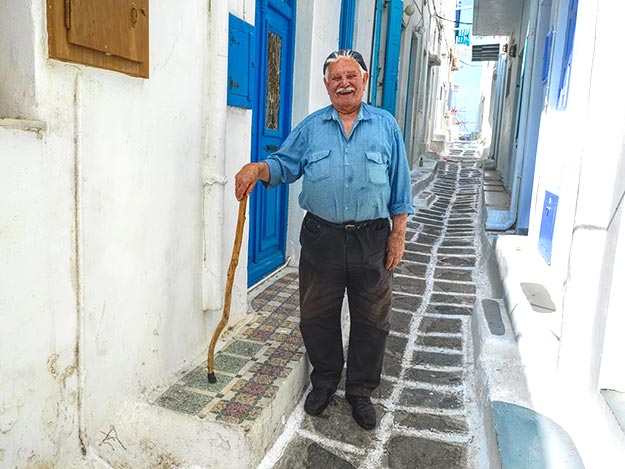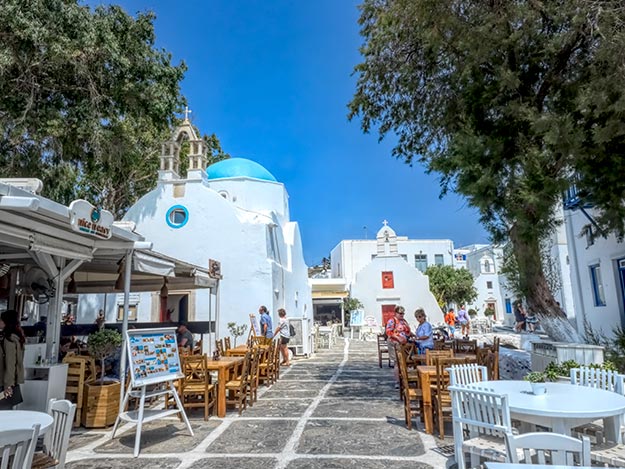 I loved the exquisite scenery of Mykonos. I loved the food. I even loved the designer clothing shops, and I'm not typically much of a shopper. But in the end, it was the people and traditional whitewashed houses with myriad shades of blue trimmings that most enchanted me. Even though the island is inundated with tourists during the high season, it's still possible to make a local connection like the ones I had, however brief. So is Mykonos overrated? No way. Not by a long shot. I'd go back in a New York minute.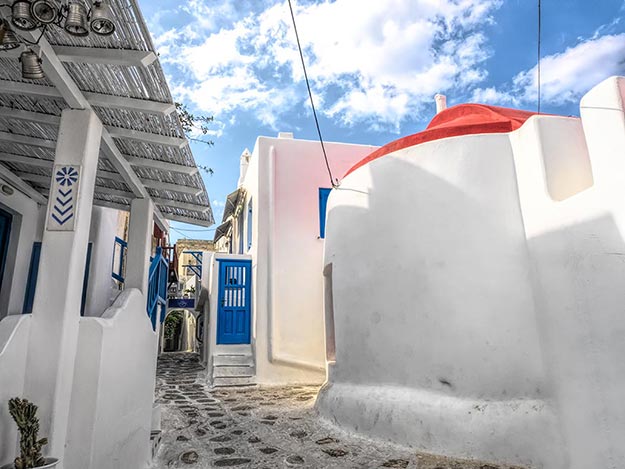 Author's note: I was a guest of Collette during my Exploring Greece and Its Islands, featuring Classical Greece, Mykonos & Santorini tour. However, the receipt and acceptance of complimentary items or services will never influence the content, topics, or posts in this blog. I write the truth, the whole truth, and nothing but the truth.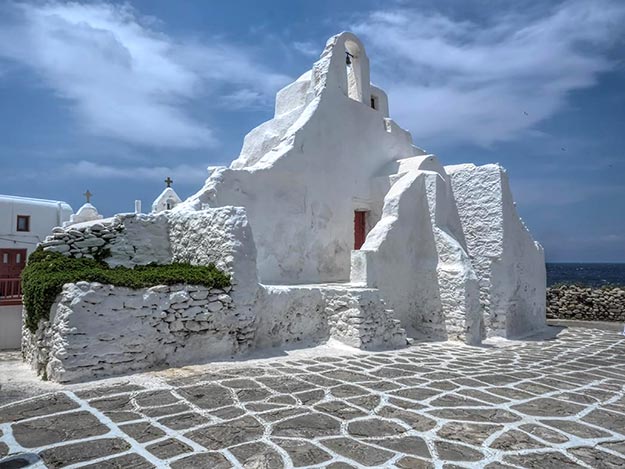 *Offer of $100 per booking, is valid when using offer code BARBARA100 on new bookings only, made between now and 8/31/18, for departures through 4/30/20. Offers are not valid on group or existing bookings. Offers are combinable with Special Offers, but not Hot Deals or any other offer. A booking is defined as a minimum of two full-paying passengers in a double room or a single passenger in a single room. Other restrictions may apply. Call Collette at 800-468-5955 for more details. CST#2006766-20 UBN#601220855 Nevada Seller of Travel Registration No. 2003-0279