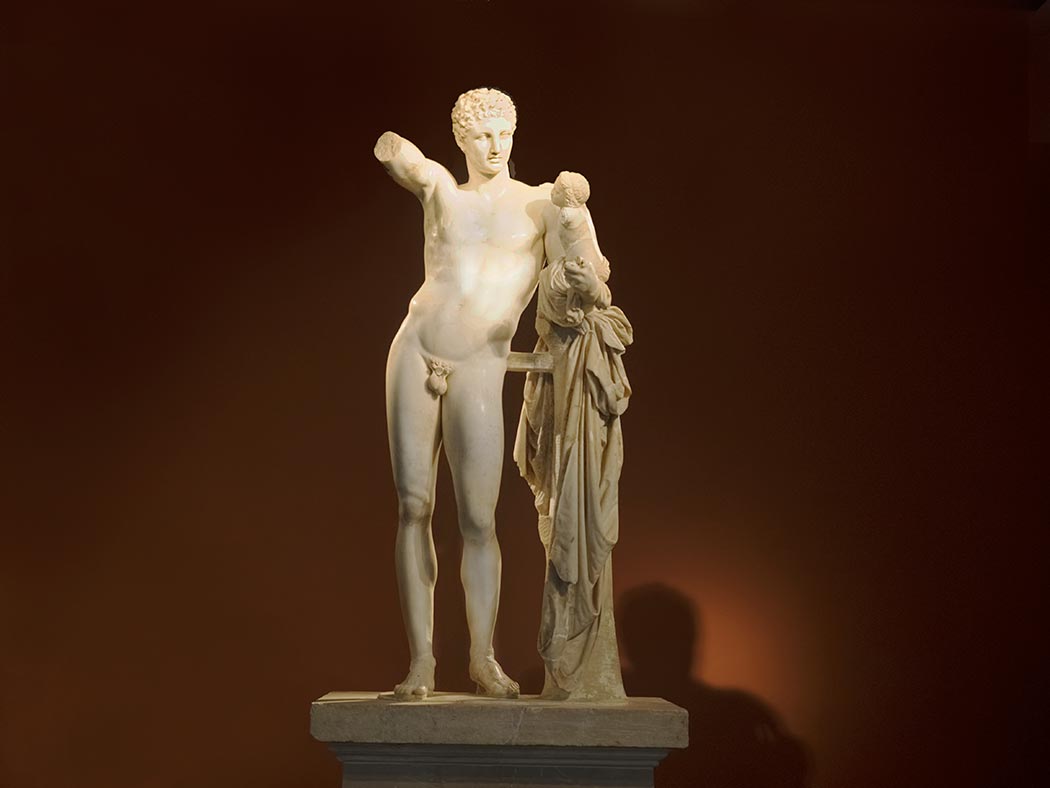 The itinerary for my Greek tour with Collette included a day in Olympia Greece, site of the first Olympic Games in 776 B.C. I thoroughly enjoyed my tour of the original race track and the ruins of the magnificent temples and shrines that once surrounded the sports facilities (read more about the earliest Olympics and see more photos in this article). But it was the Archeological Museum in Olympia Greece that left me at a loss for words. In a dedicated room rear the rear of the museum, surrounded by burnished copper walls, stood this stunning statue of Hermes and the Infant Dionysus.
The sculpture is traditionally attributed to Praxiteles and has been dated to the 4th century B.C. The head, torso, legs, and left arm were discovered in the Temple of Hera in 1877, buried beneath a thick layer of clay. Later excavations unearthed six additional pieces of the statue but some pieces, such as Hermes' right forearm are still missing. I stood rooted, trying to wrap my brain around the fact that this stunning piece of art was more than 2,300 years old. Its highly polished surface glowed under the spotlights, and I wondered how such fine detail and exquisite finishing could have been achieved so long ago. If I hadn't already realized the magnificence of Hermes, the final room in the museum drove home the point. I walked between two rows of crude, poorly proportioned Roman sculptures and wondered how the Romans ever conquered the Greeks.
Author's note: I was a guest of Collette during my Exploring Greece and Its Islands, Featuring Classical Greece, Mykonos & Santorini tour. However, the receipt and acceptance of complimentary items or services will never influence the content, topics, or posts in this blog. I write the truth, the whole truth, and nothing but the truth.