The ancient walls that surround Chiang Mai were constructed in the late 13th century to protect the city from attacks by Burmese invaders. Their defensive function has long since disappeared, however the walls and their five stately gates are still the cultural heart and soul of the city. And none are more integral to daily life than Chiang Mai Gate, the original southern entrance into the walled city.
Each morning, as first light blooms in the eastern sky, trucks and motorbike carts loaded with fresh produce begin arriving at Chiang Mai Gate. Luscious mangoes; bunches of finger bananas; star fruit; oranges; and slices of watermelon, pineapple, and papaya are heaped onto rickety wooden stands. Three-foot long string beans, huge heads of lettuce and cabbage, multi-colored peppers, chilies, green onions, broccoli, pumpkin, and a myriad of fresh herbs are draped across battered metal tables. By the time the day has dawned, the open air hall is crammed with shoppers.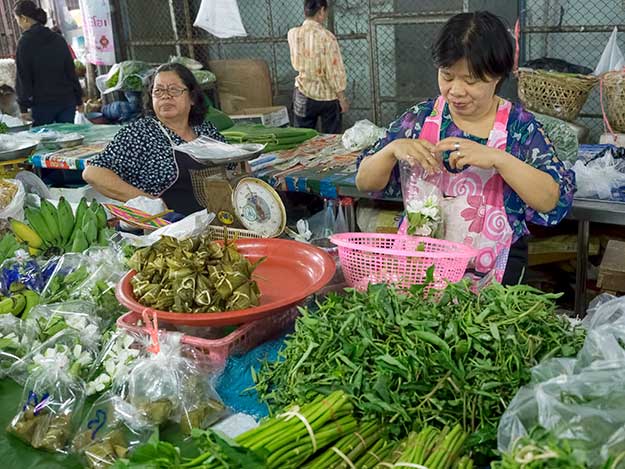 On a recent morning I joined the fray. My ears perked up at the sound of drums and horns coming from somewhere within the market. This was definitely not normal. I squeezed past throngs of shoppers, ignoring aisles where gelatinous candies jiggled in Easter egg colors. On any other day, I might have dallied over rice soup at the breakfast bar. But the cacophony was growing louder and I was curious.
At the rear of the market, I discovered the source. A long line of musicians snaked through the crowd, horns blaring and drumsticks thrumming. At the head of the line, women danced and swirled in a procession to honor Buddha on one of his many holy days. My curiosity satisfied, I concentrated on shopping for the day's produce. Cherry tomatoes and eggplants went into my tote, as did sliced pineapple. I tossed in a bunch of finger bananas for good measure, and made my way to the other side of the market for a block of homemade tofu.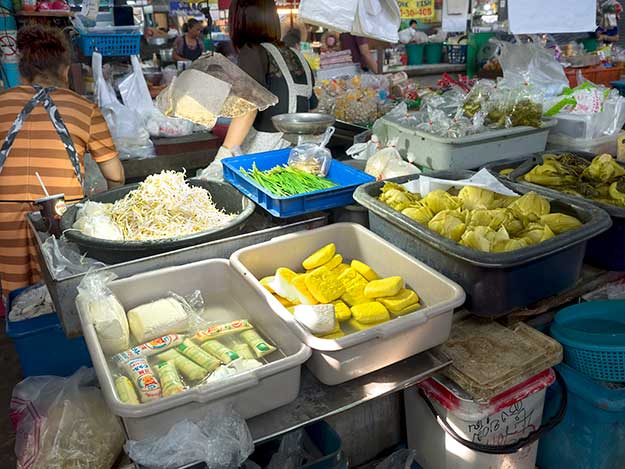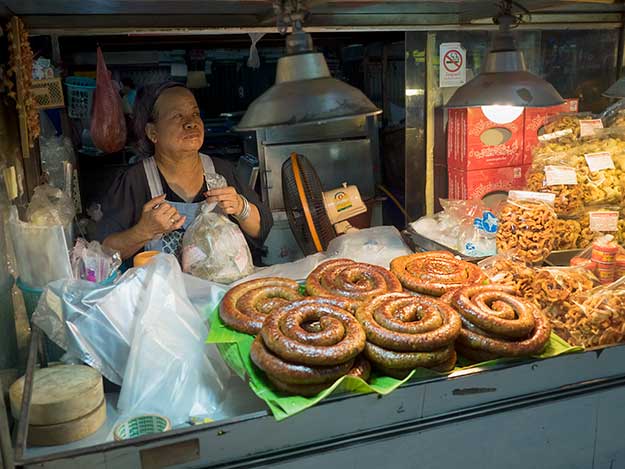 Out of curiosity, I walked through the butcher shop at the rear. It was a quick trip; I breathed through my mouth so I didn't have to smell the meat and bought nothing. But I stopped dead in my tracks at the sticky rice and mango kiosk, where blue, pink, and green-hued sticky rice was being used to create Thailand's most famous sweet dessert. With thoughts about my waistline, and great difficulty, I passed it by and headed home.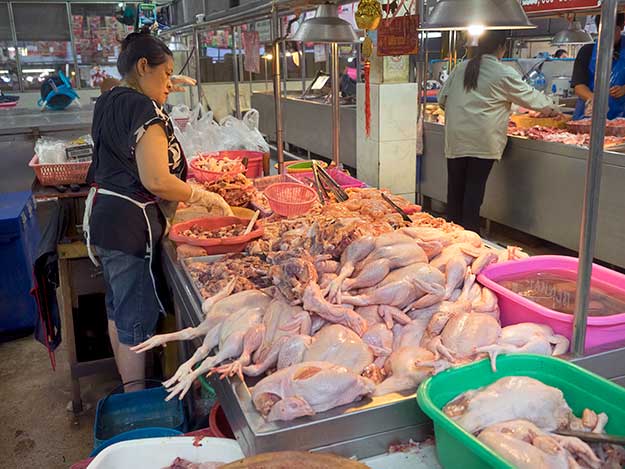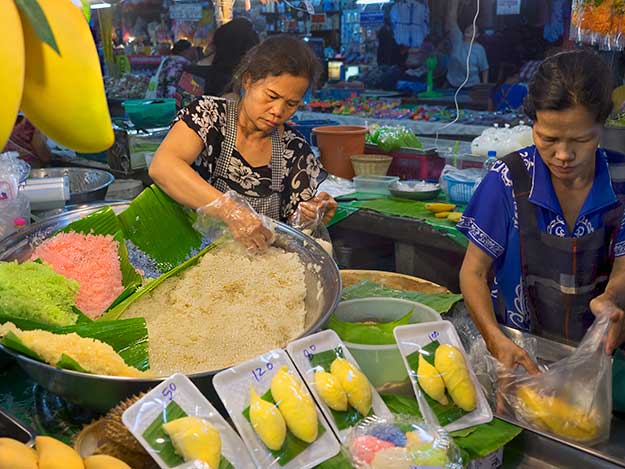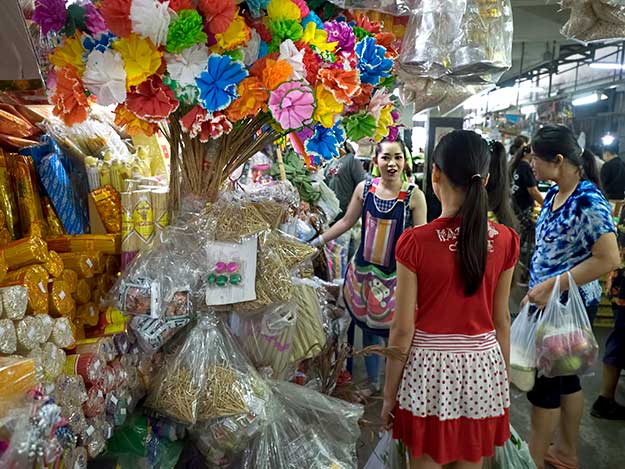 Later that same evening, too lazy to cook in the summer heat, I headed back to Chiang Mai Gate. The interior of the cavernous market lay dark and empty. Most tables had been cleared. Those that still held merchandise were covered with sheets. Now all the action was outside. Dozens of motorcycle carts, laden with folding tables, portable cook-tops, and supplies, roared up to the front of the market and began to set up.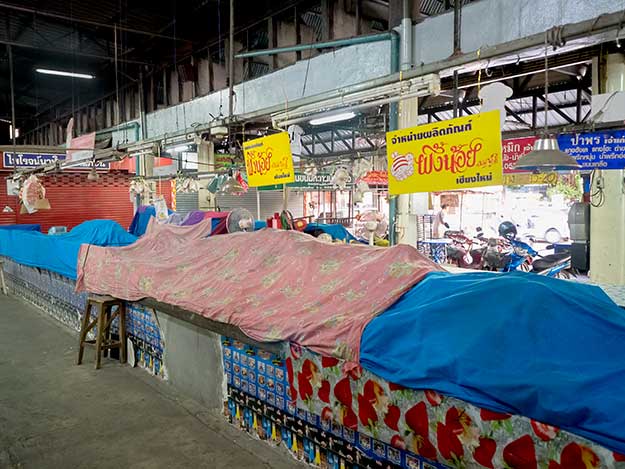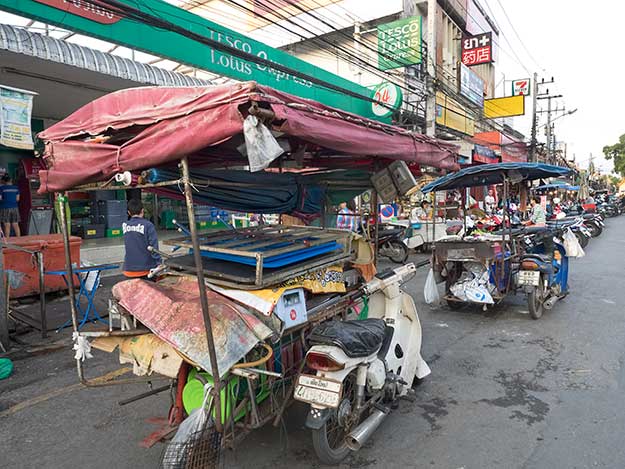 A crazy quilt of wheeled kiosks slowly emerged from all directions. Owners pushed them into reserved spaces on both sides of the street and began to prepare their specialties. I considered eating at the Roti stand or Sushi stands, but ended up at my old standby. The lady at the vegetarian kiosk didn't even have to ask; she just began preparing a plate of my favorite dish, extra spicy Pad See Ew. The cost? About a dollar.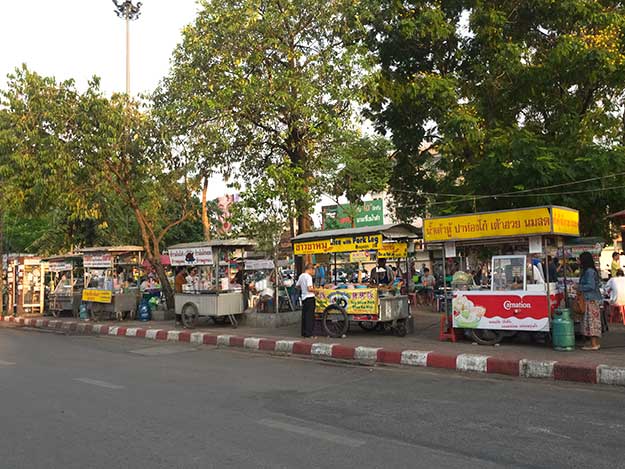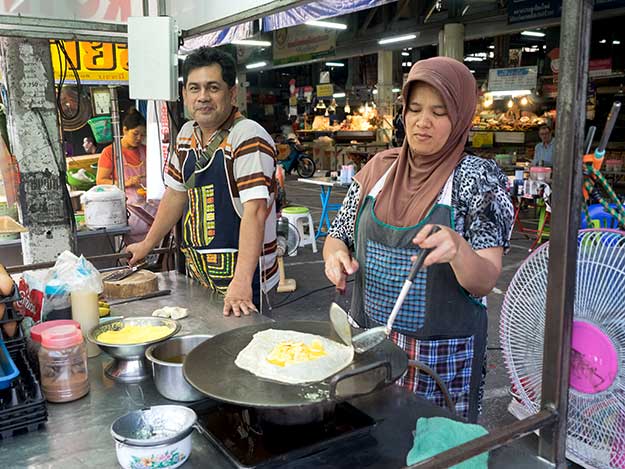 I carried my plate across the street to the plaza that spans the old moat and squatted on a baby-blue plastic stool. Motorcycles zipped up onto the sidewalk, narrowly missing pedestrians. To my left, huge slabs of meat hung in the window of a kiosk. In front of me, large plastic bins and baskets awaited dirty dishes, which would be washed and returned to their respective food carts throughout the evening.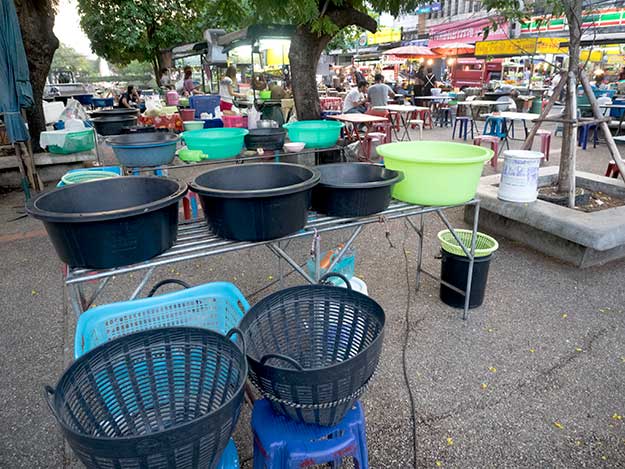 To my right, the whir of blenders pierced the air; one kiosk owner was already busy making shakes from Thailand's abundant tropical fruits. At another, employees watched a flat screen TV while waiting for customers. And in the distance, at the edge of the plaza, a black goat tethered to a rickety wooden wagon bleated pityingly.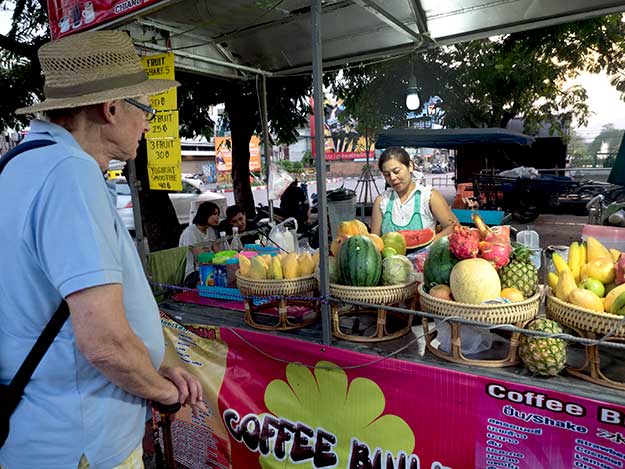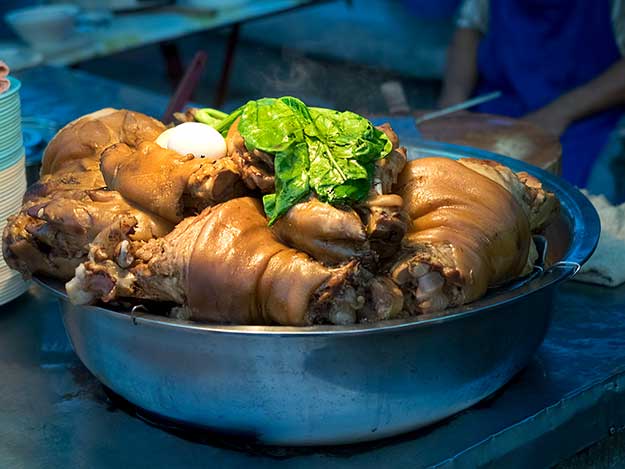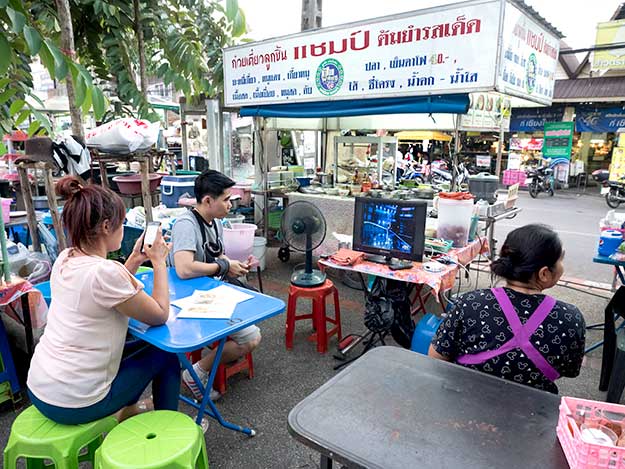 By 9 p.m., the night market was winding down. Broken-down tables and stacked stools were loaded back onto motorcycle carts. Wheeled food stands were disconnected from electricity and rolled into the street for their long, slow journey back home. I shook my head in wonderment, knowing that in just a few hours, the entire area around Chiang Mai Gate would once again shapeshift into a fresh produce market.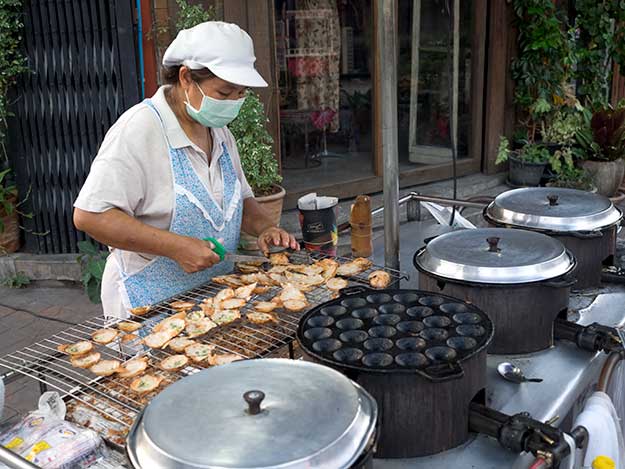 There's so much to see and do in Chiang Mai, but if you only have a short time to spend in the Jewel of the North, check out this article on Project Untethered about the perfect 3-day Chiang Mai itinerary.