My love for Indian food is second only to my love for Thai food, so when I was invited to visit Delhi, India, sampling traditional north Indian dishes was at the top of my must-do list. As luck would have it, I didn't have far to go. The Gupta family, who own Prakash Kutir B&B, my home away from home in Delhi, have roots that go back more than 120 years in South Delhi. Not only do they celebrate all the festivals in traditional Delhiite manner, they still prepare traditional north Indian dishes that can't be found in restaurants.
The indoctrination began during my first breakfast with one of Savita's specialties, Kulia chat. I dug into the juicy red tomato slices, sweet banana slices, and baby chickpeas as she explained that the recipe had been handed down through generations of Guptas, but that few people make it any more. Apparently, tiny chickpeas are out of fashion these days. With my mouth full, all I could do is shake my head in astonishment. They have no idea what they are missing.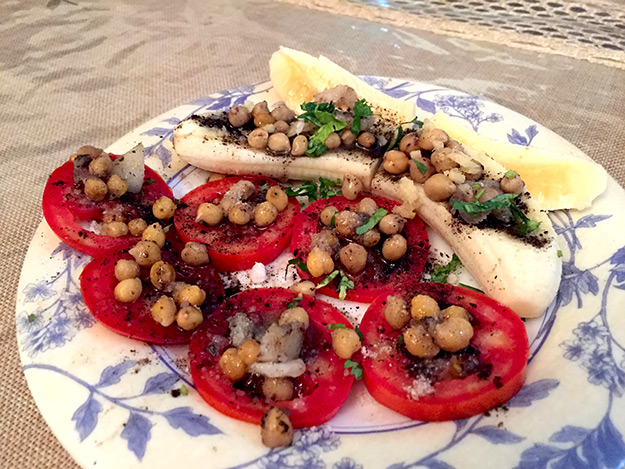 Another day Savita prepared a lunch of paratha (fried flatbread), slow cooked ladyfingers (okra), saag paneer (cottage cheese chunks in a spinach puree), sweet dal dessert with curd sauce and chat spices, and a fresh garden salad. The Indian philosophy that "Guest is God" was in full force at Prakash Kutir. Every time I turned around, someone was putting food in front of me. I ate everything in sight, telling myself it would have been rude to refuse. The truth was that it was all too delicious to resist, especially the sweets that appeared with regularity.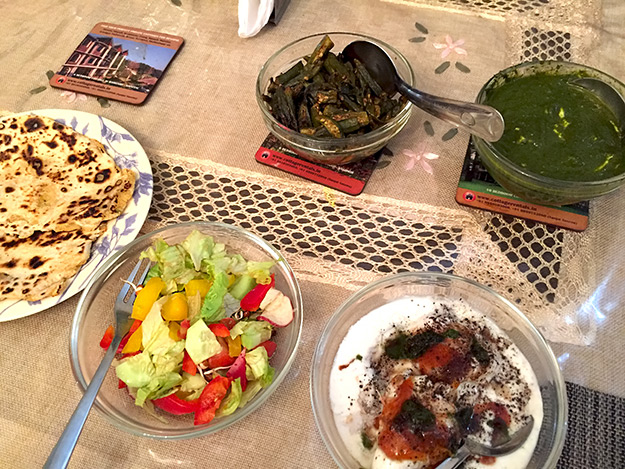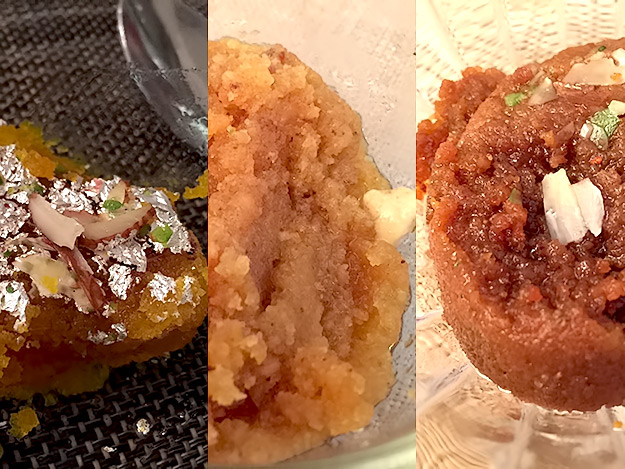 My indoctrination to north Indian dishes continued a few days later when Ajay and his son, Sagar, took me to Old Delhi. Our first stop was at a small storefront where men sat cross-legged on the concrete floor, rolling balls of Besan Ladoo by hand. These caramel colored dessert balls are made from chickpea flour that has been fried in buffalo ghee until golden brown and mixed with sugar. The workers are so adept that every piece weights almost exactly the same.
I was licking every last delicious crumb of Besan Ladoo from my fingers when a bowl of Rabri Kulfi magically appeared from the adjacent stall. Made with saffron and pistachios, this pure milk ice cream was butter yellow in color and equally buttery in consistency. I might have gone into sugar shock right then and there if we hadn't hit the road again.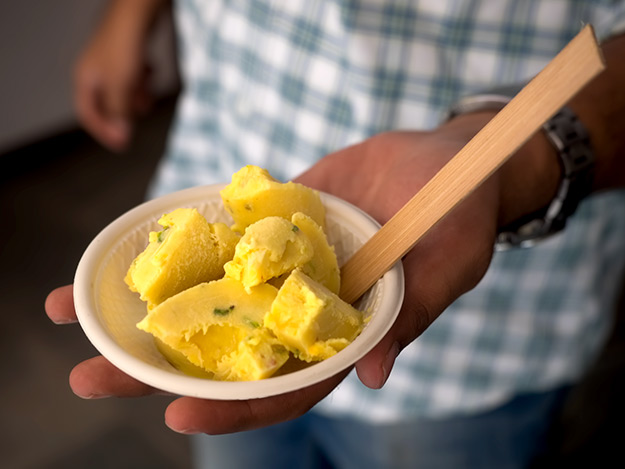 The ice cream wasn't the last of it though. I munched on Indian fry bread, sizzling hot out of a giant frying pan.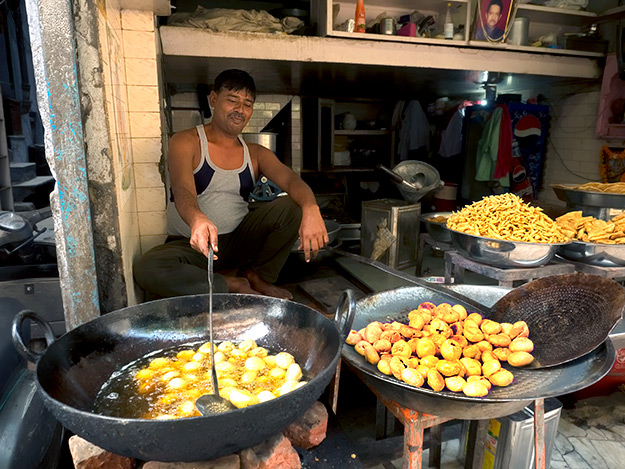 I checked out the amazing variety of Indian sweets at Raj Kumar Confectioners, the most popular pastry shop in Old Delhi, in operation since 1850.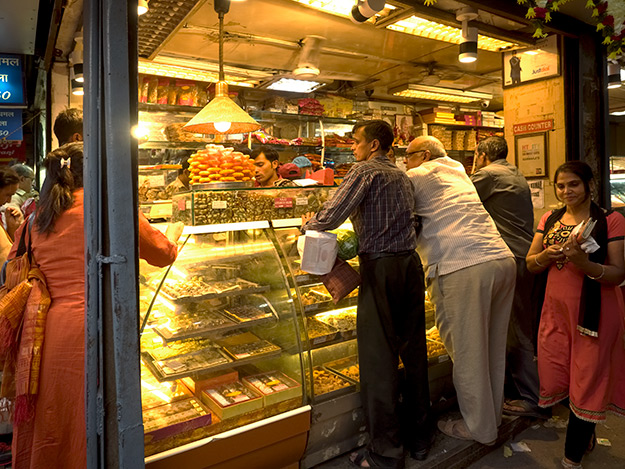 Then I scarfed down a Thali plate and a samosa-like pastry filled with an exquisite concoction of bananas and roasted cashews.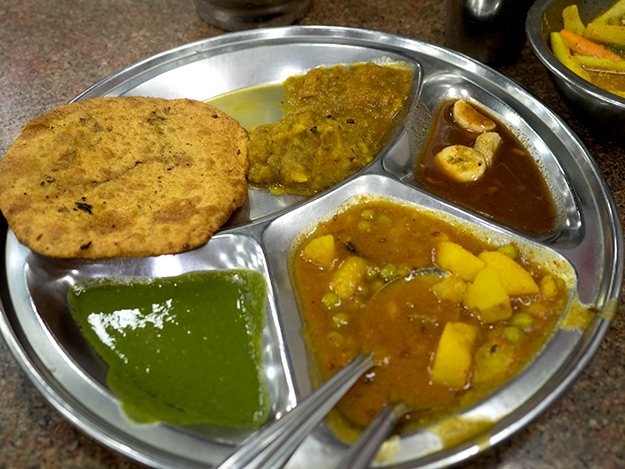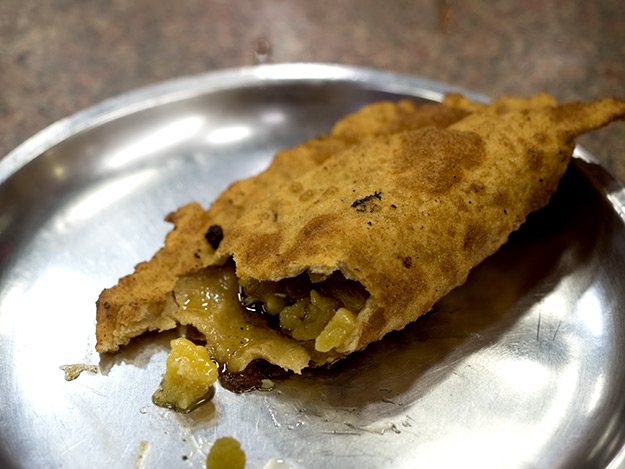 I waddled away from the table and couldn't believe it when Sagar insisted I try his favorite butter cookies at a nearby street vendor. Then he dragged me across the street for Jalebi, a deep-fried dough made from a finely ground wheat flour. I groaned when the plate of sizzling, pretzel-shaped sweets were placed in front of me, but took a deep breath and bit into one. The crispy outer shell melted in my mouth and honey poured down my throat. I swooned and finished every last scrap.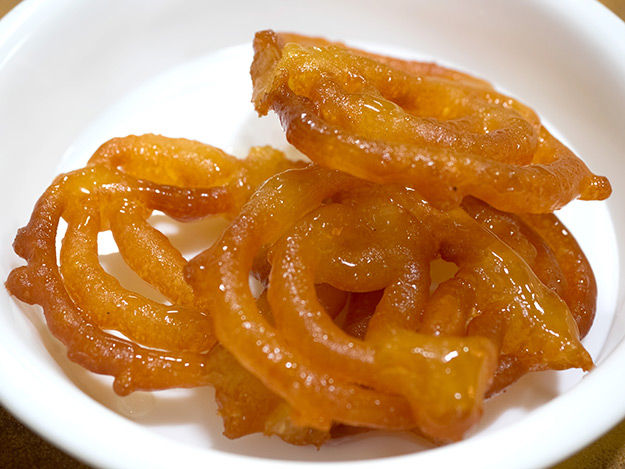 Several days later, my education in north Indian dishes continued at the DoubleTree by Hilton in Agra. When the restaurant manager learned that I love bitter gourd, he arranged for the chef at his Kebab-e-Que Restaurant to prepare a traditional dish of bitter gourd stuffed with chopped onion, seasoned with masala curry, and garnished with cilantro green chilies and mint. First, however, I had to eat my way through an appetizer platter that was piled high with mint sauce, yogurt raita, Pula (rice with dried fruits and nuts), vegetable curry paneer, dal, onions with chilies and lime, and potato halves stuffed with dried fruits and nuts (center). Of course, dessert followed, a Rasmali sponge cake made from cottage cheese and condensed milk soaked in saffron flavored syrup. Once again, I waddled back to my room, bloated but blissful.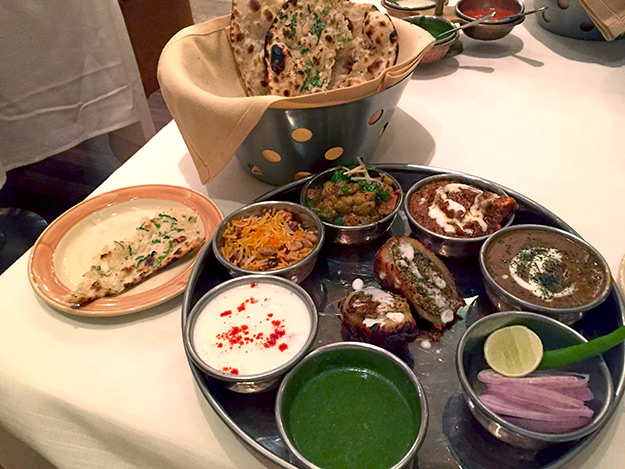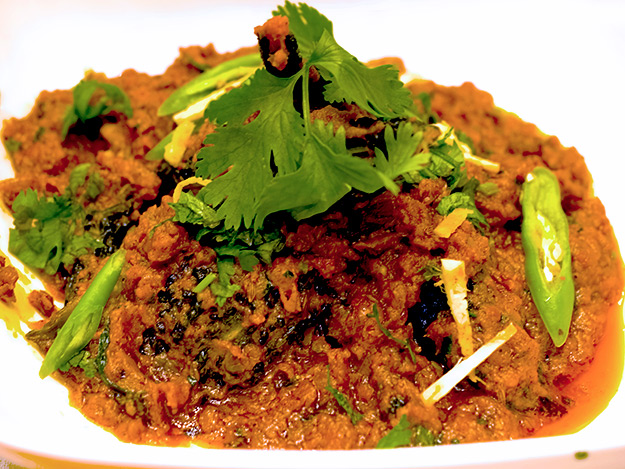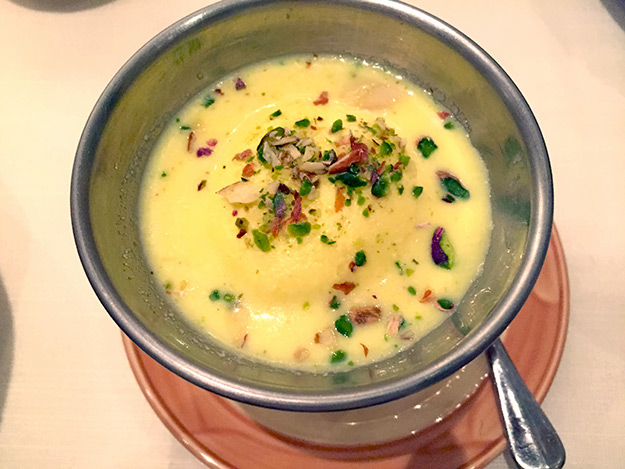 The following evening the marketing manager of the DoubleTree arranged for me to take a tour of the old market in Agra, where wholesalers sell in bulk to merchants. While heaps of merchandise were being auctioned off, I indulged in the best street food Agra had to offer: aloo (potato) tiki patties; aloo and pumpkin dosas; and a mini Thali plate with coriander chutney, sweet potato curry, dal vegetable curry, and masala puri.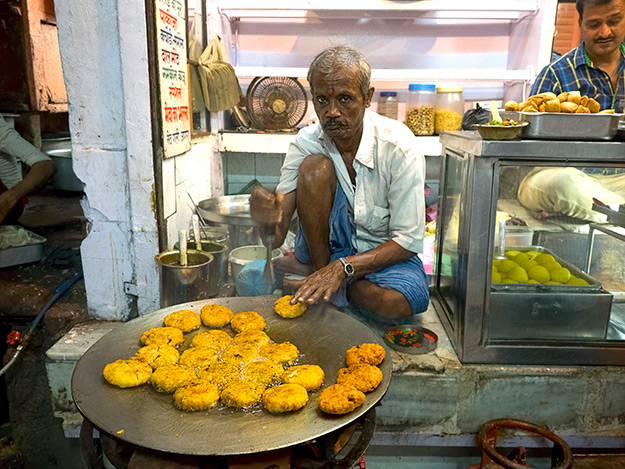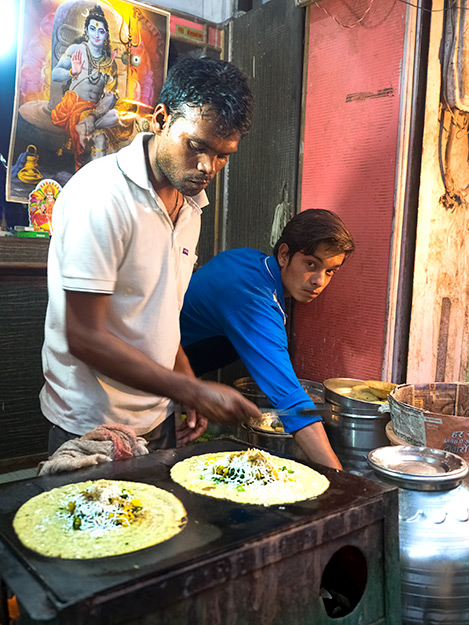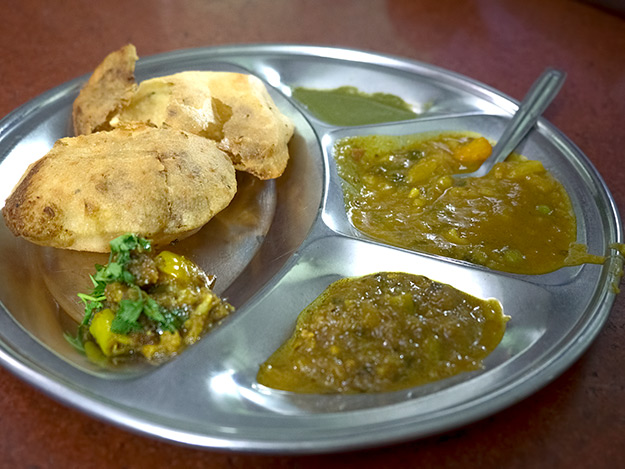 When I left India five weeks later, I took a few extra pounds with me. But that was a small price to pay for the privilege of being introduced to some of the best cuisine that northern Indian has to offer.

Disclosure: I was a guest of Prakash Kutir Homestay during my visit to Delhi. However, the receipt and acceptance of complimentary items or services will never influence the content, topics, or posts in this blog. I write the truth, the whole truth, and nothing but the truth. If you're considering a visit to Agra, India, my favorite site for finding the best prices is Booking.com. I earn a small sum if you book by clicking on one of the links to the DoubleTree by Hilton in my story, which helps keep this blog free for you to read.