I knew very little about the Baltic countries of Estonia, Latvia, and Lithuania when I decided to visit. I was aware that the Baltic States enjoy long hours of daylight in the summer months and endure dark, despair-inducing winter months with barely fours hours of light per day. I knew that each of the countries have completely different, tongue twisting languages that are said to be some of the world's hardest to learn. And I'd read that their cuisine relied heavily on meat. As a vegetarian, I was prepared for difficult mealtimes.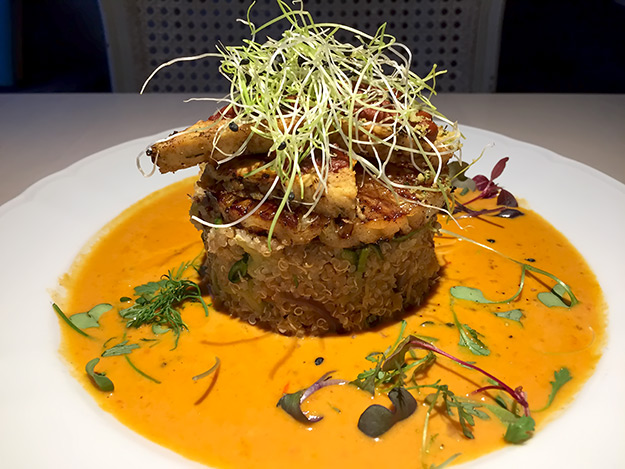 Meat is definitely a staple in the Baltics. Menus featured blood sausage, smoked trout, and barbecued chicken. Pork was served in more ways than I could count, including pig snout; crispy fried pig's ears; and pork ribs with potatoes, slathered in heavy cream sauce. But to my delight, I also discovered a surprising number of vegetarian restaurants in the Baltics. Not only do all three capital cities offer dedicated vegetarian and vegan eateries, the menus of almost every regular restaurant I visited offered something for non-meat eaters.
My Favorite Vegetarian Restaurant in Tallinn, Estonia
Vegan Restoran V is the kind of restaurant that vegetarians dream about, but it came about quite by accident, according to manager and co-owner Loore Emilie Raav. "About six years ago one of the animal rights groups here in Estonia decided to hold the first ever vegan fair in Tallinn. I'd been involved in animal rights issues for about ten years at the time. Mikk Mägi, who was a chef at a local restaurant, was also involved in animal rights and that's how how we met. Jointly, we decided to provide snacks for the fair. We printed out a few business cards on a printer because we had no idea know much interest there would be in vegan food."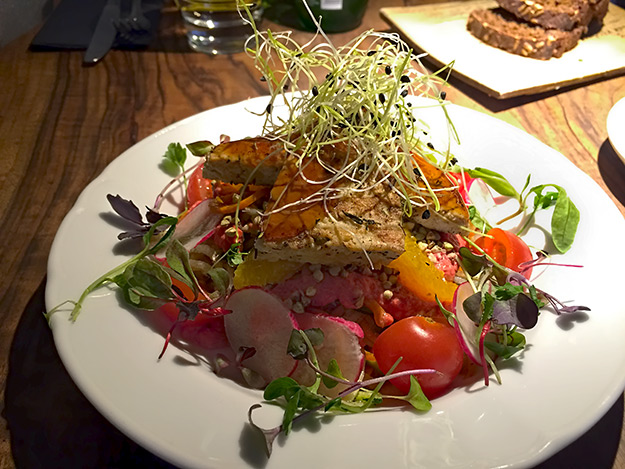 The concept was a hit and word spread. People began hiring Loore and Mikk for events and before long Mikk had to quit his job to handle the catering. "Local people started to call on my cell phone asking how to find the restaurant. Having a restaurant was a little bit of dream already. Mikk had been working at one of the other restaurants next door. Fortunately, the owner of that building had an interest in vegetarianism and offered us the space next door." V finally opened its doors in April 2014 and has been a local favorite ever since.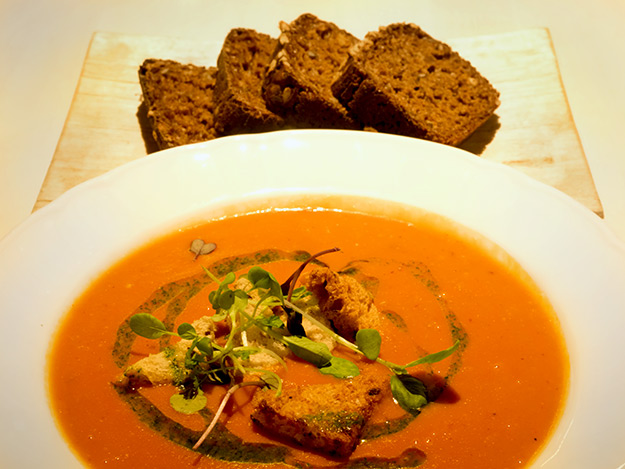 Located at Rataskaevu 12, in the Old Town neighborhood of the Estonian capital of Tallinn, this tiny cafe is so popular that reservations are a must if you plan to visit on a weekend or during the summer tourist high season. I got lucky on my first visit; it was early in the evening in the middle of the week and they had a table available. I thanked the food gods and quickly dove into the menu.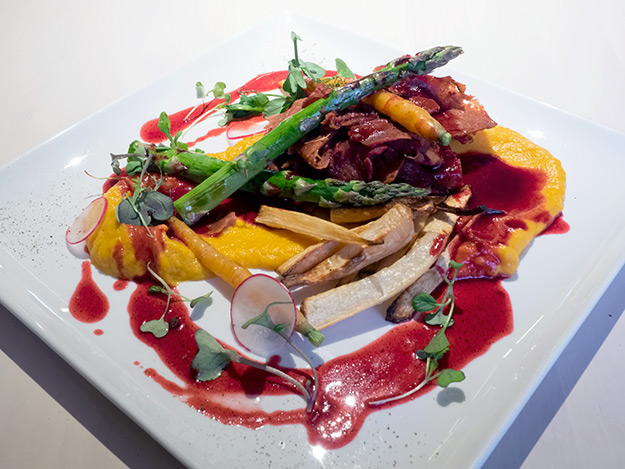 I began with their creamy smoked tomato and cheese puree soup, which was served with moist, warm black bread direct from the oven (€4.30/$4.80 USD). For a main dish I chose their beet seitan with sweet potato-celeriac puree, vegetables, and red wine beetroot sauce (€9.50/$10.60 USD). The beet seitan, though delicious, was a little TOO much like meat for my taste, but I suspect it's a dish that would satisfy the taste buds of any carnivore. I finished up with the daily cupcake, a sinful raspberry and marzipan filled concoction, topped with a bountiful swirl of chocolate nut cream frosting.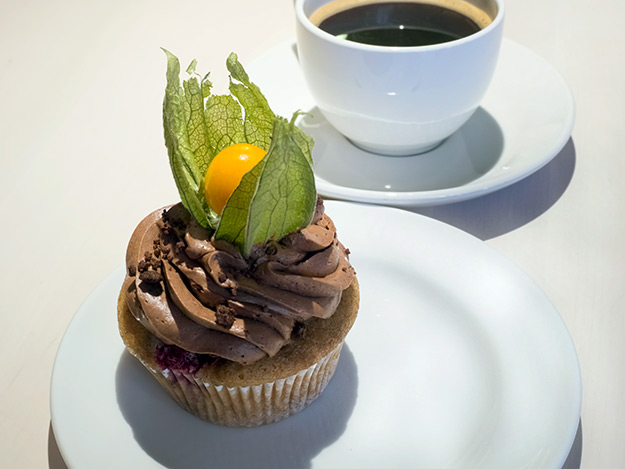 The creamy smoked tomato soup was so amazing that I ordered it again on my second visit, following up with their garlic ciabatta and selection of spreads (muhammara, smoky beetroot hummus, cashew carrot paste) for €4.50/$5 USD. And that was not my last meal at "V" – I returned on two more occasions, each visit more of a treat than the previous one.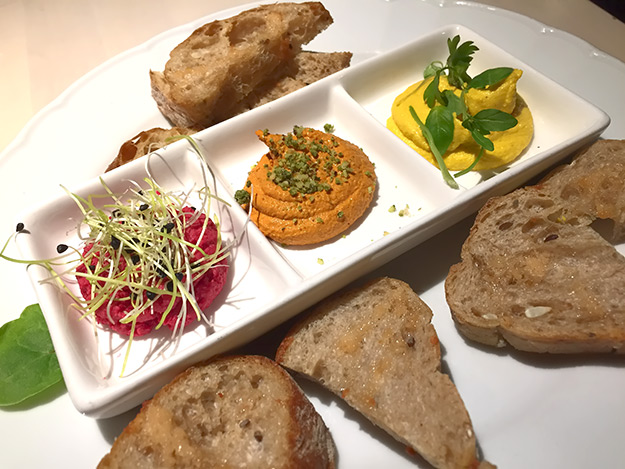 Perhaps my favorite dish was V's breaded celeriac with fresh cauliflower and potato salad (€6.50/$7.25 USD). Not only had I never tasted celeriac before, I had no idea what it was. I was surprised by the mild yet tasty flavor of the celery root, which was sliced into a thick slab and baked to perfection. When I shared this with Loore, she laughed. "One of our missions is to surprise people with our food, which is so much more than salads. The biggest misconception about vegan food is that it's very plain. Many people who come here are surprised, because they expect so much less." Check out their fabulous menu here.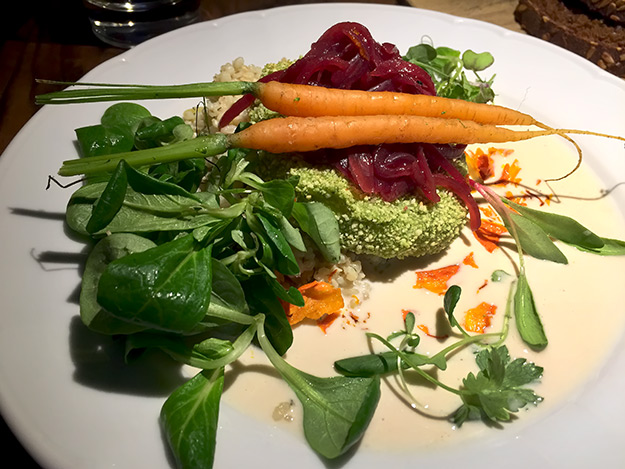 My Favorite Vegetarian Restaurant in Vilnius, Lithuania
Hands down, my favorite vegetarian restaurant in Vilnius, Lithuania, was Vegafé in the Old Town area. Located in the same building with Mai Ram Yoga Ashram, Vegafé is an oasis of peace that let me wind down after a busy day of sightseeing. During multiple visits I tried their creamy cauliflower and pumpkin soup, spicy hot cream of bell pepper and sweet potato soup, and the cold cream of avocado soup. All were excellent, with a serving size that could have done for a whole meal, and modest prices ranging from €4 to €4.50 ($4.50 to $5 USD).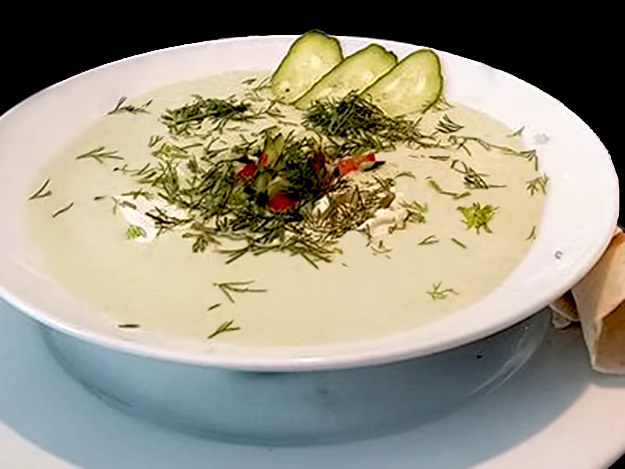 My favorite salad at Vegafe was the raw pumpkin and carrot salad, again priced at an affordable €4/$4.50 USD. And the main dishes? Well, let's just say that I wish I had another week to try everything on the menu. As it was, both the vegan vegetable bhaji (€6.50/$7.25 USD) and the spinach and paneer kofta in tomato and cashew sauce (€8.50/$9.50 USD) were mouthwatering, perfectly spiced dishes, served in huge portions. Of course, with food that delicious I forced myself to clean my plate.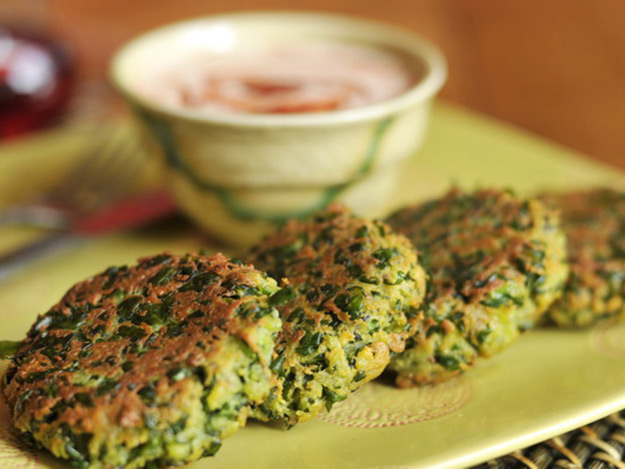 My Favorite Vegetarian Restaurant in Riga, Latvia
In Riga, Latvia, my favorite vegetarian restaurant was Fat Pumpkin. Located in the the Old Town area, this popular cafe offered a wide range of vegan and vegetarian appetizers, main dishes, burgers, soups, salads, pastas, and risottos. I loved their hearty pumpkin soup, which is made fresh daily and priced at €6.50/$7.25 USD. This culinary masterpiece is garnished with fresh greens and toasted pumpkin seeds, and drizzled with pumpkin seed oil.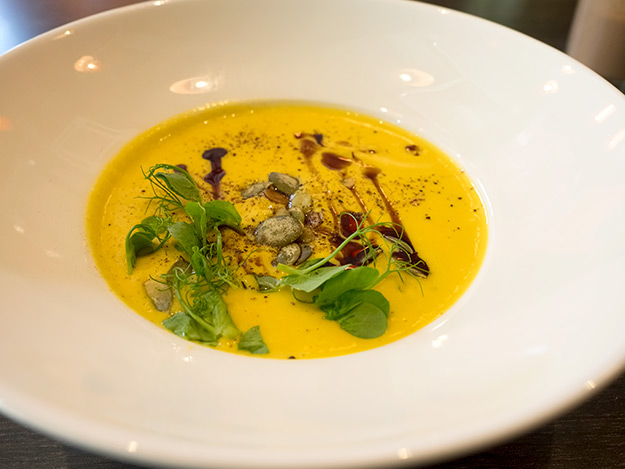 My main course was a delicious heap of julienne veggies sautéed in mango sauce and accompanied by breaded, fried mozzarella balls (€10.50/$11.70 USD). That was followed by a vegan coffee pie that was out of this world (their fresh-baked and raw pies and cakes change each day). The cafe is certainly appropriately named. Despite preparing healthy, wholesome vegetarian and vegan food from farm-fresh ingredients, the food is SO good that I'd get fat if I ate there too often. Check out their Facebook Page.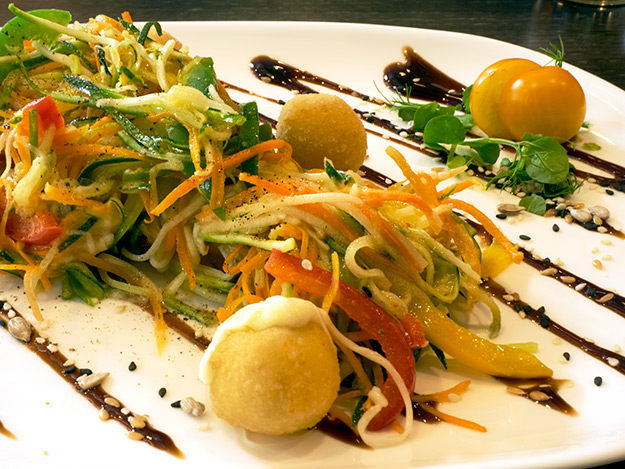 Though I've raved about my favorite vegetarian restaurants in the Baltics, they were far from the only choices. Listed below, in no particular order, are the others I tried, all of which I can happily recommend.
Other Vegetarian Restaurants in Vilnius
• Namai Cafe, Subaciaus 6, in the Old Town area: This small cafe is my number two choice in Vilnius. Service is a bit slow because they prepare each dish from scratch, but it's definitely worth the wait. Be sure to try the "Lazy Man's Dessert," a traditional Latvian cookie and chocolate ball. Though it's mostly in Lithuanian, their Facebook Page has some reviews in English and photos of the dishes.
• Radharane, at Gedimino pr. 32, in the central business district. Try their signature dish, Radharani, which is paneer cheese, tomatoes, cream, basmati rice and salad.
• GYVAS baras – Vegan and Vegetarian Bar Restaurant, 15 Odminiu Street in the Old Town area. Unfortunately their website is only in Lithuanian, but their Facebook Page has lots of information and photos of the dishes.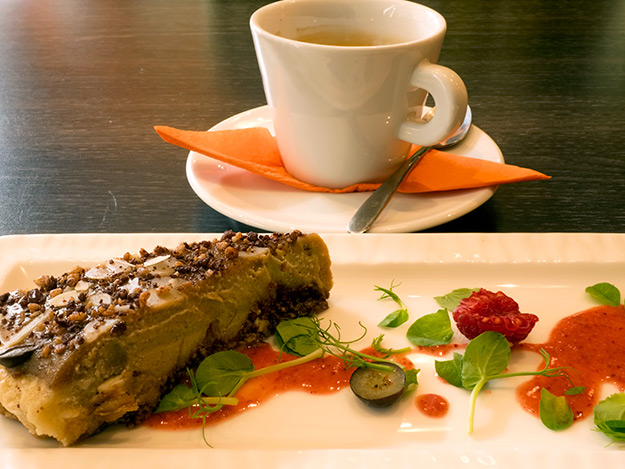 Other Vegetarian Restaurants in Riga
• Miit Coffee at Lacpleša iela 10, in the central business district. The name might suggest a coffee house, but in fact it is a full-fledged vegetarian restaurant/cum bicycle repair shop. Yes, a bicycle repair shop, though these days the bike shop has moved downstairs to make way for the cafe. In their own words, they prepare "extravagant vegetarian food," and each day they offer new and exciting menu items. Check out their website here.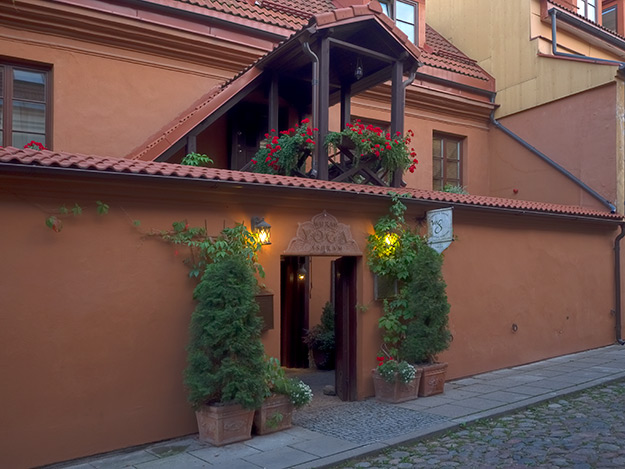 Other Vegetarian Restaurants in Tallinn
Must Puudel, Müürivahe 20, next to the old city wall in the Old Town. This bohemian café and restaurant is not strictly vegetarian, but their menu has a sprinkling of veggie options. I wasn't crazy about their chickpea and beetroot burger, but their coconut lentil soup was absolutely out of this world. See their Facebook Page for more information (mostly in Estonian, but with lots of photos of the food).
Reval Café has 12 locations scattered across the city. My favorite was at Müürivahe 14, in the Old Town area. The café is set up as a traditional cozy coffee house, with café tables, overstuffed armchairs, and sofas, however it offers a full menu in addition to coffee drinks. While not billed as a vegetarian restaurant, the menu has a surprisingly large selection of vegetarian and vegan salads, soups, starters and pastas. My favorite was their crispy eggplant-halloumi rolls with snappy soya-sesame sauce and fresh salad. Their menu changes seasonally, so check out what they have to offer on their website before visiting.