Visiting Andorra had eluded me during my previous European travels. Tucked into the Pyrenees Mountains on the border between France and Spain, this tiny country has no airport and no international train service. Other than driving, the only way to get to Andorra is by bus from Barcelona and Girona in Spain, or Toulouse, France. This year, however, I had planned a visit to Toulouse, so I set aside three days to explore what Andorra had to offer.
An hour into the ride, I realized why there is no airport or rail line to Andorra. My bus turned off the highway onto a narrow, twisty two-lane road and began its ascent into the Pyrenees. Before long we were surrounded by exquisite green hills and knife-sharp black peaks, where patches of snow still showed in mid-summer. Scene of astonishing beauty lay in every direction. I wanted to ride forever, circling endlessly through the Alps.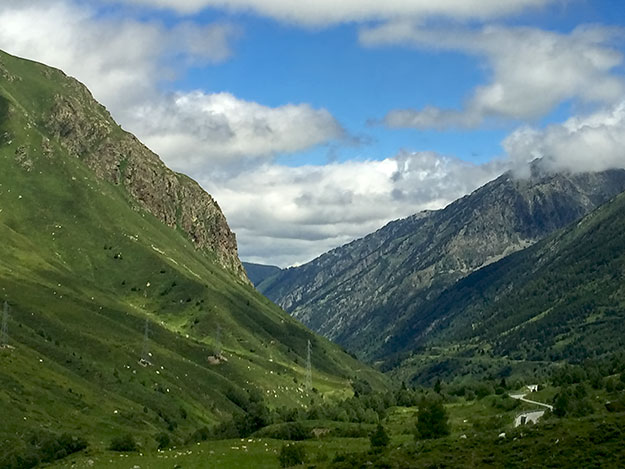 After checking into my hotel, I set out to explore the capital city of Andorra la Vela. It didn't take long; the entire country is only 181 square miles in size, and I walked the capital city from end-to-end in a couple of hours. At the eastern edge of the capital, I continued into the adjoining city of Escaldes-Engordany, home to Caldea Spa. While duty-free shopping, casinos, and winter sports may be the main reasons for visiting Andorra, I had come for the spa, which is reputed to be the largest in Europe. There was no trick to finding it. It's 262-foot high mirrored glass spire is Andorra's highest building.
Caldea is a resort specializing in thermoludism, a concept that utilizes thermal water to restore the body's balance and vitality. The facility is separated into two parts. The original part of the spa was built in 1994 and is known simply as "Caldea." Its main attraction is the 50,000 square foot indoor lagoon, which is filled with 89.6 degree thermal water. Additional indoor facilities include hydro-massage baths with temperatures ranging from 89.6 to 93 degrees, whirlpools, bubbles, cascades, steam masks for facial moisturizing, a Jacuzzi, and a water piano for relaxing foot massages. Caldea also offers an outdoor lagoon with bubble beds, geyser, a walk-in Jacuzzi, and a solarium.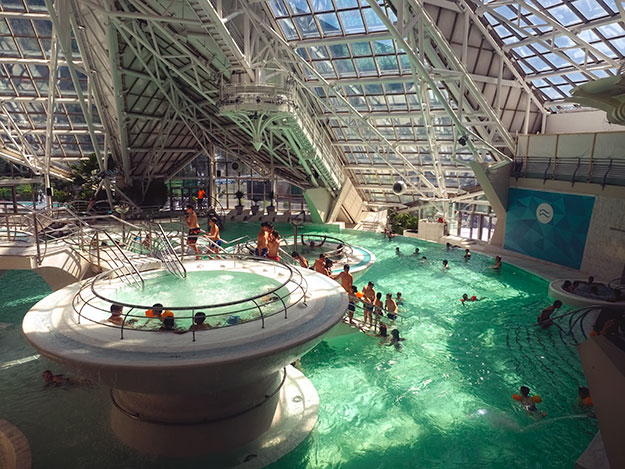 The newest part of the spa, where I had a reservation the following day, is known as INÚU. While Caldea is family friendly, INÚU is restricted to adults and also offers massage and other wellness therapies. Both Caldea and INÚU use thermal water drawn from natural springs that are among the hottest springs in the Pyrenees region. The water contains sodium, calcium, fluoride, silica, magnesium, ammonia, sulphur, and thermal plankton. It is said to have analgesic, healing, decongestant and anti-allergy effects.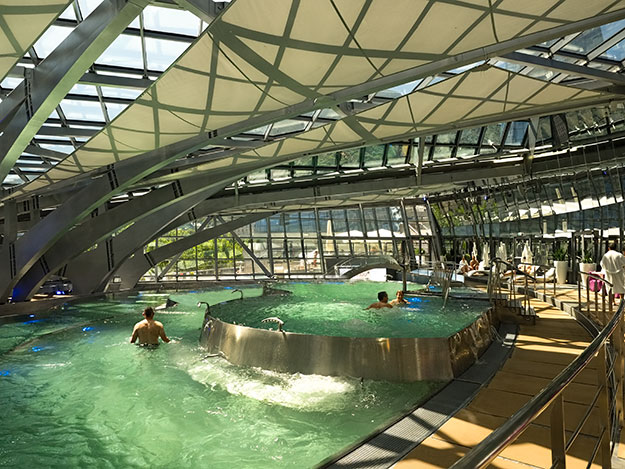 Early the next morning I headed out for my spa appointment. After a relaxing 30-minute massage, I hit the pools. I lay on submerged chaises equipped with water jets, stood beneath waterfalls that pummeled my sore shoulder muscles, and let jets in the bottom of the pools massage the soles of my feet. I took alternating hot and cold showers in color-therapy showers, sweated off toxins in the sauna and steam rooms, and let the ionizing air in the salt cave eradicate free radicals in my system. I tested every indoor pool, of every temperature, then swam through heavy plastic flaps that separated the indoor pools from the outside pool.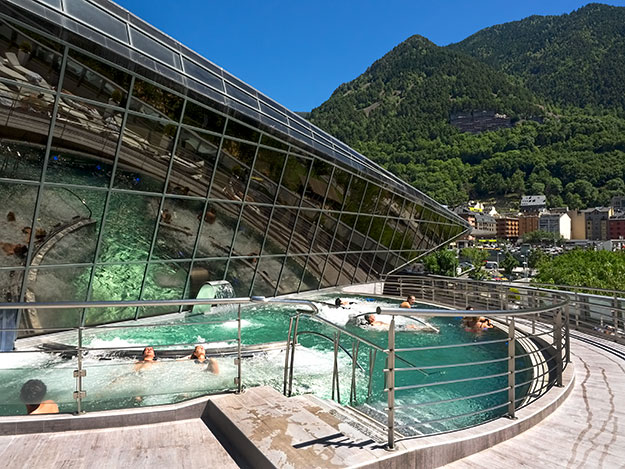 In the cool air, I wrapped myself in a thick cotton robe and sank into a chaise lounge. Transfixed by the magnificent panorama spread before me, I spent a serene hour thinking of absolutely nothing. Andorra may be one of the smallest countries in the world, but the magnificent mountain scenery, invigorating fresh air, and the impressive Caldea Spa prove that good things do indeed come in little packages.
Author's note:
The website for Caldea Spa is available in Spanish, Catalan, and French (the official language of the Principality of Andorra is Catalan). All visits last for three hours, with the exception of evening admissions, which are two hours long). Time spent in the changing room is included in the duration of the visit.
General adult admission is €34.50 in advance or €37 at the door ($38.60/$41.40 USD). General child admission (5 to 15 years) is €25 in advance and €25 at the door ($28-$29 USD). General evening admission is €28 in advance and €29 at the door ($31.33/$32.45 USD). A three-day pass is €69 in advance and €72 at the door ($77.20/$80.55 USD). A five-day pass is €103.50 in advance or €108.50 at the door ($115.85/$121.50 USD). These prices provide access to the facilities only; additional spa services such as massages incur additional costs.
Disclaimer: I was a guest of Caldea Spa, however the receipt and acceptance of complimentary items or services will never influence the content, topics, or posts in this blog. I write the truth, the whole truth, and nothing but the truth.