I hate flying. Don't get me wrong – I'm not afraid to fly, I quite like airports, and I've even grown accustomed to the frustrating security process. But the airlines' ever-changing baggage allowance rules are enough to make my blood boil.
Considering that I'm on the road full time and have to pack clothes for all types of climates, I travel very light. My clothes and toiletries go in a 22" rollerboard. Even though it is carry-on size, I check it, because I also have to carry a good deal of photography and electronic equipment to do my job. These items cannot be checked – the risk of theft would be too high – so I carry them in a medium size backpack, which is my one free carry-on item.

Over the past few years, the allowable weight of carry-ons has changed drastically. Most airlines now allow carry-on bags to weigh either 8 kilos (17.6 pounds) or seven kilos (14.4 pounds). Because my camera body, lenses, laptop, and assorted peripheral equipment always put me over the weight limit, I am constantly stressed out when checking into a flight, scared that one day they will weigh my backpack and force me to check it.
I'm happy to report that I've finally found a solution, the Ultimate Everyday Carry Jacket with hidden pockets from Global Travel Clothing. The pockets in this jacket let me carry a wide variety of gear that I would normally pack in my backpack. Soft lined pockets keep items like phones and glasses from getting scratched, and include a built-in glass cleaning cloth. Additionally, a series of hidden pockets safely stash valuables like a wallet, passport, plane ticket, and keys.
This jacket come in three styles. The windbreaker is lightweight and made of a water resistant polyester that cuts through the wind. The soft shell is made of a medium weight waterproof nylon material that is slightly heavier than the windbreaker. I opted for their sweatshirt style, made of a thicker cotton/polyester blend that provides extra warmth. Although the sweatshirt jacket itself is not water resistant, all the pockets are. All three of the styles include a detachable hood with a built-in pull-down eye mask that is perfect for long haul flights and a Velcro strap built into the hood that allows it to be attached to a suitcase handle. The windbreaker and soft shell design have cuff adjusters that keep the cold air from going up the sleeves, while the sweatshirt design features cuff hand warmers.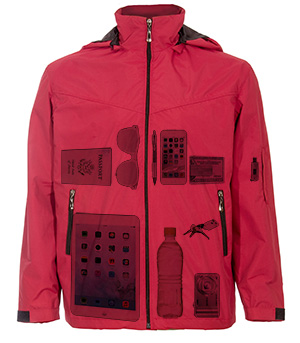 I have tried similar products from other companies which, frankly, I wore once and then gave away. They were either too short, too flimsy, or they cut into my neck when the pockets were loaded up. My Ultimate Everyday Carry Jacket reaches below my thigh and is completely comfortable no matter how much I stuff into the pockets. And load it up I do! Before heading for the airport, I fill the inside pockets with my external hard drives, laptop charger and cord, glasses case – sometimes even a paperback book – until my backpack meets the carry-on weight restriction for the airline I am flying. When I get to the security line, I simply peel off the jacket and put it in a bin, then put it back on on the other side of the X-ray line. Never again will I have to stress over the possibility of having to check my most valuable possessions.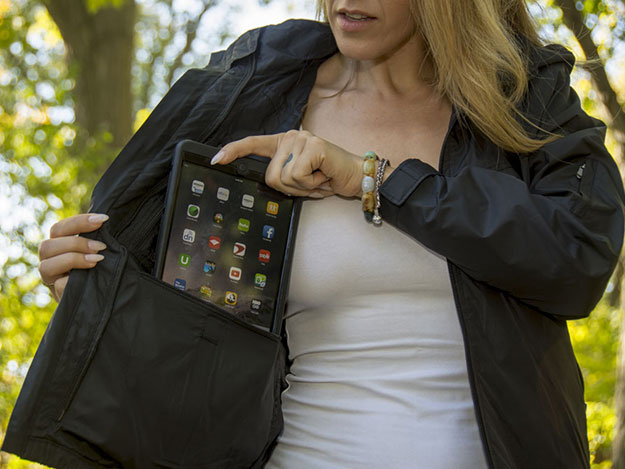 Per the company's suggestion, I ordered a jacket that was two sizes larger than my measurements. It fits perfectly, even when the pockets are loaded down. Styles are available for both men and women and prices range from $179 to $189, depending upon style. A removable fleece liner is also available for an additional $49. If you travel a lot, or even if you just want to be able to carry a lot of stuff without looking like a pack mule, you've got to check out the jacket with hidden pockets. It changed my life and it will change yours too.
Disclaimer: Global Travel Clothing sent me a jacket to wear and test free of charge in return for writing this review. However, the receipt and acceptance of complimentary items or services will never influence the content, topics, or posts in this blog. I write the truth, the whole truth, and nothing but the truth. I earn a small fee for anyone who clicks through to the Global Travel Clothing website and purchases a jacket, which helps me to keep this site up and running.