I dug into my huevos rancheros with gusto during my last morning on Isla Mujeres, a tiny island off the coast of Cancun, Mexico. Five days earlier I had arrived, tired and dispirited, with little appetite and less energy. Of late, I'd been struggling with the question of whether I should be doing something more with my life – something grander that would help huge numbers of people. Looking back, I sometimes find my life wanting. Certainly, I wish I had been more generous with my time and money during my years in the corporate world. Over the past year, the difficult loss of my father, the fact that I am growing older and achier, and dealing with a world that seems to be in continual crisis had become a perfect prescription for depression. Frankly, I was floundering, thus the invitation to attend the We Move Forward Conference for women could not have come at a better time.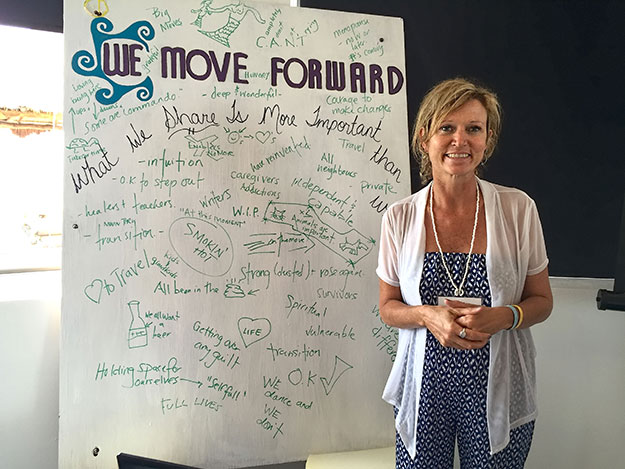 Janeen Halliwell, who hails from Canada but has a second home on Isla Mujeres, started the conference five years ago after suffering the loss of her father, Scotty, to pancreatic cancer. After his passing, she and her mother came to the island to rest and recuperate. "It was March, and International Women's Day was coming up," Janeen told us on the opening day of the event. "I was out for my morning walk…and I got thinking how cool it would be to host an IWD conference here on the Island of Women. I shared my vision with my mom, Mary, and for the first time since my dad's death, her eyes lit up. She said, "I think a conference would be a wonderful thing Janeen – I think you should do it!""
Janeen formed a team, hired a website developer, and stated recruiting speakers. Unable to afford the pricey fees that good speakers command, she called in favors and soon had commitments from a successful actress, a foreign correspondent, and a woman with a cooking show called Spice Goddess to speak at that first conference. She met with officials on Isla Mujeres and arranged to rent the Casa de Cultura, a large community hall that was under construction but scheduled to be completed well before the event. But despite advertising, social media promotion, and speaking at women's groups, registrations trickled in painfully slowly. Then, two months prior to the event, she got word that the government of Isla Mujeres had run out money and the Casa de Cultura project was on hold. She had to find another venue – fast!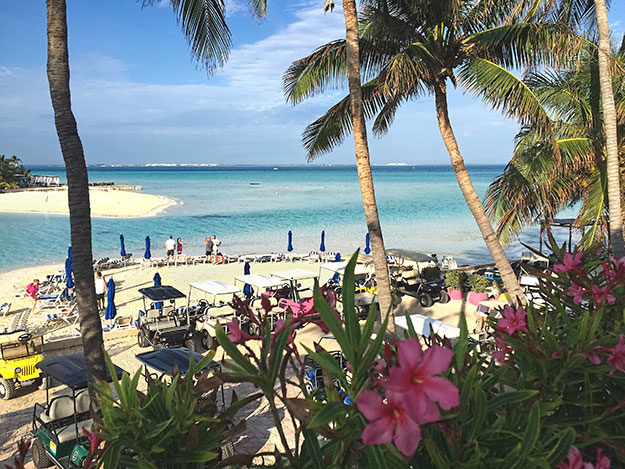 MIA Reef Hotel came to the rescue, but the cost of their meeting room was significantly higher than the community center would have been. Janeen crunched the numbers and realized she was nowhere near the number of attendees she needed to break even. "I had to make a decision – do I move forward with We Move Forward, or do I admit defeat? It is a moment I will never forget. I sat with my calculator in my hand and decided to figure out not how much I could "lose" on this venture, but rather how much I was willing to invest." She began hitting the keys again, this time with a mindset of how many participants she would need need to make her dream come true. The magic number was 45. It didn't sound like so many. She rededicated her efforts and forged ahead.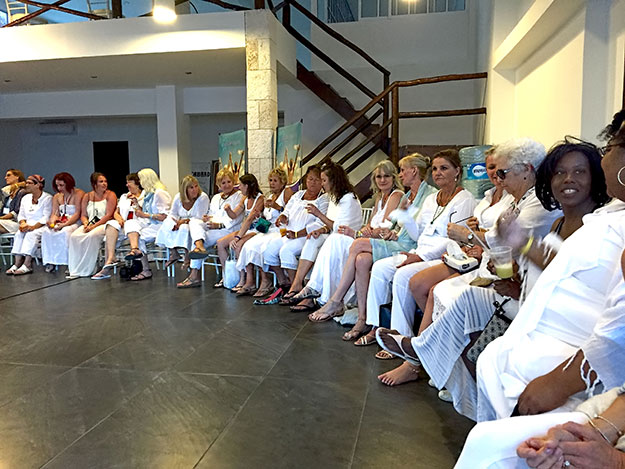 In mid-February, all three of her keynote speakers dropped out. The actress got a television role as Ted Danson's ex-wife on CSI (fair enough, Janeen thought). The foreign correspondent got an assignment in the Panama jungle. And the Spice Goddess – well, she just flaked out. "I slipped into poor me mode for (a few) seconds, then pulled on my combat boots and went into action. In a matter of three days, I had three new speakers." On March 8, 2012, 71 people sat in the same seats where I attended this year.
Over the three days of the conference, I let go of all my preconceived notions about what constitutes a life worth living. With the assistance of some remarkable women, I was able to gain clarity. What I want most in life is to change the world, to make it a better place, with less fear and hate. My in-depth articles and photos of cultures around the world do that on a small scale, but I had begun to think that it just wasn't enough, even though many people have told me in emails how I have inspired them or given them hope. After the conference I was entirely clear that making a difference one person at a time doesn't make my work any less valuable.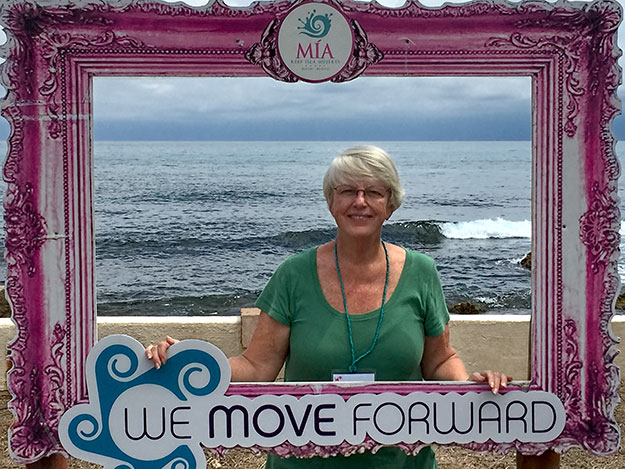 There is no longer any doubt in my mind that I am on the right path. I don't need to create some grand foundation or retreat into a Buddhist monastery for a year (both things I was seriously considering). In addition, We Move Forward helped me to set my intention as I move forward, so I am recommitted to finishing my memoir, and I will also be pursuing some public speaking engagements. Socrates said that the unexamined life is not worth living, and while I agree, it is difficult to find answers in a vacuum. Women need other women – to listen compassionately, to bounce ideas off of, to help us see ourselves as others see us. That and much more happened for me at this year's We Move Forward Conference. Each of us had different issues and came away with different solutions, but the event was life-changing for all of us. I was a little sad to leave Isla Mujeres, but not too sad, for I knew I would be back again next March.