The seaside town of Hua Hin, Thailand, has been a sanctuary for almost as long as it has existed. The village was founded in 1834 when farmers from the drought-stricken north moved south in search of a better life. When the railroad reached Hua Hin in 1911, Bangkok's elite began to build bungalows. Among those who were enchanted with Hua Hin were members of the Royal Family, and before long the King Rama V had also built a summer palace on the beach. Down through the decades, Hua Hin has continued to be a weekend escape for Thais, and more recently, for tourists from all over the world. While it has a reputation as a "beach town," during my recent month-long stay I discovered that it offers much more than sea, sand, and sun. If you're considering a visit, check out the following review of what to do in Hua Hin:
Beaches:
Hua Hin beaches are generally very shallow with mild currents, thus they are especially good for families with young children. Jellyfish can be encountered during certain times of the year, but warning signs are posted during these times.
• Hua Hin Beach: Located in the center of town, in front of the Hilton Hotel and Resort. Wranglers offer pony rides on this beach, and a variety of cafes and restaurants run the length of this beach.
• Khao Takieb Beach: Located at the southern end of Nongkae-Takieb Road, this beach offers affordable day rentals of chaise lounges and chairs. The seafood restaurants of Khao Takieb Hill are just steps away.
• Suan Son Beach: Located on the other side (south) of Khao Takieb Hill. Facilities are limited, so bring a picnic lunch.
• Khao Tao Beach: Located about 20 km south of Hua Hin, is a lovely, relatively undeveloped crescent of sand.
• Sai Noi Beach: Just a short distance south of Khao Tao Beach. This small but pretty beach, anchored by rock promontories on both sides, is popular for its Sanae Beach Club, which offers an affordable day pass to use their swimming pool, restaurant, and bar.
Markets:
• Cicada Market: Just south of the junction of Nongkae-Takieb Road and Highway 4. This market specializes in locally made arts and handicrafts ranging from textiles to jewelry to furniture. It is open every Friday, Saturday, and Sunday night beginning at 6 p.m. It also includes a large area of food carts featuring specialties prepared by area restaurants.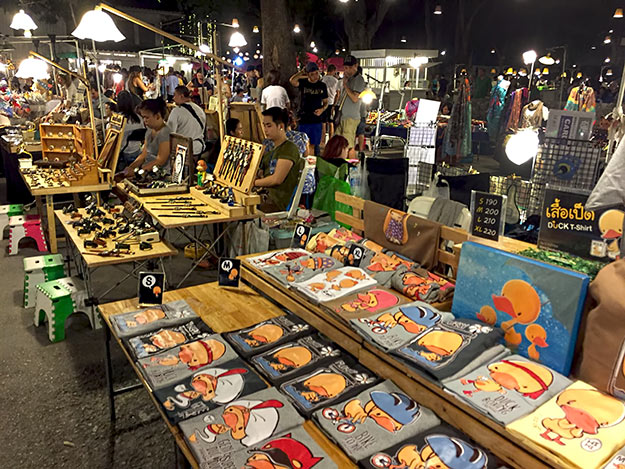 • Tamarind Market: Adjacent to Cicada Market, features typical market items, especially clothing. It also has a large food court.
• Night Market: Located in the center of Hua Hin, the Night Market features all manner of food and products. It opens around 6 p.m. and goes long into the night, seven days per week.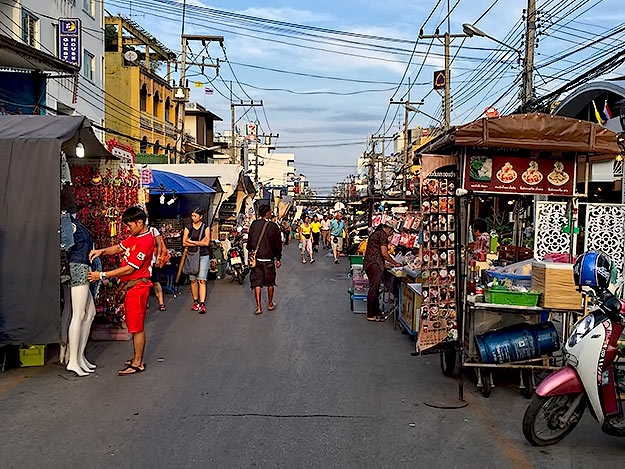 Temples:
No visit to Hua Hin is complete without a visit to at least a few of the local temples. Out of respect, women should wear clothing that covers their shoulders and ideally, their knees. Long tailored shorts or long pants are preferred for men. No short skirts, short-shorts, tank tops, or bikini tops are allowed. Women are not allowed to touch monks. A woman should never hand anything to a monk directly. Instead, put the item down, after which the monk can pick it up. Never climb on Buddha statues or touch one on the head. Always remove your shoes before entering and if you choose to sit in a temple, make sure that your feet do not point toward the Buddha. The following are just a brief sampling of temples you may wish to visit:
• Wat Hua Hin (or Wat Ampharam): Hua Hin's main temple, located in the center of town.
• Chinese Temple: Located next to the Hilton Hotel, this small temple offers lovely views of Hua Hin Bay from its elevated terrace. Steps lead down from the terrace to Hua Hin Beach.
• Khao Takieb Temple: Located on Khao Takieb Hill at the southern end of town, features an immense standing Buddha in the "Calming the Waters" pose. Steps lead to the top of the hill, which offers sweeping views to the north and south. Be careful of the wild monkeys that inhabit this hill, as they are exceptionally bold and will snatch and grab anything they think contains food.
• Khao Tao Temple: Located approximately 20 km south of Hua Hin. This extensive complex is built around the largest fresh-water lake in the area. Slipping a donation into the slot in the belly of the seated Buddha at the entrance is said to bring good luck. Walkways lead to terraces with stunning views of Hua Hin, through caves, and past temples to a giant Buddha statue that crowns the hill.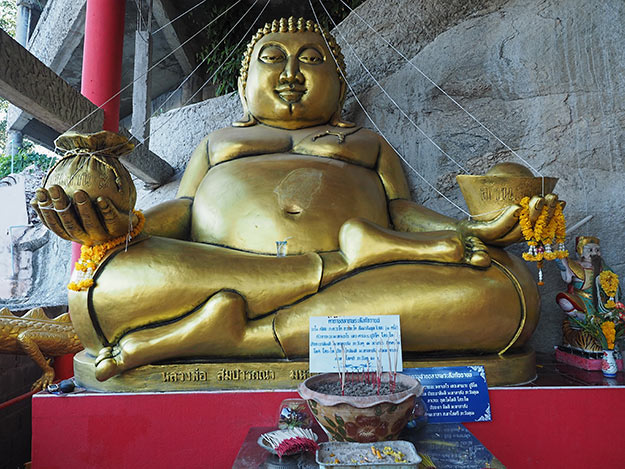 Maruekatayawan Palace:
An exquisite example of classic raised Thai architecture, Maruekatayawan Palace is believed to be the longest golden teak palace in the world. Located just north of Hua Hin, it is open to the public daily from 8 a.m. to 4 p.m. Klaikangwon Palace, the current summer residence of current King Bhumibol Adulyadej and Queen Sirikitt, is open to the public by invitation only.
Hua Hin Rot Fai (Railway Station):
The Royal Waiting Room at the Hua Hin station is also designed in classic raised Thai architecture. Originally constructed at Sanamchan Palace in Nakom Pathom, it was transported to Hua Hin for the purpose of welcoming the Royal Family when they were visiting town.
Rajabhakti Park:
One of the newest tourist attractions in Thailand, this park features seven enormous bronze statues of Thai Kings from past eras, set upon a massive pedestal. Located about 15 km south of Hua Hin.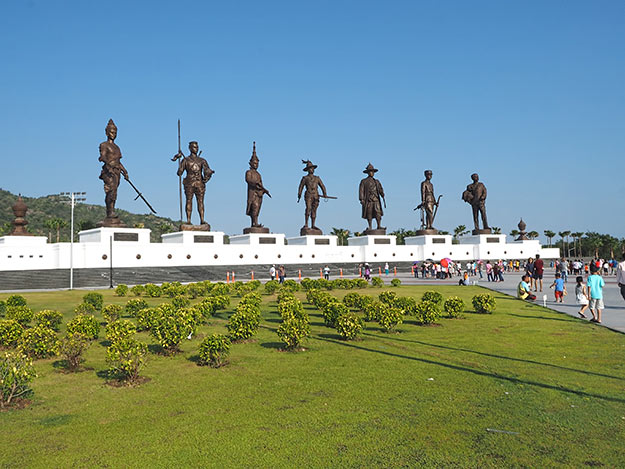 Pala-U Waterfall:
Located about 60 km west of Hua Hin in Kaeng Krachan National Park, Pala-U Waterfall is one of the largest in the country. Visitors can climb all three stages of the falls to the top, where a large, deep pool is perfect for a cool dip. The falls are best visited after the rainy season, between July and November. The park also features caves, a reservoir, mountains, and evergreen forests where wild elephants roam.
Transportation/Getting Around
Songtheows:
Green pick-up trucks with covered canopies and bench seats (songtheows) run between the southern end of Khao Takieb and the night market in the center of Hua Hin. Simply stand by the side of the road and flag one down. When you wish to get off, press the bell on the roof to ring the bell. Pay the driver after you get off. The price is 10 baht from 6 a.m. to 6 p.m.; 15 baht from 6 p.m. to 9 p.m.
Taxis and Tuk-tuks:
You can also hire a taxi or tuk-tuk to go to town. Both will quote a rate of 150 baht, but it is sometimes possible to negotiate a lower price.
Getting from Hua Hin to Bangkok (or vice-versa):
There are several ways to travel between Bangkok and Hua Hin:
• Rent a car
• Vans: Leave every 10-15 minutes every day all day long from the Victory Monument in Bangkok and from the center of Hua Hin back to Victory Monument. The ride takes about three hours and costs 180 Baht
• Buses: Modern, comfortable, air conditioned buses leave several times each day from the southern bus station (Sai Tai Mai) in Pinklao area of Bangkok. The bus is better for anyone who has a large amount of luggage, as space in the vans is limited. The same route is available to return to Bangkok.
Good things to know about the Hua Hin area:
ATM's:
ATM's can be found all over town. Withdrawals from foreign accounts generally incur an ATM fee of 200 baht, which is withdrawn from your account.
Cinema:
There is a multiplex cinema on the top floor of Market Village Shopping Center. Most movies ares shown in English with Thai subtitles. Those with a smart phone can download the free app "Major Cineplex" to check which movies are playing.
Coffee Shops:
There are scores of coffee shops in Hua Hin and Khao Takieb. Many serve Doi Chaang Coffee, a single-estate, premium Arabica coffee grown in the northern hills of Thailand. It is certified organic, shade grown, hand picked, fresh water washed and sun dried.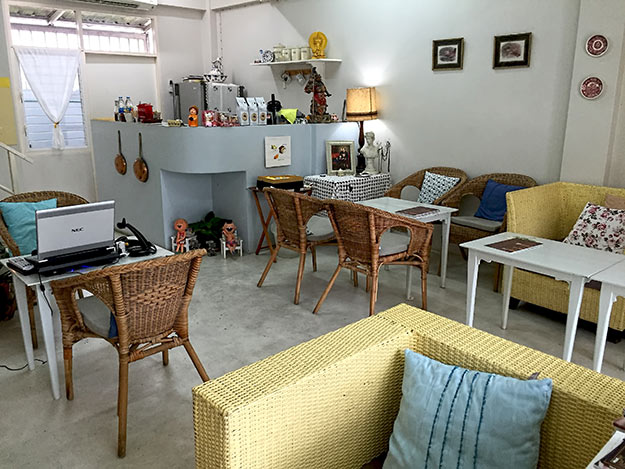 Groceries:
There is a large Tesco/Lotus grocery store on the first floor of Market Village Shopping Center. For fruits and vegetables, consider purchasing from the street stands, as it is very fresh, inexpensive, and helps locals to earn a living.
Health Care:
There are two hospitals in Hua Hin proper, Bangkok Hospital and Sao Paulo Hospital. Pharmacies are numerous and sell many drugs over the counter that would require a prescription in the Western world.
Laundry:
There are numerous places to have laundry in every part of town. Most charge 80 baht per kilo, which includes washing and drying by machine, as well as ironing. Turn-around time is generally 24-hours.
Restaurants:
Hua Hin is blessed with many good cafes and restaurants, ranging from simple places that seat only a few people to more formal restaurants at the upscale hotels and resorts. Hua Hin is perhaps best known for its fresh seafood, as it is available fresh off the boats of the fishing fleet located in Khao Takieb each day. For a truly local taste of seafood, wander the back lanes at the base of Khao Takieb Hill, where you can pick your fresh seafood from a tank and watch while it is prepared at your table.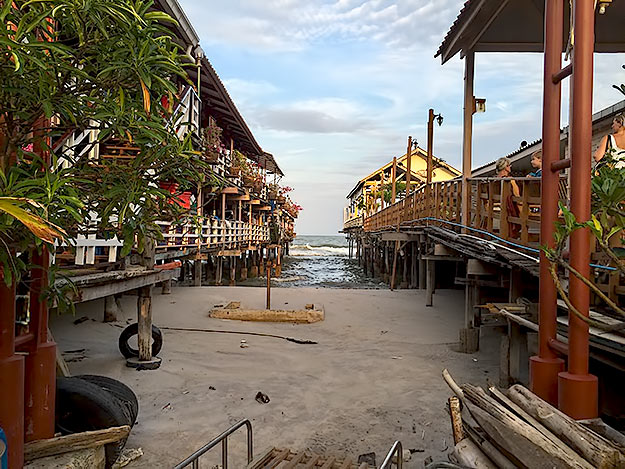 Street Food:
Street food is safe to eat and delicious. You will find many kiosks on the sidewalks, selling everything from deep-fried bananas to full meals. Both Soi 94 and 88 are known for their numerous street food stalls (view a map of Soi 94 here). There is also a large food court on the corner of Soi 88 and the canal (on the west side of Nongkae-Takieb Road), called Baan Khunpor (Father's Home). In addition to great food, they provide live music every night.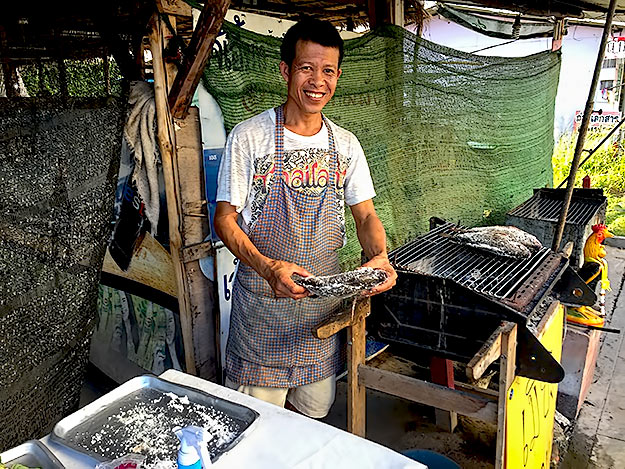 Whether you're a beach bunny, an architecture aficionado, a history buff, shopping superstar, nature lover, student of Buddhism, or a foodie, there's never a question of what to do in Hua Hin – it's more a matter of how to find time to do it all!
Note: My stay in Hua Hin was provided by Nern Chalet Beachfront Hotel, which also offers guests the ability to stay in one of their vacation rental apartments. I stayed at Villa Garden Apartments, in a lovely one-bedroom unit located just a block off the Gulf of Thailand. The receipt and acceptance of complimentary items or services will never influence the content, topics, or posts in this blog. I write the truth, the whole truth, and nothing but the truth.

If you're planning a trip to southern Thailand you may want to surf on over to Luxury Columnist to read her article about seven unspoiled tropical islands and secret beaches in Thailand.