Six months after the temblor, I flew into Kathmandu to see for myself what life was like in Nepal after the earthquake that killed nearly 9,000 people and made hundreds of thousands homeless. I knew that my adopted family and friends had all survived, but the images of destruction that had been plastered across the TV screen for days on end suggested that most of Kathmandu had been reduced to rubble. As my plane descended, I surveyed the landscape. Here and there, mounds of bricks were stacked up where buildings had toppled and piles of debris lined the rivers, but unlike what the media had portrayed, the city appeared to be largely intact.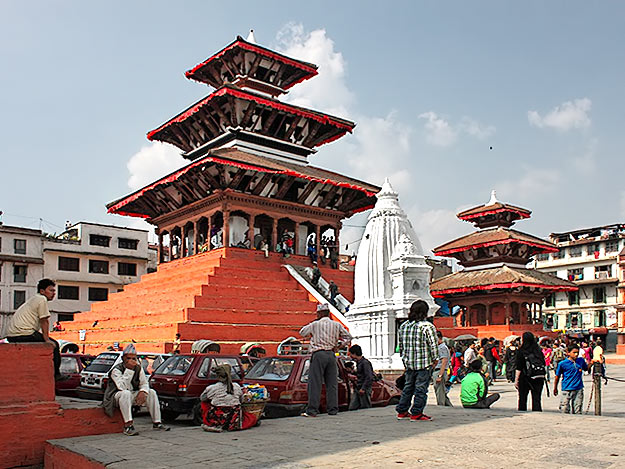 On the ground, the damage was more evident. At Durbar Square in Kathmandu, tears welled up as I surveyed the damage. The Maju Dega Temple, where I had enjoyed many hours of people watching from its upper tiers, was completely destroyed, as was the adjacent Narayan Vishnu Temple. Almost every remaining historic building was shored up with wooden pilings. Centuries-old wooden beams carved with Hindu and Buddhist tantric scenes sat in a tarp-covered heap, waiting for reconstruction efforts to begin. The Durbar Squares (Palace Squares) in Bhaktapur and Patan/Lalitpur, as well as the UNESCO World Heritage sites of Swayambhu, Boudhanath, and Pashupatinath, had also sustained damage, though nowhere near as severe as Kathmandu's Durbar Square.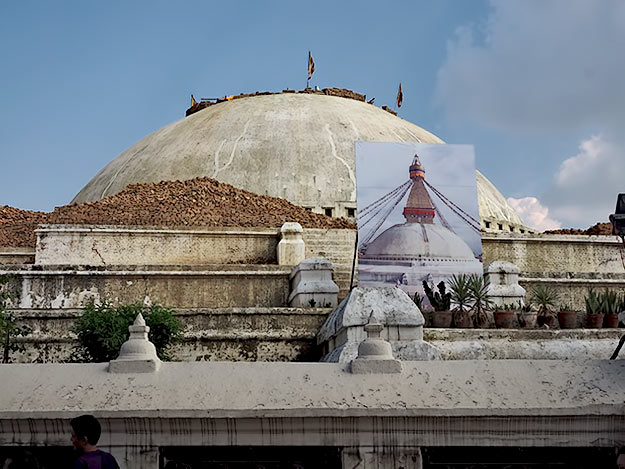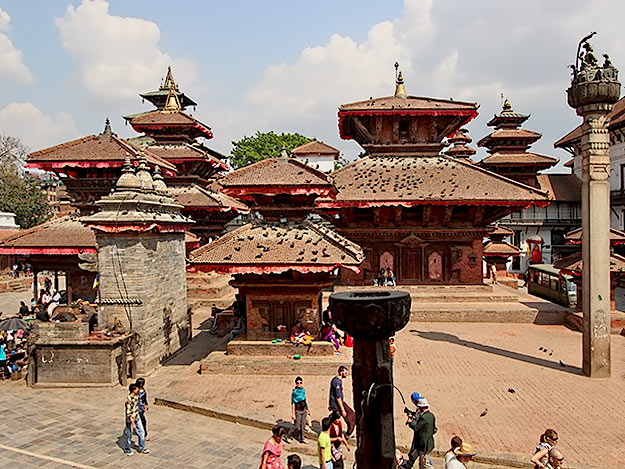 Many individual homes constructed of mud bricks were completely destroyed. While most residences built of concrete and block survived the earthquake, structural damage was severe enough that many will not be not habitable until repairs have been effected. A rickshaw ride through the most heavily affected neighborhoods in Kathmandu revealed numerous gaping holes where homes had once stood and many structures with severe cracks in their facades and/or foundations. Today, more than half a million people are still awaiting assistance from the government.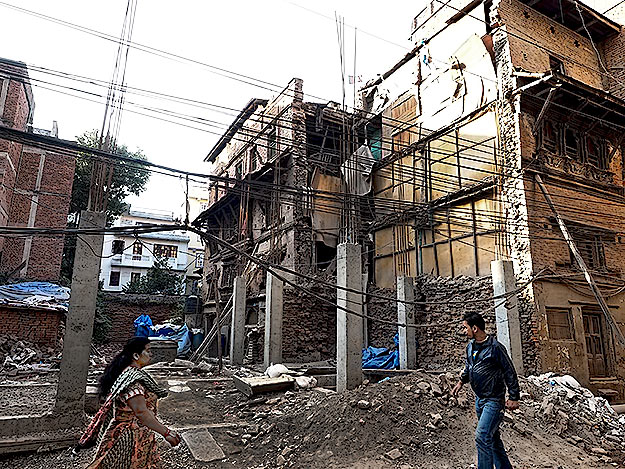 Descending from my rickshaw, I walked along the banks of the Bagmati River, where hundreds are living in shacks pieced together with tin sheeting, or in makeshift tents of plastic stretched over scrap lumber. Having escaped for the most part with only the clothes on their backs, residents of this tent city are living without access to water, food, and proper sanitation. Many had newspapers, blankets, and towels layered over the plastic in an attempt to stay warm, as November temperatures were already dipping into the 40's (8-9 degrees Celsius) at night. Though the government has repeatedly promised to help, most families that were made homeless have still only received the equivalent of $150 USD in assistance. Billions of aid dollars that flowed into the country post-earthquake sits in government coffers, untouched.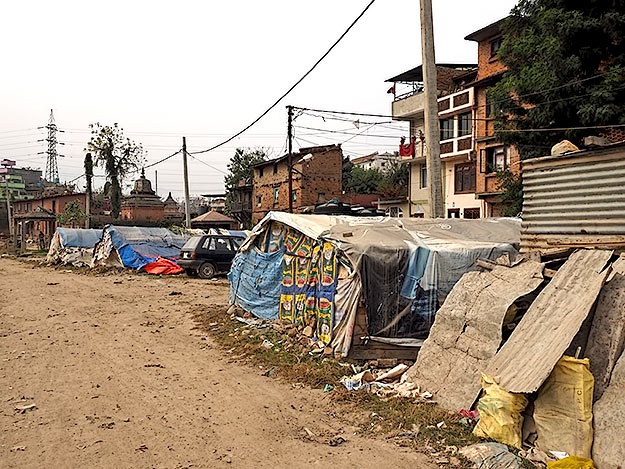 The days following the April 25th earthquake were filled with fear and panic. Thousands of people lost their homes in the first earthquake, and many thousands more, terrified by the strong aftershocks, refused to go back inside their houses. Traffic at Tribhuvan International Airport in Kathmandu was disrupted for days, as air-traffic controllers fled the tower whenever the ground trembled, bringing takeoffs and landing to a halt. Gaping cracks appeared in roads, hindering traffic and rescue operations. Power and water was turned off, with no information as to when it might be restored. The initial death toll in Kathmandu was estimated to be 1,000, but it would rise significantly when rescuers reached the mountain villages in the Gorkha area, where the quake decimated villages or even buried them under avalanches.
Though the epicenter of the earthquake was midway between Kathmandu and Pokhara, it caused much more damage in the Kathmandu Valley. The soft soils of an ancient dried lake bed upon which the capital city was built amplified the waves of energy that emanated from the quake. In Pokhara, just 88 miles northwest of Kathmandu, damage was minimal and only seven deaths were recorded. Even so, residents were terrorized. My adopted family, who lives in a three-story concrete and concrete block home, related how the entire building swayed from side to side for nearly a minute, knocking them to the ground and sending items on shelves crashing to the ground. My bahini (little sister) refused to sleep inside the house for weeks and even now still suffers from nightmares. The emotional damage from the disaster will survive long after any evidence of the physical damage has been repaired.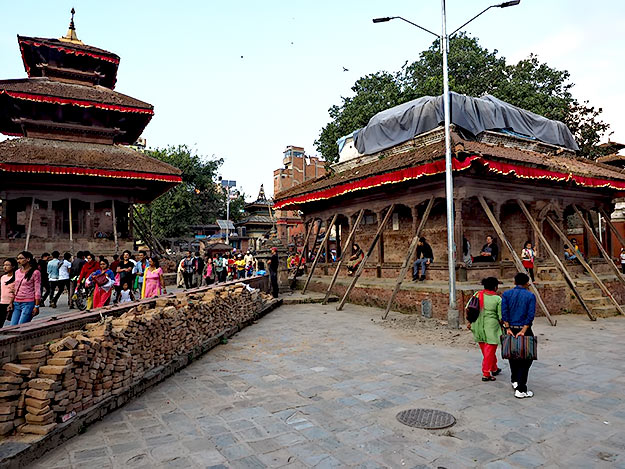 It soon became obvious that the government was overwhelmed by the scope of the disaster. Elected officials, including Prime Minister Sushil Koirala and his home minister, Bamdev Gautam, waited five days before visiting any of the damage-stricken neighborhoods. Few of the relief supplies promised by the government had reached any of the victims by that time, yet Gautam subsequently ordered that distribution of all relief materials be centralized through the government. Of the 400,000 tents needed to house those made homeless, the government procured only 49,000, and members of Parliament swooped in to commandeer most of those for their families and friends. Nepali who secured tents and other relief supplies did so largely through the auspices of outside agencies, like the Swiss Agency for Development and Cooperation, which purchased tents, mattresses, linen, and water purifying tablets, and sent them via helicopters to the most heavily affected rural areas.
In areas near the epicenter, where villages were flattened or buried, people were desperate to be evacuated. They rushed small helicopters reportedly owned by local tour operators, often cramming 15 passengers into craft designed to carry five. All the while, three Royal Air Force Chinook helicopters sat on an airstrip in India, awaiting permission to assist with rescue operations from Prime Minister Koirala. Using the excuse that the airport in Kathmandu was overloaded, permission was denied; three weeks later the Chinooks were dismantled and shipped back to Britain, unused.
Four days after the earthquake, Nepal Rastra Bank, the central bank of Nepal, issued a directive that all funds raised for the earthquake disaster must be deposited in the Prime Minister's Disaster Relief Fund. It further stated that any funds so far deposited into accounts of individuals and agencies raising funds for relief would be transferred to the Prime Minister's Fund, explaining that, "While the Govemment (sic) appreciates any and all genuine initiatives to help victims, it also has a duty to regulate the raising of the public funds and contribution (sic) in the name of disaster, so that benevolent donations are not misused and the rights of victims are protected." The government of Nepal has a less than reliable track record in this regard. The purpose of the Prime Minister's Disaster Fund is to "ensure effective rescue and relief following natural disasters through a fast track method which reduces administrative hassles and procedural delays." Yet, more than three billion Rupees ($27 million USD) intended for the victims of floods and landslides that occurred in the western reaches of Nepal in 2014 has been sitting in this fund for more than a year, awaiting distribution.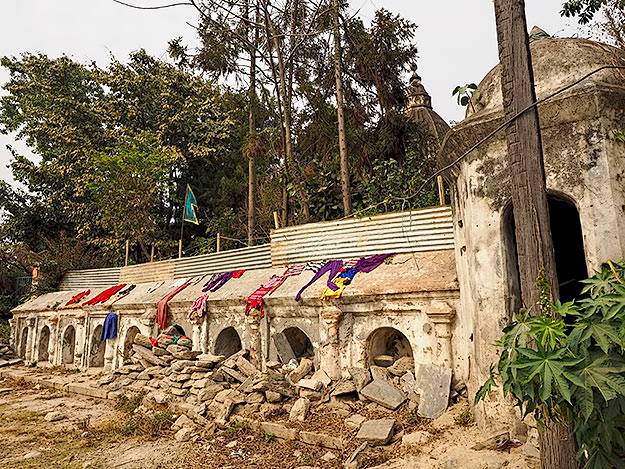 According to the UK's Telegraph, "The announcement was seen as an attempt by the ruling Nepal Congress Party to seize control of millions of pounds of aid donations being sent from around the world and raised fears that it could be allocated for political considerations rather than humanitarian need." The  edict put a distinct damper on many fundraising efforts around the world, forcing the Nepali government to modify their position. Three days later, it clarified that "the directive does not affect accounts maintained before 25 April 2015 by development organizations, relief agencies and other social organizations." Although this order had little effect on agencies like the International Red Cross and Oxfam, which operate independently in Nepal, they reported that relief supplies were being held up at the border by Customs officials, who took advantage of the disaster to up their normal intake of bribes.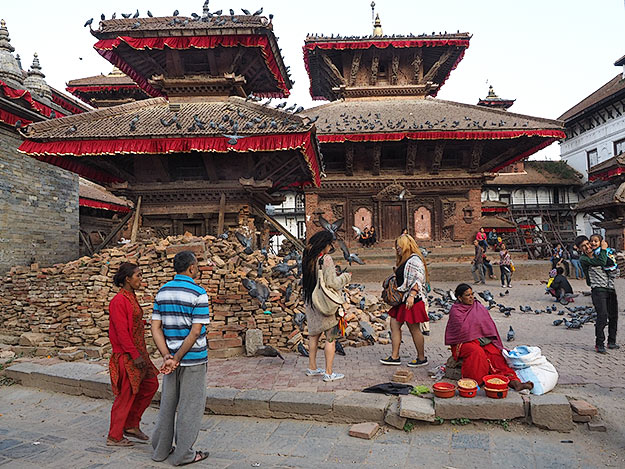 To heap insult on injury, after the cleanup began and life in Nepal after the earthquake began to return to normal, major media outlets withdrew. Their sensationalist coverage, which showed video and photos of only the worst affected areas, had left people with the impression that it was dangerous to travel to the country. As a result, up to 90% of tourists planning to visit Nepal cancelled their plans, according to the Nepal Association of Tour Operators. With more than 4.3% of the country's gross domestic product being directly generated by travel and tourism, this has had a devastating effect on the economy. When I visited in October and November of last year, the streets of Thamel, the famous backpacker district in Kathmandu, were nearly deserted. Hotels had slashed their prices by more than half to attract the few tourists courageous enough to visit. My family in Pokhara, which operates the Annapurna Yoga Ashram homestay program, had hosted only one guest since the earthquake.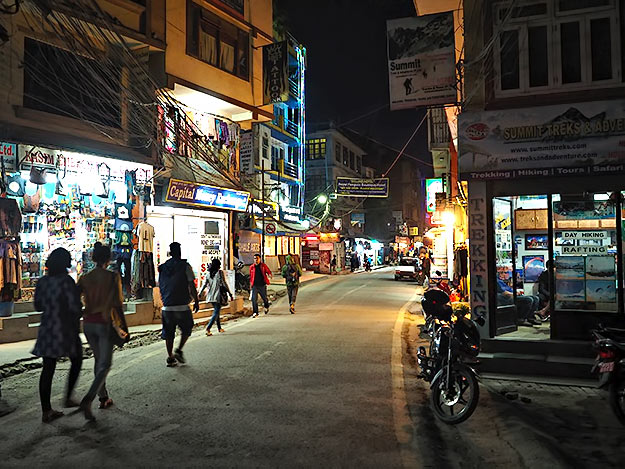 Tourists were just beginning to trickle back into Nepal in September, when the government adopted a new constitution that had been many years in the making. One element of it states that an Indian national who has become a Nepali citizen cannot hold the highest offices in the land (prime minister, president, chief ministers, or military chief). The southern swath of Nepal, known as the Terai, has very close cultural ties with India. Thousands of naturalized Nepali-Indian citizens (commonly referred to as Madhesi) live there, and many believe this clause to be discriminatory and aimed at oppressing the poorer people of the Terai.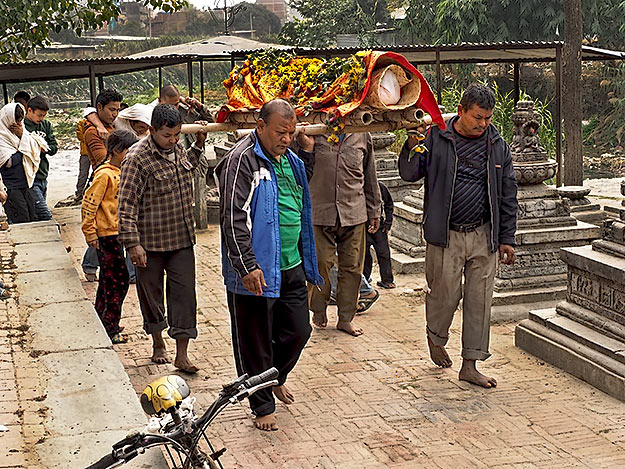 Residents of the Terai have long held that they are under-represented in the government, and their charges have some validity. For instance, a large percentage still do not have the right to vote. Historically, this policy is rooted in the fear that Nepal would disappear into India within a generation if naturalized citizens were granted the right to vote. These fears are not without basis. India has been interfering in the government of Nepal for decades. During the final phases of the drafting of the constitution, the the Indian Prime Minister sent his Indian Foreign Secretary to Kathmandu to deliver a message. Leaders of three principal political parties were advised not to complete the constitution-making exercise, because India thought the proposed document was flawed. India proposed at least six major amendments to the wording. To the displeasure of the Indian government, Nepal went ahead with the drafting and adoption of the constitution.
A tiny landlocked country sandwiched between the powerful giants of India and China, Nepal has always turned to India as its sole trading partner. Even the monarchy, which ended in 2008, rarely made an important move without first consulting India, and the democratic government that followed did likewise. When Nepal ignored their demands, India surreptitiously began fomenting unrest within the Madhesi community, as they had done in 1969 and again in 1989. Overnight, Madhesi blockaded all border crossings between the two countries, effectively bring the importation of fuel, LP gas for cooking, construction supplies, medicine, and even blood and body bags to a halt. Although India claims that they have no part in the current blockade – that their delivery trucks are being blocked by Nepalis on the north side of the border – facts have proven otherwise. Many who have been arrested on the Nepal side of the border for throwing rocks and bombs are Indian nationals, and members of the Indian military in one instance were documented to have crossed the border and shot several Nepali in the hopes of inciting riots. To date, more than 50 people have been killed as a result of the violence in the Terai.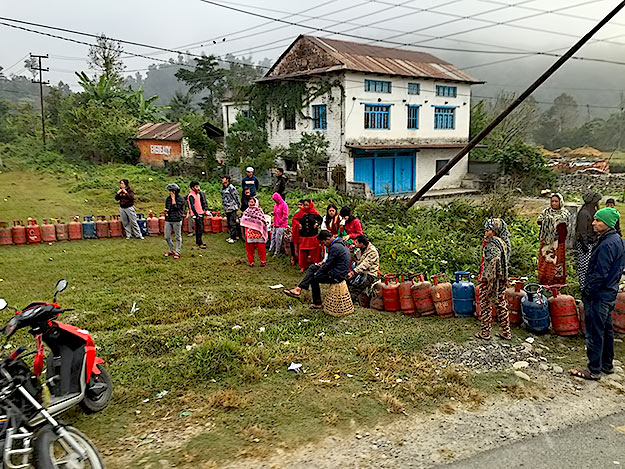 Within weeks of the blockade, most Nepali were out of LP gas and had reverted to cooking over wood or charcoal fires. Some purchased electric induction cookers, but found them to be of little use considering that there is no electricity for up to 16-hours per day. Though Nepal has a huge capacity for hydro-power generation, they lack the financial and human resources to develop such projects. As a result, load-shedding is a part of everyday life. Once again, the international media swooped down on Nepal to report the story of the blockade at the border. Coverage of this latest disaster stopped returning tourism in its tracks, despite the fact that the two biggest tourist destinations in Nepal are nowhere near the southern border.
In light of all this, many have asked me whether it is wise to visit Nepal at this time. My answer is an unequivocal yes. Despite hardships, life goes on. Vendors still squat at the base of ruined temples, selling fresh fruits and vegetables. Rich religious festivals are still celebrated with relish. Hotels and restaurants are open for business, though not all dishes listed on menus may be available in light of the LP gas shortages. Tour and trekking agencies are still open for business, despite the distinct lack of customers. The most notable change I experienced was a quadrupling of taxi fares as a result of the fuel shortage. Fuel is available, albeit only through the black market, where it is being sold for $16 per liter. But even at these increased prices, fares are not particularly onerous; a ride from the airport to a centrally located hotel set me back only $9.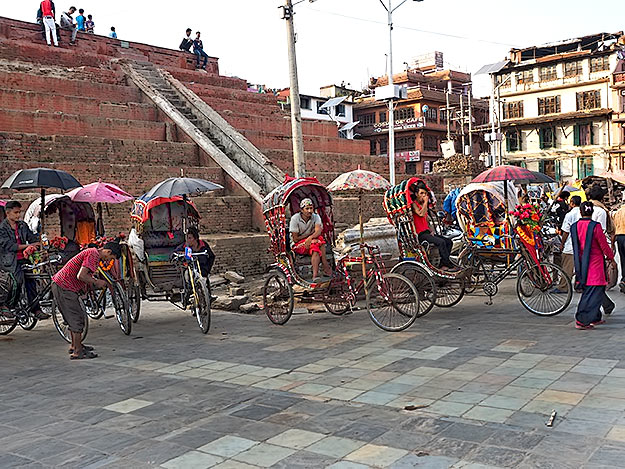 I am happy to report, however, that of late some progress has been made. On December 26, 2015, the Nepali Parliament appointed Sushil Gyawali chief of the National Reconstruction Authority (NRA), which will finally allow the agency to start rebuilding and disbursing aid to those affected by the earthquake. According to the Economic Times of India, Gyawali vowed "swift action to help quake victims, who have received little aid beyond an initial $150-per-household government payout." Even more promising, the Nepali Parliament recently approved two amendments to the constitution aimed at appeasing residents of the Terai. Agitating Madhesis have so far refused to end the blockade, stating that the amendments only partially met their demands, however the Indian government has described the action as a positive development.
Only time will tell if life in Nepal will ever achieve some sense of normalcy. But even in the face of such tremendous challenges, Nepalis persevere, and nowhere else have I found people more kind, more loving, more willing to share despite what little they may have. With an economy that is increasingly dependent on tourism, visiting Nepal at this time is the greatest gift that we can give.