Four months. Fourteen countries. Fifty different destinations. By the time I reached Sarajevo I was exhausted. I'd accomplished my goal of visiting all seven of the ex-Yugoslavian countries plus Albania, but poor Croatia had been given short shrift earlier in the summer. Rather than battle high-season crowds and a record-breaking heat wave at the seashore, I fled to the capital of Zagreb. Not only was it cooler, it was virtually empty; everyone in the city was at the coast. As a result, I'd missed the Dalmation Coast cities of Dubrovnik, Zadar, and Split. I had a choice to make. Should I try to see all three in the eleven days left before I was due in Italy? Exhaustion provided my answer. I couldn't even think about moving that fast. Instead, I booked a vacation rental apartment just outside the Old Town of Split, Croatia for the entire eleven days.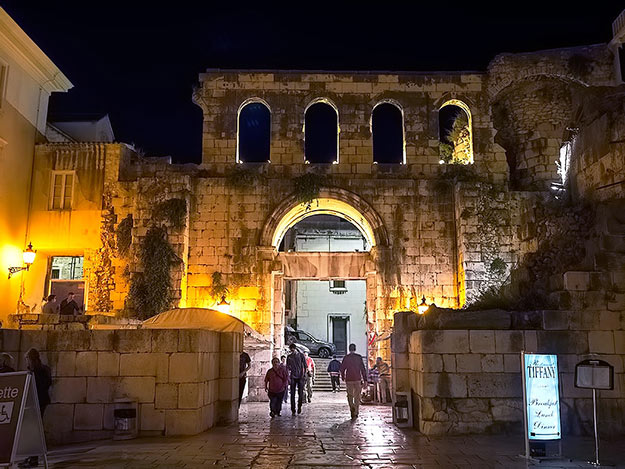 It would turn out to be one of the best travel decisions of my life. Nanka, the owner of the apartment, informed me that her aunt, Ljubica, was eager to meet me, as she was a retired journalist. A few days later Ljubica and I met for lunch at Diocletian's Palace, a UNESCO World Heritage Site that was once home to the Roman Emperor Diocletian. I had explored the palace by that time, but as a local, Ljubica knew the secret places. She led me to a tiny cafe tucked into an obscure corner of the fortress that served exquisite vegetarian food. Between mouthfuls, we talked non-stop. I was as fascinated by her experiences covering the Palestinian and Bosnian Wars as she was about my life of perpetual travel. When we couldn't dawdle any longer over empty plates, we strolled over to Narodni Trg, the most popular square in the Old Town, for coffee and dessert. Finally, Ljubica looked at her watch. "Do you realize we've been talking for five hours," she grinned.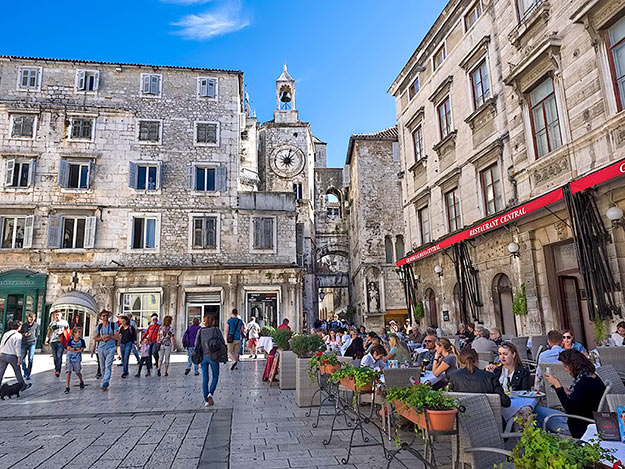 Over the next week, I explored this gem of a city. Within Diocletian's Palace, which forms about half of the Old Town and city center, I climbed Saint Domnius Cathedral bell tower for a stunning view over Split's clay-tiled rooftops to the Adriatic Sea. Later that same day I descended into the subterranean reaches of the palace, where water dripped menacingly from fourth-century barrel vaulted brickwork. At ground level, the palace's maze of lanes led to museums, ancient temples, shops, and restaurants, all of which radiated from the magnificent Peristyle central courtyard.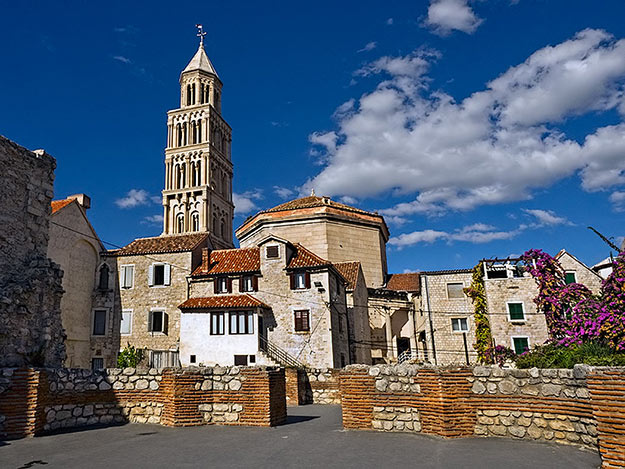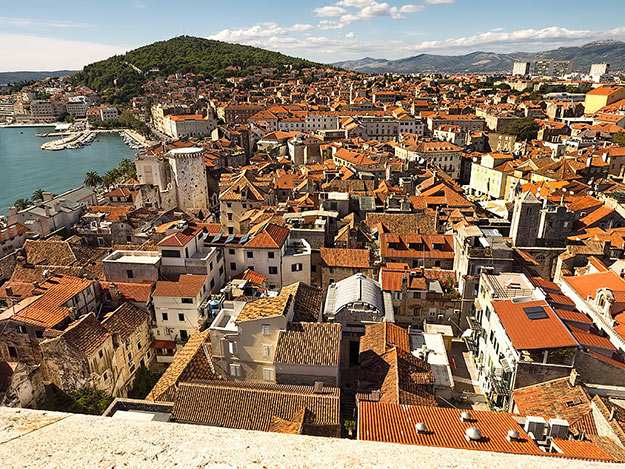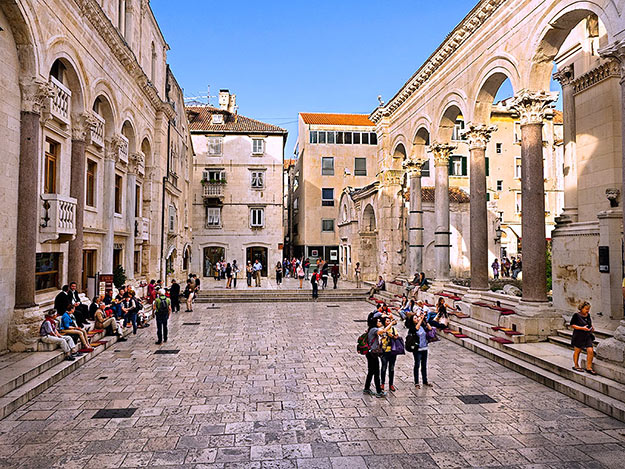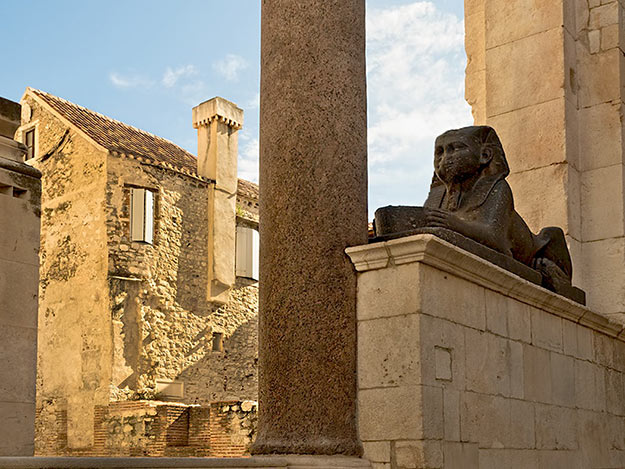 Some days, I wandered into Marjan Park, which crowns the hill that rises at the end of Split's natural harbor. Others days I lingered over espresso on the Riva, Split's seafront promenade, where locals have perfected the art of people-watching. I gorged on delicious fresh seafood, discovered several amazing vegetarian restaurants, and even cooked some meals with ingredients from Split's huge waterfront green market.
The day before I was scheduled to leave, Vinka, another of Ljubica's nieces, picked me up for a tour of sites outside the city. A hilltop memorial to the Croatian War was a somber reminder that just twenty years ago, this part of the world was mired in war. At Our Lady of Stomorija, a serene pilgrimage site tucked into the rolling foothills, we munched on purple-blue grapes from the vineyard.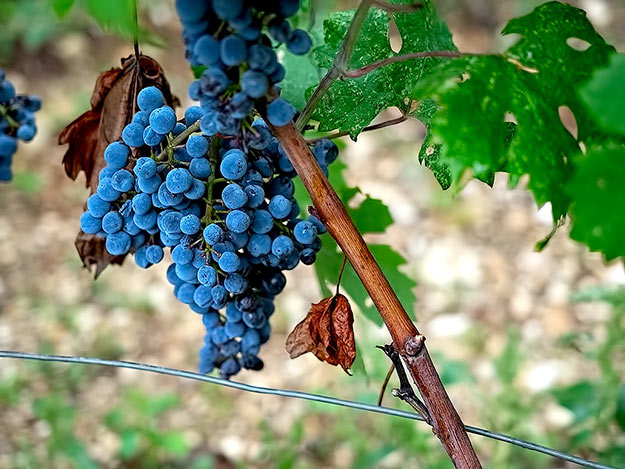 Back at the seaside, she drove me through the string of seven towns named for their castles: Kaštel Sucurac, Kaštel Gomilica, Kaštel Kambelovac, Kaštel Lukšic, Kaštel Stari, Kaštel Novi, and Kaštel Štafilic, pointing out abandoned, disintegrating hotels that were used to house Bosnian Croat refugees during the war years. We returned to Kastel Novi just as it began to pour and ducked into one of the vacation rental apartments owned by the family. Nanka and Ljubica soon arrived with bags of food and over the next several hours we ate, and gabbed, and laughed, and ate some more. I wished the evening could have gone on forever, but I had to pack.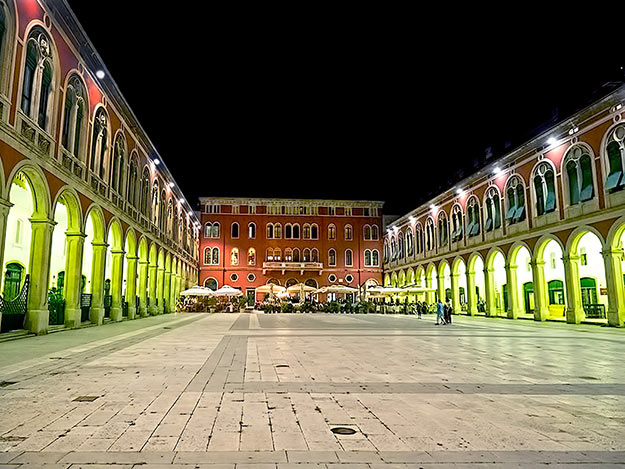 Even if I hadn't been smitten by the beauty of the city, the kindness and generosity of this family would have made me fall head over heels in love with Split. When Nanka dropped me off at the Italy-bound ferry the following day, I bawled like a baby. I simply did not want to leave. Meeting local people always sweetens my travels, but thanks to Ljubica, Nanka, and Vinka, Split ranks as one of the most precious experiences of my nine years of travel.