Cruises are not a great way to get to know places in any depth. At most, guests have a few hours in each destination. But they are a good way to sample a variety of destinations, in order to know which places might be worth a return visit, and this is exactly what happened in Germany during my Grand European Tour with Viking River. I liked Miltenberg, Rothenburg, Bamberg, Nuremberg, and Passau, but I loved Regensburg.
It's hard to say exactly why Regensburg made such an impression on me. The woman who conducted our walking tour was an impressive guide – among the best so far on our cruise. Certainly, the extra free time we had in this town had a lot to do with my experience. But I think the fact that the new Auxiliary Bishop for the region, Josef Graf, was being installed at the St. Peter Cathedral that very morning, had much to do with my experience in Regensburg.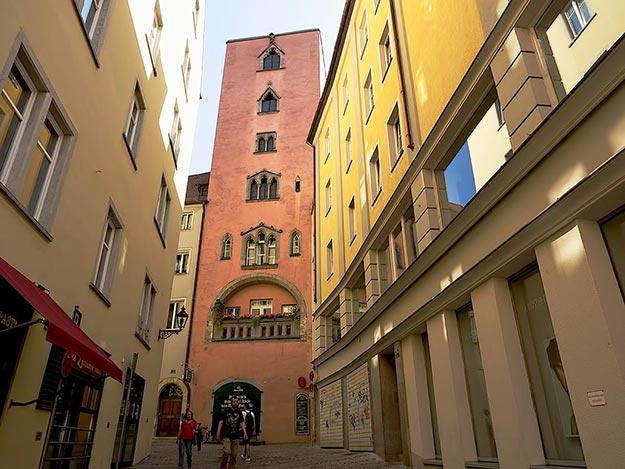 The cathedral was off limits to tourists during the ceremony, so I used the extra free time to wander around town, poking into narrow cobblestone alleyways and wandering through archways that framed colorful streetscapes. I concentrated on the Old Town area, which UNESCO describes as "the only authentically preserved large medieval city in Germany." Since it escaped unscathed during World War II, its medieval structures are original rather than reproductions, including numerous square towers built by wealthy merchants who competed to see who could build the tallest. Several of them punctuated the city landscape: a serious looking gray tower, the lavish banana-colored Town Hall, the peach-toned tower that tops the city's entrance arch, and my particular favorite, a salmon tower tucked into the corner of an L-shaped cobblestone lane.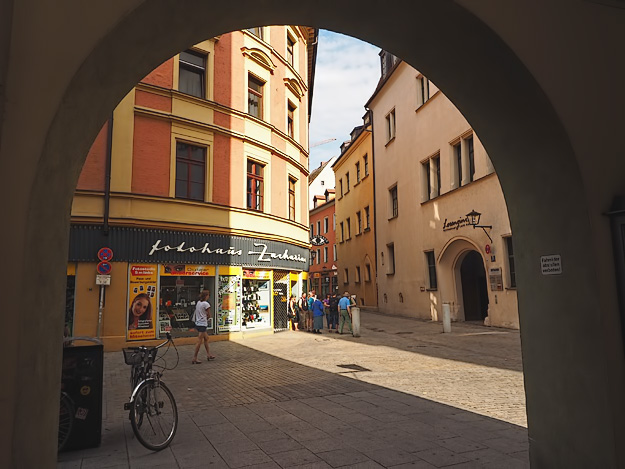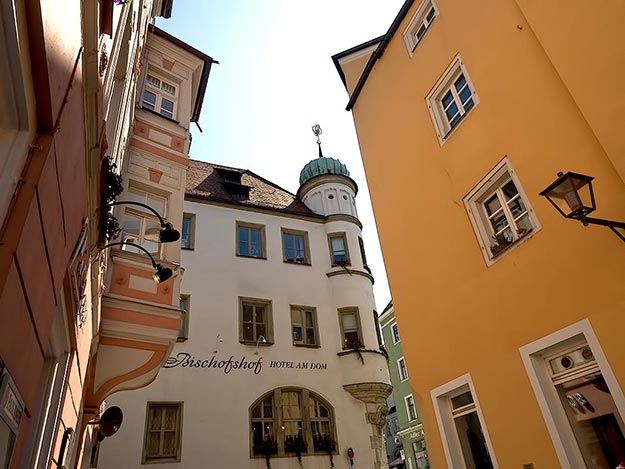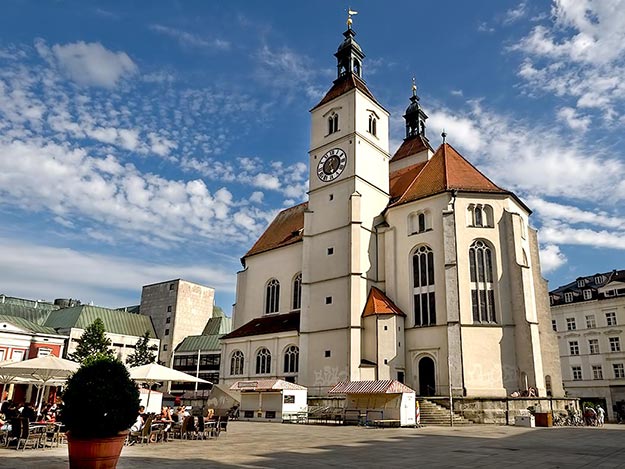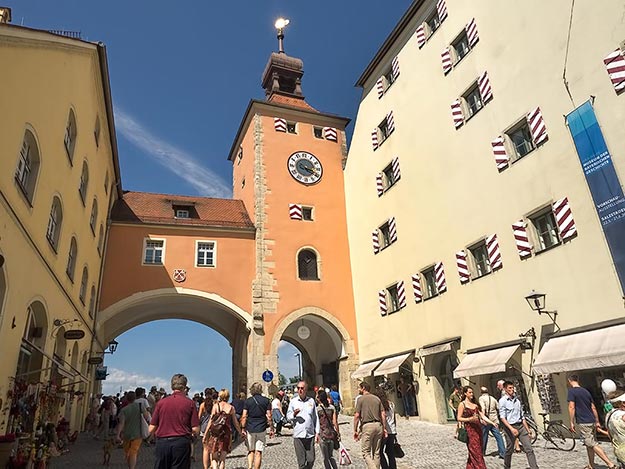 It was the bells that finally sent me scurrying back to the main square. They pealed repeatedly, signaling something more than the hour. I arrived just as altar boys in brilliant white robes began streaming out of the front doors of the cathedral, two-by-two. Priests in a rainbow of red, purple, black, and orange vestments followed, forming a divine procession that ended with a cluster of priests in golden robes and mitres, the tall pointed hats worn by Catholic Bishops.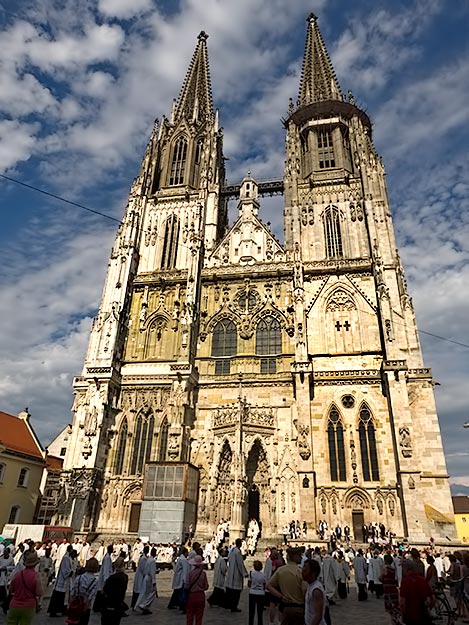 One man stood out among the group. Standing head and shoulders above the rest, he wore thick black-framed glasses and a mitre that was noticeably taller than the rest. This had to be the new Auxiliary Bishop. I snapped one quick photo as he exited the cathedral, then ran as fast as I could to the head of the procession, hoping to get a better shot. Just before he disappeared into another church building I raised my camera again. He hesitated for a split second and looked directly at me, as if posing for my camera alone. He seemed to be looking at me and through me at the same time.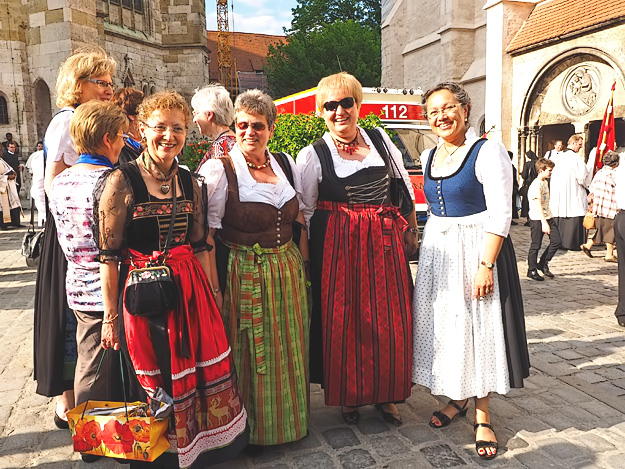 Marveling at my good luck, I returned to the cathedral and ducked inside for a quick view before they locked the doors. When I exited, local women dressed in traditional Bavarian apparel were still clustered in small groups, basking in the afterglow of the ceremony. They happily posed for me and chatted about the ceremony, which they said had drawn witnesses from all over the region. Unlike other towns I had visited, I felt a part of their culture, if only for a very brief time, and that's likely why Regensburg received my vote the for best German destination during my Grand European Tour.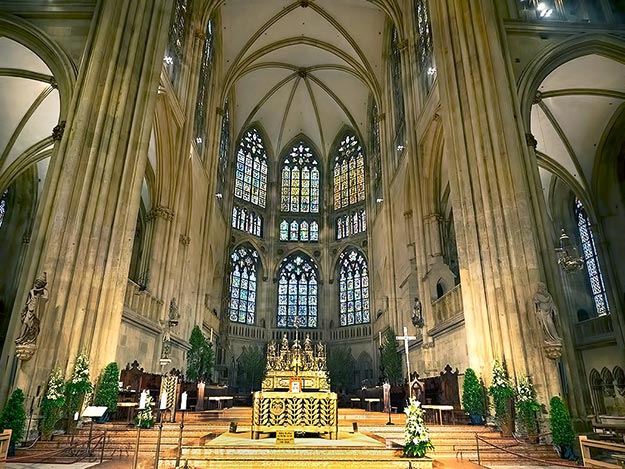 Note: I was a guest of Viking River Cruises during my Grand European Tour, however, the receipt and acceptance of complimentary items or services will never influence the content, topics, or posts in this blog. I write the truth, the whole truth, and nothing but the truth. Viking offers itineraries on the great rivers of the world, including destinations in Europe, Egypt, China, Southeast Asia, Russia, and soon, in the U.S.