The questions started the moment I announced I was fleeing corporate life to travel the world. It's dangerous out there; aren't you worried about traveling alone? How will you stay in touch? And how will you support yourself? I wasn't afraid and knew I would be able to stay in touch, but I had no answers regarding income. I just knew that I'd dreamed of being a travel writer and photographer since childhood, and I couldn't let one more day pass without attempting to make that dream come true.
Nearly eight years later, I've managed to achieve my goal, and the longer I'm at this, the more people want to know how I do it. For most, the question of money is at the top of the list. It's a question over which all travel bloggers struggle. People are always surprised to learn that our blogs are not a major source of income. Instead, we've tapped into other talents and experience to earn the money needed to support our travels and our blogs. We run tour companies; consult in public relations, internet security, and social media; are public speakers; design websites and apps; and are technical writers; all jobs that can be done anywhere in the world that offers reliable Internet access. But far and away, the most popular means of earning money while traveling is by teaching English.
While I've never considered teaching English, when ElanGuest English Language School in Malta invited me to visit their school, I realized it would be an opportunity to provide readers with a behind-the-scenes look at teaching English as a second language (ESL). The three tiny specs in the middle of the Mediterranean Sea that comprise the Maltese Islands are among the world's most popular destinations for learning English. Along with Maltese, English is an official language of Malta and most residents speak it fluently. Malta is also easily accessible for most Europeans, and because it is rich in history, students are able to combine tourism with their studies. Most importantly, the quality of ESL in Malta is excellent because teachers must meet rigorous government requirements. At a minimum, teachers must be TEFL certified (Teaching English as a Foreign Language) and have an A-level in English. Additionally, ElanGuest prefers that their teachers also hold the CELTA designation (Certificate in English Language Teaching to Adults), if not a Cambridge DELTA diploma, which is equivalent to a Masters level.
Having studied both Spanish and German in high school and college, I was curious whether methods of teaching a foreign language had changed over the years. In my day, the focus was on grammar and conjugating verbs properly in all their myriad tenses. For years I spoke tolerable Spanish, but because I was still trapped in the cycle of thinking in English, translating to Spanish while worrying about whether I was conjugating the verb properly, I was unable to become fluent. My shift into fluency came after living long-term in Spanish speaking countries, in areas where little, if any English was spoken. Once I accepted that literal, word-for-word translation was impossible, I began learning through absorption and repetition, in the same way an infant learns from its parents. The school's director of studies, Lara Portelli, explained that ElanGuest teachers are allowed flexibility in their teaching methods, however lessons must include grammar; vocabulary; and the four skills of reading, writing, listening, and speaking, with a strong emphasis on conversation. "We try to give students the confidence to speak in English, to get over that barrier of being nervous."
The two most popular courses are General English, which requires morning classes only, and General English Intensive, which requires morning and afternoon classes. I immersed as much as possible, attending both beginner and intermediate classes, and was quite impressed with the teachers. One was a Maltese native who had been teaching her whole life. She retired a couple of years ago, but missed teaching so much that she decided to teach part time at ElanGuest. Another was an expat from Europe who retired to Malta and took up teaching to overcome boredom. Annique Engels, a young woman from Namibia, decided to teach in Malta because it was an excellent way to pursue her DELTA diploma. A German man in his mid-20's, Rob Grout, told me he'd signed on for a part-time teaching gig because it was the best way to fund his summer-long Maltese vacation.
This desire to combine work and play is also very attractive to students. The school and its accommodations are located in St. Julian's, which, along with the neighboring community of Paceville, is party central on Malta. The young Spaniards with whom I shared an apartment studied hard, but they partied harder, many nights returning to the apartment in the wee hours of the morning. With unemployment figures in Spain approaching 75% in the 18-24 age group, many are using the time to improve their English skills in hopes of securing better jobs once the economy recovers. Another large contingent of students hailed from Germany, where companies are required by law to provide one week off per year for employees to study English and, in some cases, must pay for the schooling. The Germans I met seemed much more serious about their studies, restricting their sightseeing activities to afternoon and weekend package tours arranged by the school. I later learned that, in addition to the shared apartments, ElanGuest can arrange for students to stay at hotels or in the home of local Maltese families. The apartments, being the most affordable option, are popular with younger students who prefer to be located in the party area of town, however more mature clients might be more comfortable with one of the other two types of accommodations.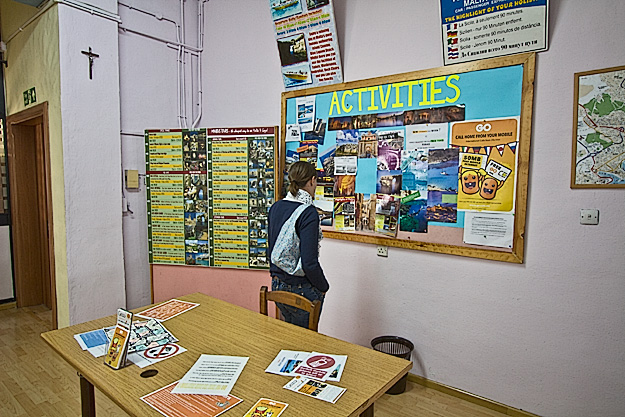 My brief glimpse into the world of ESL teaching was fascinating. I was continually surprised by how well the students spoke English, even in the beginner classes, but I was even more impressed by the talent and professionalism of the teachers. By mid-week, I realized the wisdom of my decision not to fund my travels by teaching English. As a native speaker, I have no concept of the rules that dictate when to use "I was" as opposed to "I had been." I simply know when to use one rather than the other. Frankly, I came away from the classes wondering how I ever ended up as a writer, given my limited technical knowledge of English grammar.
Attending ElanGuest English Language School on Malta:
Prices for classes depend upon season and the length of study, however General English classes range from 130 to 200 Euros per week ($172 to $265 USD), while the General Intensive program is priced from 200 to 275 Euros ($265 to $364 USD). Student apartments are priced at 14 to 35 Euros ($19 to $46 USD) per day, depending upon season and whether a shared or private room is required. Accommodations with host families range from 27.50 to 39 Euros ($36 to $52 USD) per day. ElanGuest also offers special discounts for those unable to afford the regular fees.
Disclosure: I was a guest of ElanGuest during my stay in the Maltese Islands. However, the receipt and acceptance of complimentary items or services will never influence the content, topics, or posts in this blog. I write the truth, the whole truth, and nothing but the truth.