Though I wasn't lucky enough to witness a live eruption of Mount Etna, a visit to the Alcàntara Gorge provided a striking example of the effects of such a catastrophic event. Around 4,500 years ago, Mt. Moio, a minor cone of Mount Etna, erupted violently and sent waves of molten lava rushing down toward the Ionian Sea. The magma crossed the chilly Alcàntara River, which had already carved a deep canyon through the surrounding limestone, and gradually cooled into a dense layer of black basalt. For at least a thousand years the river, which was much larger and more forceful than it is today, carved through the basaltic rock, leaving a 164-foot high gorge faced with tortured formations and basaltic stone columns.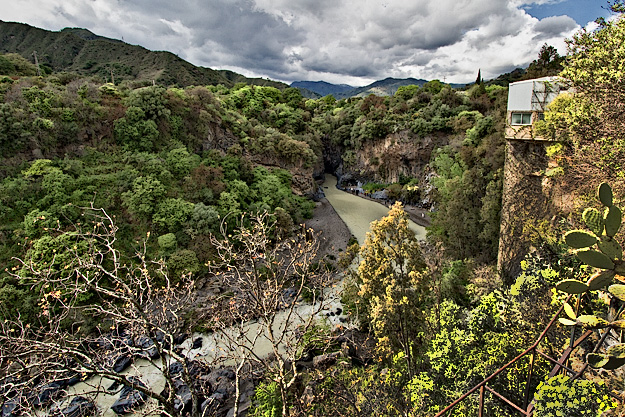 Theories about how the formations occurred abound. One says that an earthquake occurred during the eruption, allowing the lava to spread out and cool quickly. Another theory is that the lava split into two branches, reuniting at the gorge, where a mass of cold clay soil caused the magma to crystallize instantly. I find both theories unacceptable. As a long-time rockhound and student of geology, I know that rock crystals result when cooling occurs slowly, not rapidly. The eruption most likely deposited a deep layer of magma that would have allowed the basaltic material to cool very gradually, allowing formation of distinctive hexagonal (six-sided) columnar prisms that produced "columnar basalt." Similar formations are found at Devils Postpile National Monument in California and Hegyestu Geological-Interpretive Site in the Kali Basin in Hungary.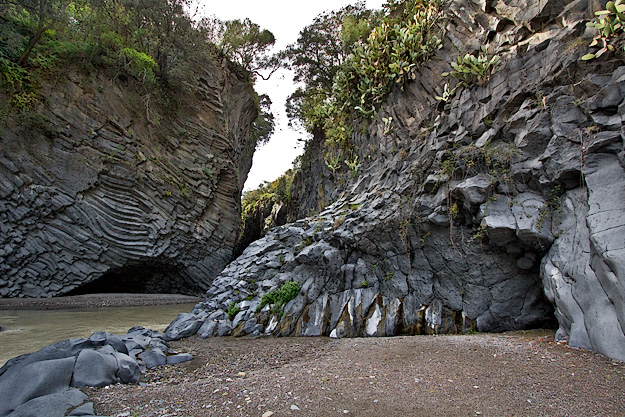 Today the Alcàntara Gorge, located on the east coast of Sicily, is a Geological and Botanic Park that offers botanical walks with classification signs along the designated routes, geological tours, and even a walk along the Alcàntara River between Gorge Beach and Saje Beach that continues about 100 meters into the gorge. The site is particularly popular from May through September, as the chilly river water offer a welcome respite from Sicily's blistering summer temperatures.