As a perpetual traveler with no permanent home I live out of a suitcase, so I'm constantly searching for the perfect luggage and accessories. I began blogging and traveling for a living more than seven years ago at age 54. Initially, I chose an Eagle Creek wheeled backpack that had a zip-off day pack, but as I got older, I could no longer carry everything on my back; my laptop and camera equipment and accessories alone weigh 25 pounds! A few years ago I sent Eagle Creek the zip-off day pack from this case for repair. It had been used hard – thrown atop chicken buses in Latin America, endured sweaty hikes in the hills of Southeast Asia, used as a pillow on trains in India – and the zipper finally broke after years of abuse. Yet Eagle Creek never blanched at repairing it – for FREE!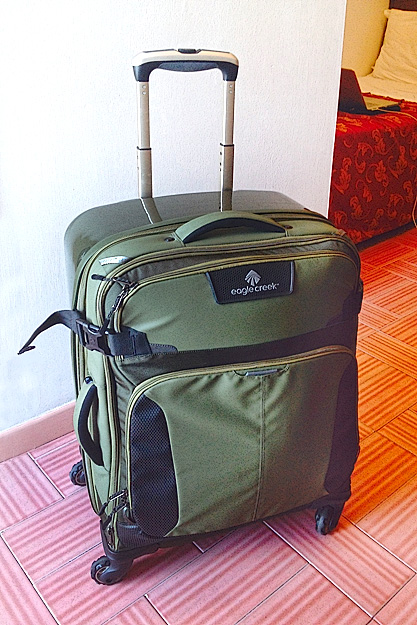 I must admit that over the years I've tried a few other brands, including one that everyone said was the best luggage on the market, but I was always disappointed by the design, durability, or the warranty of these other products. In the end, I always came back to Eagle Creek. So I was especially pleased when Eagle Creek invited me to participate in their blogger gear program this past winter. They allowed me to choose up to six products to test, including one suitcase. Frankly, I'd already been on the hunt for a new case to replace my 22″ carry-on. In the middle of March I was scheduled for an Arctic Cruise in Norway, and ten months later I tentatively planned to be in steamy Thailand. I needed a suitcase that would be large enough to hold cold weather and tropical clothes, but light enough for me to carry. I decided upon the 26″ Tarmac AWD Case, which features a super-light, 3-ply polycarbonate back shell combined with a fabric front, and is equipped with four rugged 360 Dynamic Spin™ wheels.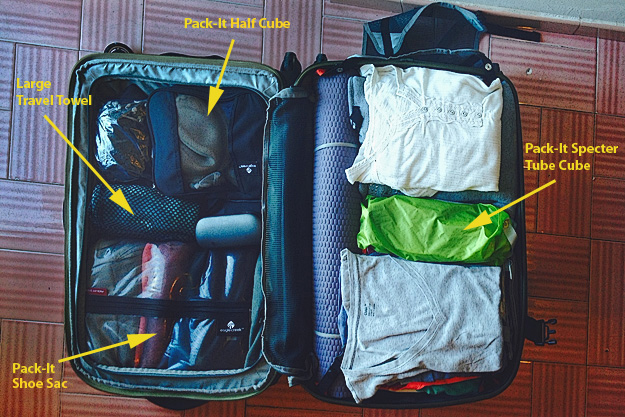 The Tarmac is, without a doubt, the best bag I've ever owned. Initially I worried about the polycarbonate shell. It seemed very thin and flexible and I wondered how it would hold up, but it is tough as nails. Also, the four wheels are a godsend. My shoulders used to ache from pulling a loaded bag behind me but Eagle Creek's spinner wheels, which rotate 360-degrees, allow me to push the bag rather than pull it, completely eliminating shoulder stress. The interior design was also a big surprise. The main compartment is composed of two large open spaces, secured by a zippered netting on one side and an X-shaped elastic band with clips on the other. I was concerned about keeping things from sliding around and becoming a mess in these large open cavities, but this is where Eagle Creek's packing cubes and tubes came in. I loaded my folded clothes in the side that had the elastic X-band, using the space between the two stacks of clothes for my collapsible tripod, which I topped with a Pack-It Specter™ Tube Cube (see lime green tube above, at right). Though Eagle Creek says it's great for socks, underwear, or belts, my flip-flops and a pair of ballet slipper shoes fit perfectly.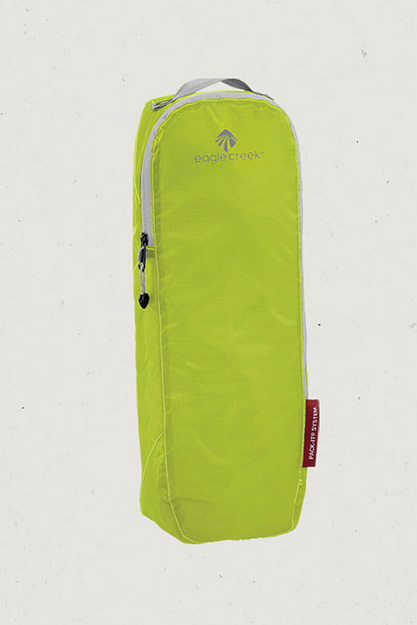 On the opposite side I placed the Pack-It™ Half Cube, which I found ideal for socks and underwear, but which could also be used to roll and compress sweaters, pants, and shirts; or for electronic cords and accessories. Though their Pack-It™ Shoe Sac is designed to hold a large pair of shoes, it was the ideal size for eight of my rolled-up T-shirts.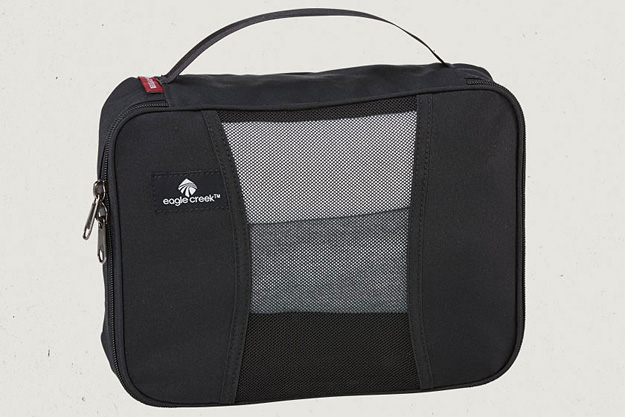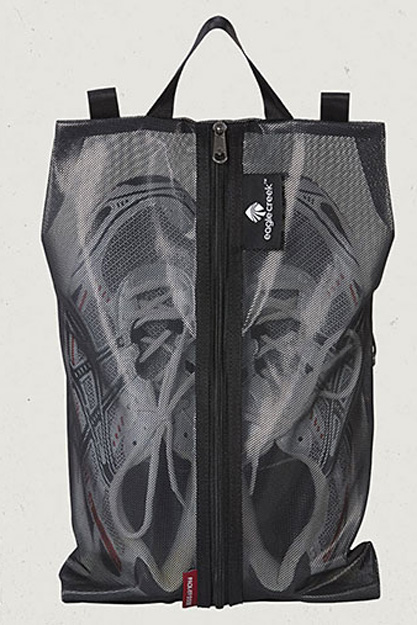 Finally, in the center I placed the Large Travel Towel, which folds down to a fraction of the size of a regular towel and rolls into its own mesh bag. It was a couple of months before I had an opportunity to use it, as linens were provided by most places I stayed, however when I finally stayed at a guest house that charged $2 for towels, I was very happy to have the Eagle Creek towel at my disposal. It was ultra-absorbent, made of an antibacterial fabric, and dried quickly. I will never again travel without it.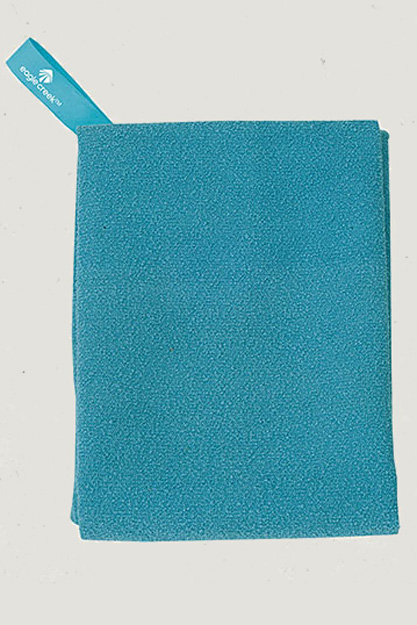 I'm back in the U.S. for a short while, visiting family, but it won't be long before I hit the road again. I've decided to go back to a 22″ carry-on size but this time, I won't need to fret over which bag to choose. I'm going right for the 22″ Tarmac AWD.
For tips on what to pack, check out this article I wrote some years ago.
Disclosure: Eagle Creek provided the above products to me free of charge, however, the receipt and acceptance of complimentary items or services will never influence the content, topics, or posts in this blog. I write the truth, the whole truth, and nothing but the truth.