I laughed out loud the first time I saw an advertisement for Pooping Palace on the window of one of the hop-on/hop-off pickup trucks that carry passengers around Chiang Mai, Thailand. I understood the problem immediately. The Thai alphabet consists of 44 consonants, 15 vowels that combine into at least 28 vowel forms, and four tone marks with five sounds (high, low, rising, falling, and neutral). Additionally, certain letters or combinations of letters, when words are translated into English, are not pronounced the way we would expect. For example, the "TH" combination is always pronounced like a "T", as in the case of the word Thailand. When the letter "P" appears in an English translation of a Thai word, it is almost always spoken like a "B", thus the confusion.
Once I got over my case of the giggles, I realized that I'd never visited this Royal Family residence, which is located just a couple miles further up the mountain from Chiang Mai's premier Buddhist temple, Doi Suthep, so I gathered up a group of fellow travel bloggers and expats who were also wintering in Chiang Mai and put together a sightseeing trip. Though there are nine buildings on the site, we were most interested in the gardens, including Suan Suwaree, the famous royal rose garden. Taking advantage of the cool mountain air, rose varieties that otherwise cannot survive in Thailand thrive at Bhubing.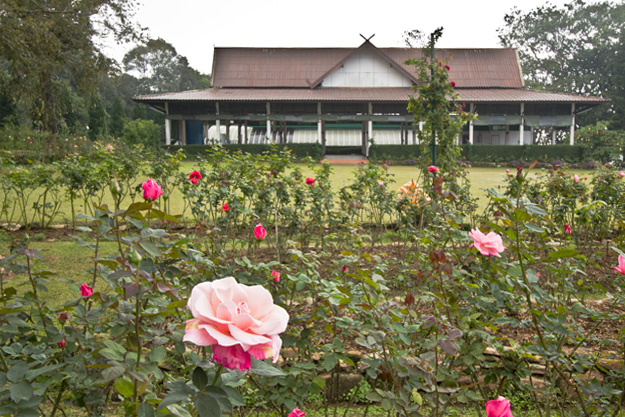 For me, however, orchids were the most splendid of the many varieties of blooming trees, bushes, and flowers on display. Exquisite clusters of violet, buttercup, orange, and deep purple orchids were tucked among the foliage, and gardeners were hard at work attaching more of these air plants to naked tree branches alongside meandering paths.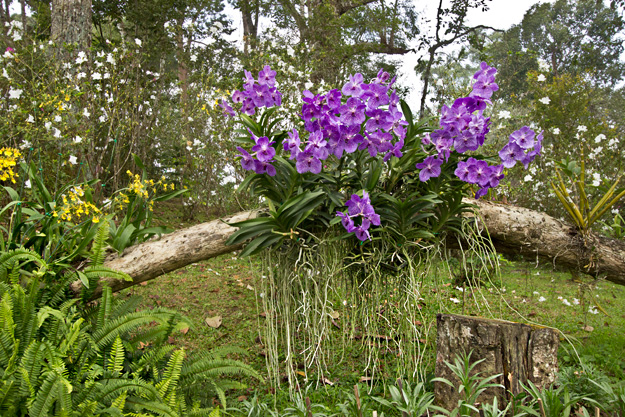 We strolled through a delightful greenhouse, beyond which a stone stairway led to a small Teak cabin surrounded by giant ferns.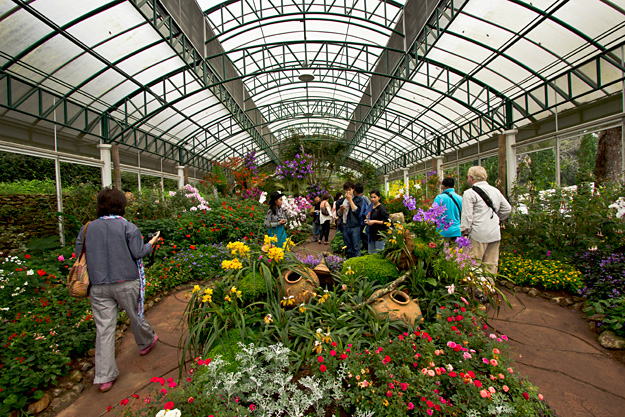 A final steep set of stairs led to a reservoir, where water from fountains instantly turned to fog upon hitting the cooler mountain air. The ethereal mist cloaked us as we strolled back down the hill, past groves of bamboo and gargantuan fig trees.
With each step, more unusual blooms presented themselves, until we wound back down to the entrance and the delicate peach Trumpet flowers that had greeted us upon arrival.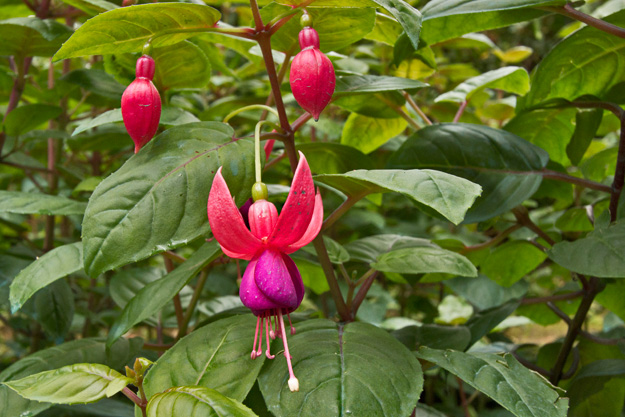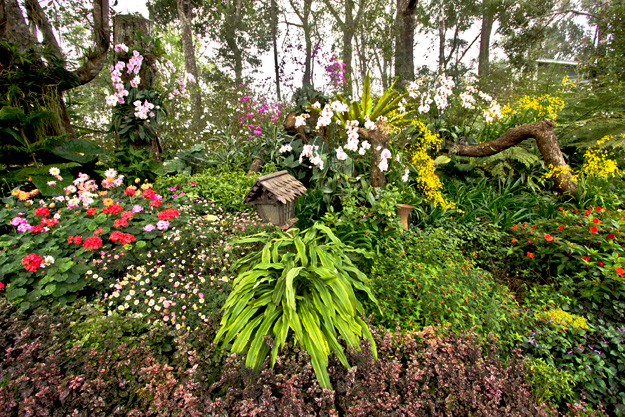 During our visit, the actual palace was closed for restoration, but I didn't feel like I missed a thing. Though best known as a winter residence for the Royal Family, he gardens are the most impressive part of any visit to Bhubing Palace.
Tips for visiting Bhubing Palace in Chiang Mai:
Bhubing Palace and Gardens is located atop Doi Suthep Mountain, just 2.5 miles beyond Doi Suthep Temple, thus it is very easy to combine the two attractions into a single day trip. In both cases, proper attire should be worn, which means absolutely no shorts or dresses showing bare shoulders. While Doi Suthep is more lenient, anyone wearing inappropriate apparel at Bhubing Palace must don more modest clothes available for rental at the entrance. The palace is open seven days per week, May through December, from 8.30 a.m. to 4.30 p.m. Tickets are sold from 8.30 a.m. to 11.30 a.m., and 1.00 p.m. to 3.30 p.m. The price of admission for foreigners is 50 Baht (less that $2 USD).
My wonderful taxi driver, Anong Sricomma, who operates her own very clean, well-maintained, and legally licensed seven-passenger taxi van, will be happy to arrange a trip. Anong speaks perfect English and is a very safe driver. Her prices vary, depending upon how many hours you wish to spend touring and the number of miles traveled, as fuel in Thailand is expensive, however she is unfailingly honest and will always quote a fair price. Reach her at +66 053-464043 (home) or+66 0819981719 (mobile), or email her at [email protected].