As a vegetarian who travels perpetually, finding appropriate food can sometimes be stressful. Last year I spent two months in Chiang Mai, Thailand and since I've been there there many times I was aware that scores of vegetarian options were available at local restaurants, food courts, and street vendors, such as those at the street vendors at Chiang Mai Gate, shown in the photo below: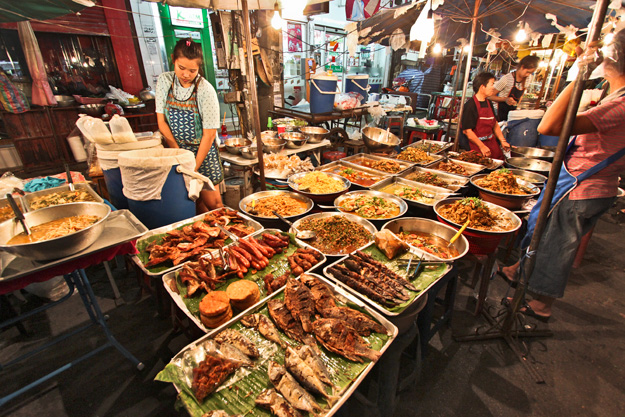 My problem was the language barrier; I speak a little Thai but not enough to ask about all the food choices at street food stalls, markets, or food courts. So I asked a Thai friend to accompany me to the local food bazaar in the lower level of Central Airport Plaza to show me the ropes. I toured the kiosks with her as she explained the various foods on display, and then learned how to negotiate the food stalls, all the while filming the following video.
As I suspected, many of the foods that I would normally have thought safe contained pork or chicken, but after my friend's explanation and descriptions, I felt much more confident that I could determine which foods were safe. As a result, I was able to eat at food courts and markets that cater to Thai clientele, which charge much lower prices than pricier restaurants that cater to tourists.