When locals in Maramures and Cluj-Napoca learned that my itinerary included Bucharest, they warned me about a cultural divide between the eastern and western portions of Romania. Residents in the west, they insisted, had always felt a stronger affinity with Europe, while cities in the east looked toward Russia. I began to feel the shift in Brasov, where the effects of a struggling economy were evident in unloved squares and a general sense of apathy. Bucharest had more pride in its appearance, but the Soviet-era apartment blocks that towered over lovely Belle Époque buildings lent the city a certain sterility. Initially, Bucharest did not knock my socks off.
Fortunately, fellow travel blogger Lori Pascal lives in Bucharest. We had long known one another "virtually" and I was excited to finally meet her in person. She and her husband, Andrei, picked me up one day and treated me to a tour of their home town. From Victoria Square we headed north to the entrance to Herastrau Park, marked by the Arch of Triumph, a free-standing arch that is smaller but eerily similar to the better-known Arc de Triomphe in Paris. Further north we circled past the House of the Free Press, a replica (though again, smaller) of Lomonosov University in Moscow, which houses government and media printing presses as well as the Romanian Stock Exchange.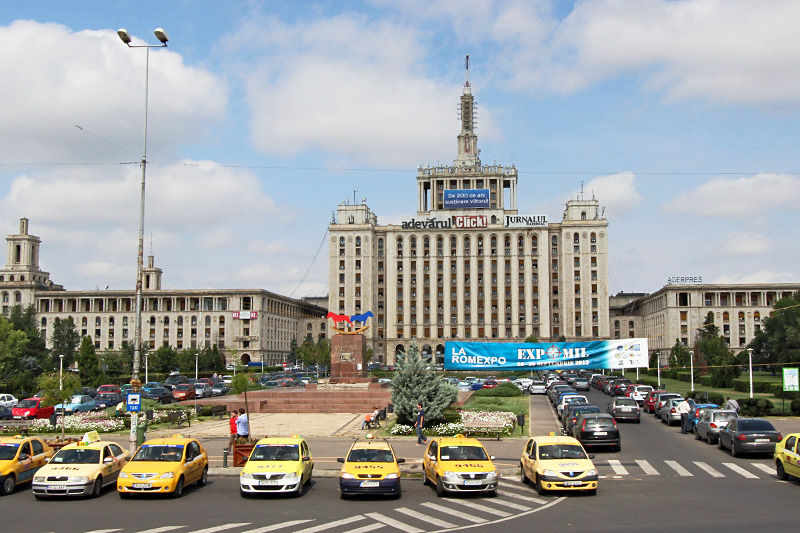 Looping back to the south side of the city, we cruised through Unirii Square, where high-end retail stores surrounded lavish fountains, and continued to Constitution Square for a view of Parliament Palace, the brain child of former Communist party leader Nicolae Ceausescu. The narcissistic dictator envisioned a lavish palace, large enough to host all state functions and grand enough to serve as his personal residence. Completed in 1989, the 12-story high building measures 3,700,000 square feet, has 1,100 rooms, is the second largest administrative building in the world after the Pentagon and, at a cost of more than $4 billion, is the world's most expensive administrative building. Ironically, in order to build "The People's House," as it was originally dubbed, Ceausescu evicted thousands of people from their homes and leveled all but one of Bucharest's historic districts.
Later that afternoon we explored Revolution Square on foot, my friends pointing out landmarks such as the Central University Library, the old Royal Palace that houses the National Museum of Romanian Art, and the Romanian Athenaeum. At the Memorial of Rebirth sculpture, a tall marble spire erected to commemorate the Romanian Revolution of 1989, Andrei directed my attention to a nondescript institutional building across the street.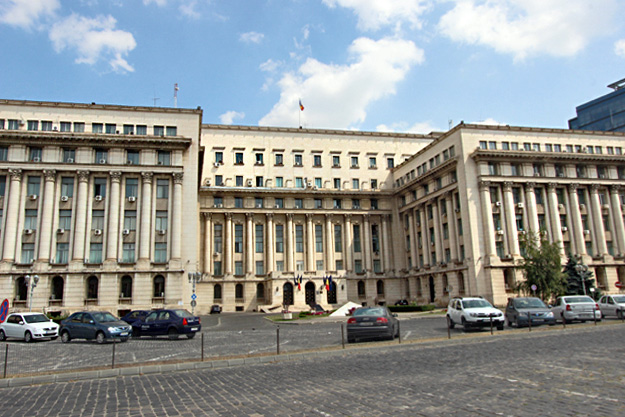 "That's the Ministry of Interior and Administrative Reform, but it used to be the Communist Party Headquarters. The balcony in the center is where Ceausescu made his final speech on December 21, 1989," Andrei explained.
Just around the corner they pointed out the Grigore Paucescu building, a modern high-rise built around the preserved facade of the original 19th century structure. Bullet holes from 1989 uprising riddle the stone facade.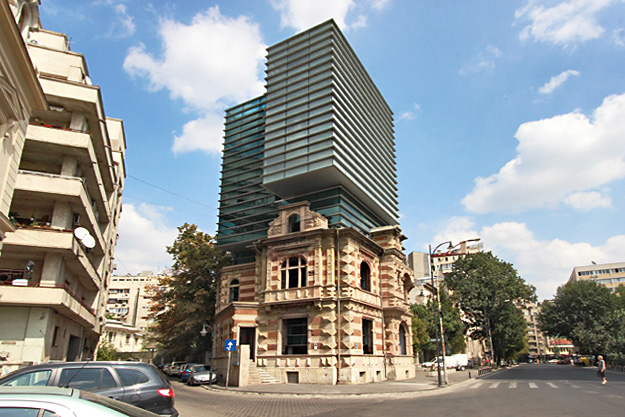 Lori and Andrei witnessed first-hand the events leading to the 1989 revolution that brought down the oppressive regime. Ceausescu had long sought political independence from the Soviet Union and supreme power for himself, however a crippling $10 billion national debt kept him dependent on Mother Russia. To remedy this, he enacted an austerity program in 1981.
"Ceausescu began exporting everything we grew or made." said Andrei. "There were terrible shortages and everything was rationed. People stood in line for hours just to get a loaf of bread. By 1989, Romanians were starving."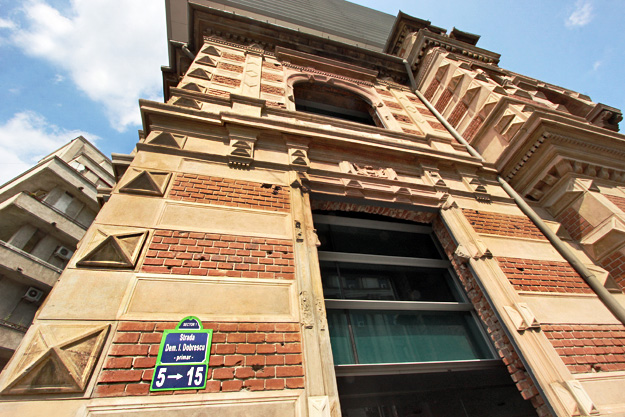 Unrest first erupted on December 16th in Timisoara, where the government had attempted to evict a Hungarian ethnic pastor. Ceausescu, confident in his position, scheduled a mass meeting in Bucharest on December 21st, during which he called the Timisoara rebels "fascist alligators who want to destroy socialism." As always, people had been bussed in to fill the square and given flags to wave and posters to hold up. They had no choice but to attend; refusal meant a severe beating at best and disappearance at worst. But this time, there was no flag waving or applause. Instead, a hiss started from the back of the crowd and swelled to epic proportions. Ceausescu stood at the mike with a shocked look on his face; moments later the television camera that had been trained on the crowd panned away, showing government buildings across the street. When Ceausescu again tried to speak the crowd booed and jeered. The stunned leader of the country fled the balcony and by the next morning demonstrators were out on the streets of every major city in Romania. He and his wife were spirited away by helicopter but discovered and arrested by the military three days later. On Christmas morning, they were tried by a kangaroo jury, convicted of genocide and illegal gathering of wealth, and sentenced to death. Just minutes later they were killed by a military firing squad.
Some Romanians believe that high-ranking members of the military used sound waves to incite the crowd to violence on December 21st. Andrei insisted this has since been documented, but my research turned up nothing to support the theory. However, as far-fetched as it sounded, I also noted that there were no signs identifying the Ministry of Interior as the site where the Romanian Revolution started. Even the city tour bus, which I rode two days later, said nothing about it. Without Lori and Andrei, it would have been just another unremarkable office building that I walked by without a second glance.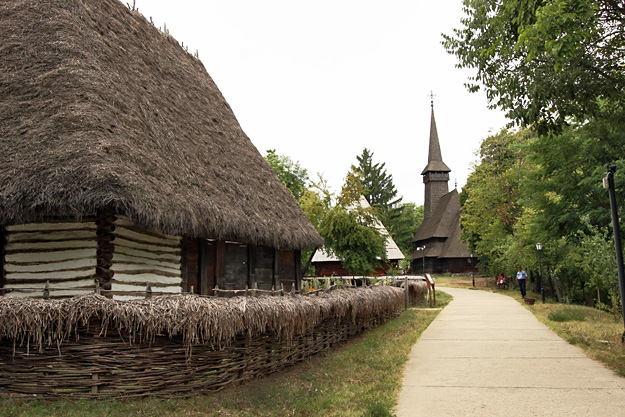 I spent one day strolling through Herastrau Park, with its peaceful lake, serene forests, and wildly blooming gardens. Another day was devoted to the Village Museum, which has painstakingly transported and reassembled traditional homes from every part of the country on the grounds, allowing visitors to learn about the many cultures found in Romania. The day before my departure I returned to Revolution Square and tried to imagine the seething crowd on that fateful day in 1989. I craned my neck up to see the tip of the Memorial of Rebirth sculpture and saw that a blob of red paint had been splashed on the spire and run down the side of the monument. Though it was likely graffiti it seemed highly appropriate for a memorial dedicated to the 1,100 Romanians who died during the ten-day Revolution. It may not be the prettiest city or the most cosmopolitan, but the history alone leads me to give an unqualified 'yes' when asked if I would recommend a visit to Bucharest.