In October of 2011, readers of Outside Magazine overwhelmingly voted Chattanooga, Tennessee their ultimate dream town. The following year, the New York Times ranked the city #25 in The 45 Places to Go in 2012, a list that included such notable tourist destinations as London, Jordan, and Antarctica. However, Chattanooga's current status as top tourist destination and darling of the outdoor lifestyle crowd was not always so. In 1969, Walter Cronkite declared it the "Dirtiest City in America" on his evening broadcast.
Cronkite's statement was a wake up call for Chattanooga, which had long enjoyed prosperity as one of the top industrial and manufacturing cities in America. The Chattanooga/Hamilton County Air Pollution Control Bureau was quickly established, but just as the smog began to clear the recession of the 1970's and 80's dealt a second blow. In the face of severe job layoffs, deteriorating infrastructure and social tensions, the Chamber of Commerce and Chattanooga Planning Commission created Chattanooga Venture, a non-profit organization tasked with bringing together citizens to clean up their city on all fronts. The organization held a series of public forums where residents were asked to dream about the way they wanted their city to be.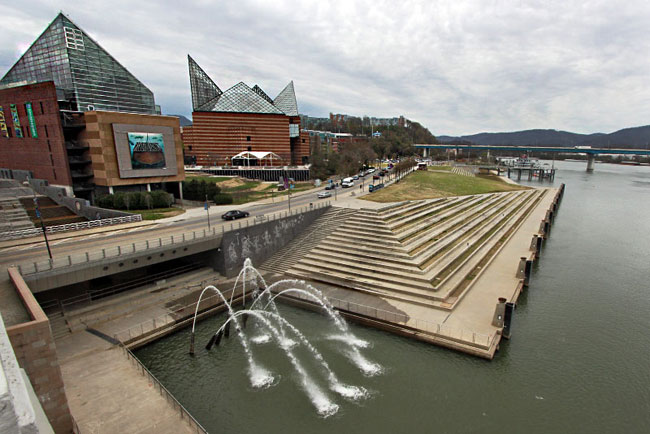 More than 1,000 residents participated in the four-month process, which resulted in the adoption of 40 goals for the city to achieve by the year 2000, including the revitalization of Chattanooga's derelict downtown; creation of a distribution and transportation center to capitalize on the city's prime location at the intersection of Interstates 75, 59 and 24; and solving problems with air, water and noise pollution. Today, many of those goals have been accomplished. The city and county have developed five miles of greenway which begins along the downtown Riverwalk and winds through several parks and the historic Bluff View Art District. Riverwalk is a world class tourist destination, offering the acclaimed Tennessee Aquarium and Tennessee Riverpark, where visitors can take rides on authentic paddle wheel steamboats.
While the accolades racked up by Chattanooga of late may astound some, my only surprise is that it took folks so long to fall in love with this city on the banks of the Tennessee River. I first rolled into town by chance  seven years ago, just as the nine-day Riverbend Festival was wrapping up. I strolled around the downtown amidst cleanup crews, rode the free zero-emission electric buses through the business district, and walked across the river on the 120-year-old Walnut Street Bridge, which was converted for pedestrian use when it was no longer appropriate for car traffic. On the North Shore I found a handful of Yoga studios and cafes, along with the unmistakeable energy of a neighborhood poised to become Chattanooga's newest arts enclave.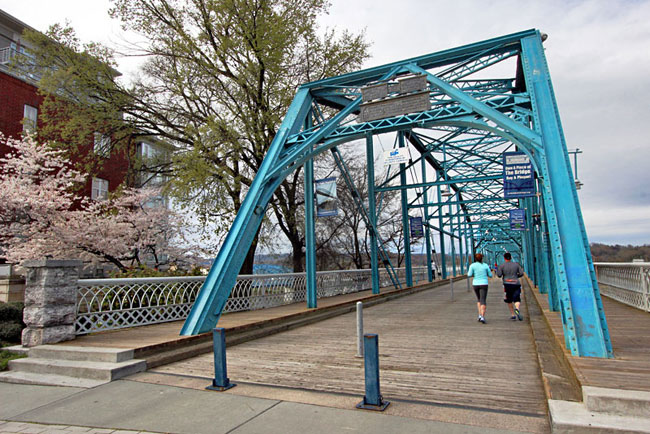 Over the years, Chattanooga has stayed on my horizon. During trips between Chicago and Atlanta it always seemed the perfect stopping point for dinner and I usually made my way to the turn-of-the-century warehouse district on the north side of the river, where old red-brick textile mills had morphed into local boutiques, artisanal shops, and restaurants. I never failed to be impressed, so when the Chattanooga Area Convention & Visitors Bureau invited me to get to know their city a little better this past April, I jumped at the chance.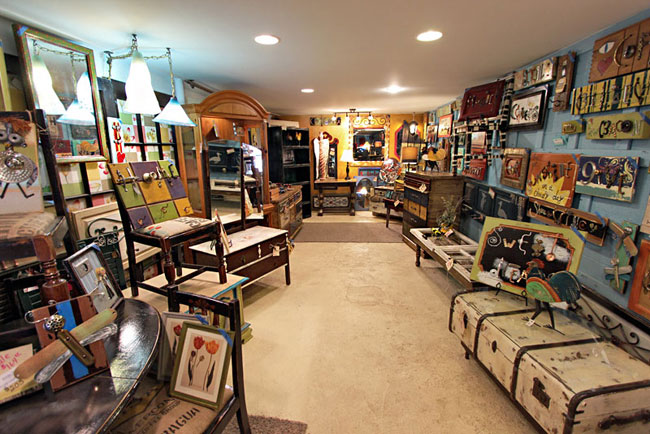 Just as I had suspected, the North Shore had become a prime location for local entrepreneurs and artists, a number of whom had begun life in the INCubator, a 125,000 square foot former ceramic manufacturing facility that now offers office or manufacturing space to start-up businesses at highly competitive lease rates. As a result, rather than being filled with ubiquitous franchises or national chain stores, merchants of the North Shore are overwhelmingly local. Shops fronting Coolidge Park offer everything from original art in galleries, to hand-painted furniture and decor at Tangerinas, and even natural hand-crafted sodas featuring flavors such as lavender mint, strawberry jalapeno, apple pie, orange basil and hibiscus lemon in the old-fashioned soda fountain at Pure Sodaworks.
But I soon learned that Chattanooga offered so much more than what I had seen on the North Shore. From my lovely penthouse hotel room at the Bluff View Inn, I walked across the glass bridge connecting the Bluff View Arts District with the downtown Riverfront. At the Tennessee Aquarium, the largest fresh-water aquarium in the world, I followed the journey of a single drop of water flowing from the Appalachian Mountains down the Tennessee River to the Gulf of Mexico.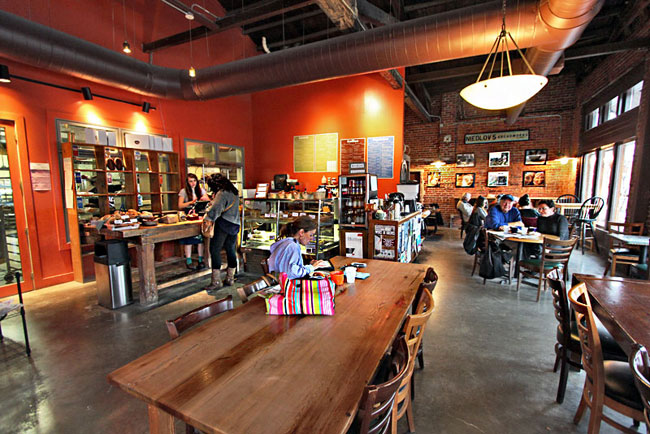 Another day took me to the Southside District on Main Street, an up and coming neighborhood on the southern edge of downtown. Here I met John Sweet of Niedlov's Bakery, who makes the artisan breads that are served in many of downtown Chattanooga's eateries. I spent two lovely mornings there, gulping down fantastic coffee and swooning over their "everything" bagels, which are covered top and bottom, making them, in my opinion, the best everything bagels in the entire world. After an obligatory stop at the Chattanooga Choo-Choo and a tour of the Crash Pad, a great new hostel that caters to rock climbers and other outdoor enthusiasts, I drove a few blocks to The Hot Chocolatier, where owner Wendy Buckner begged forgiveness for not being able to meet with me as scheduled, since leaving the pot of chocolate she was stirring meant she would lose her temper. I grinned, realizing she was talking about tempering the chocolate, and told her to take her time as I slid into one of her grand wooden booths with another cup of coffee. My patience was rewarded when Wendy slid in across from me a short while later and shared the remarkable story of how she launched her gourmet pastry and desert business, not to mention the box of chocolate covered cherries she insisted I take upon departing.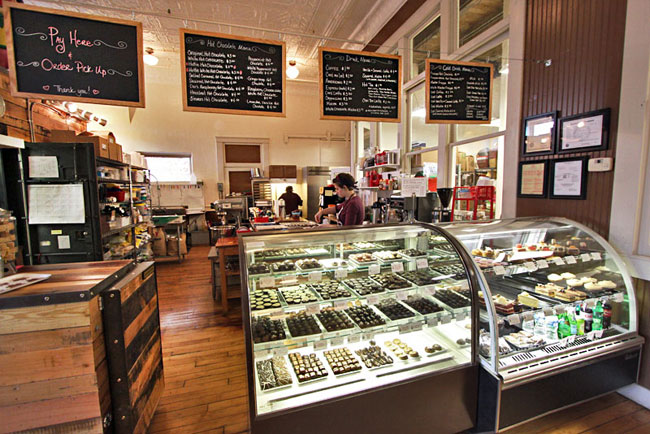 I couldn't leave Chattanooga without riding Lookout Mountain Incline Railway, the steepest passenger railway in the world. At the top I headed for Point Park, site of the famous Civil War "Battle Above the Clouds" and the perfect place from which to view Tennessee River's Moccasin Bend. On the other side of the mountain I spent a few hours trying to find my way around Rock City Gardens with a poorly designed trail map. Though it was a bit hokey for my taste, with statues of elves scattered amongst the rocks and fake crystals attached to cavern walls, I was finally rewarded with a spectacular view of seven states from Lover's Leap, a mammoth rock outcropping with sheer drop-offs to the valley below.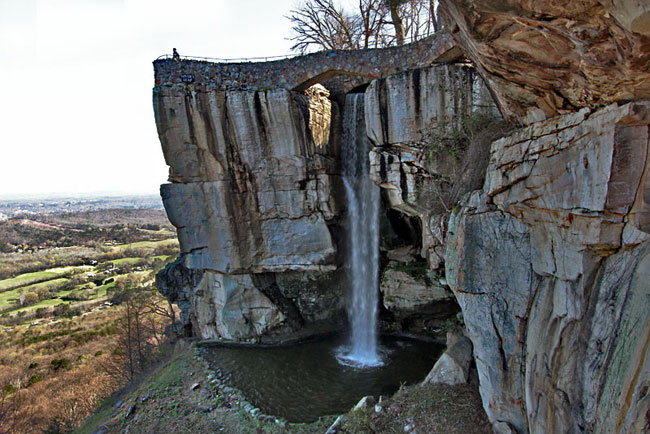 Of course, I returned to my old stomping ground, Manufacturer's Road in the North Shore, to see what had occurred since my last visit. Developments that had been empty lots with sales trailers now offered upscale condos and an intriguing collection of small shops and services, again mostly local in nature, were now anchored by a Whole Foods Market.
So, back to my question: Why are more people are not raving about Chattanooga? I don't have an answer but I suspect that it won't stay the same for much longer. With thriving local shops and businesses, a strong music and arts culture, unrivaled outdoor amenities, excellent tourist sights, and a government and populace committed to sustainable development, Chattanooga is certainly has to be included on any list of the best place to live in America, and a wonderful place to vacation.
Disclosure: I was a guest of the Chattanooga Area Convention & Visitors Bureau during my stay in Chattanooga. However, the receipt and acceptance of complimentary items or services will never influence the content, topics, or posts in this blog. I write the truth, the whole truth, and nothing but the truth.

Save
Save
Save
Save