I frequently travel solo to developing countries in the remotest corners of the world without the least bit of fear, but when it came time to visit France I was totally rattled. I don't speak a word of French, but the inability to speak the local language had never bothered me before, yet every time I thought about my upcoming flight to Paris, my stomach lurched. For advice, I turned to my friend Heather Cowper, who writes the travel blog Heather on her Travels, since she is based in England and has traveled extensively in France.
"I'm really worried, Heather. I don't read or speak the language and I've heard so much about French rudeness."
"The French, especially Parisians, are a very reserved people. Just remember to start every conversation with 'Bonjour Madame' or 'Bonjour Monsieur.' If you do that, you'll be fine," she insisted.
A few days later I arrived at Charles de Gaulle Airport and boarded the Roissybus for the city center, relieved to find that signs were in English and French. Less than an hour later the bus pulled up next to the Palais Garnier opera house. I hefted my backpack and small rolling bag down the steps and looked around for the Opera Metro station but it was not immediately visible; I had no idea which way to walk.
"Bonjour Monsieur," I said to a man standing nearby. "Do you speak English?"
"Non," he replied, shaking his head.
I was approaching a second person when man walked up beside me and, in perfect English, asked if he could help.
"Yes," I said, relieved. "I'm looking for the Opera Metro station." To my surprise, the gentleman grabbed my suitcase and led me to the entrance of the Metro, then pressed a ticket into my hand. I reached for my wallet but he stopped me. "No it's my pleasure. Welcome to Paris." With a smile he turned and disappeared into the subway tunnel.
This scenario was repeated time and again over the next two weeks. That same evening I realized my hotel was within easy walking distance of the Eiffel Tower, so I headed out for my first look at Paris by night. Laser lights beaming from the tower provided a ready road map and twenty minutes later I stood on the grassy esplanade, gaping at the iconic Paris landmark. Goosebumps broke out on my arms as I tipped my bead back, taking in the entire length of the illuminated tower, as high as an 81-story building. I made my way past entwined couples to its base, where I rode the elevator to the top and soaked in the spectacular views of the City of Light.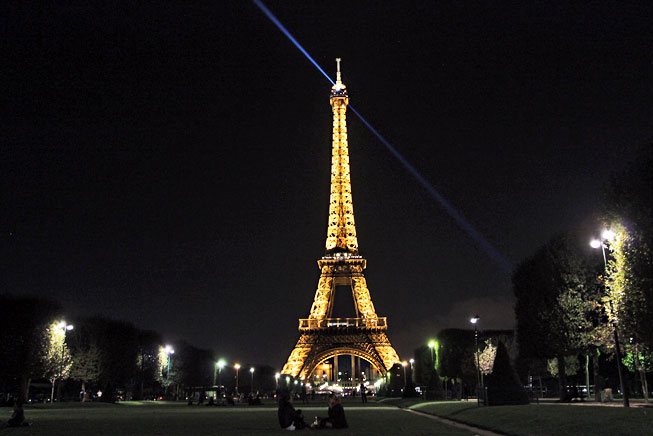 Finally, exhaustion set in and I started back to the hotel, but I soon realized I'd been so in awe of my surroundings that I'd paid little attention to my route. By the time I'd walked four blocks I was hopelessly lost; nothing looked familiar and I had no map. Again I begged for help. The owner of a small gift shop whipped out his mobile, entered the name of my hotel, and his GPS displayed the route. He didn't even try to sell me anything. 
During the first week in Paris my friend Jérôme Gobin, whom I had met in Ecuador, showed me the city over three nights, even though persistent rain kept us soggy. On my second week in Paris I was the guest of Parisian friends I had met in Nepal, Jean-Luc and Sabine Perrotin. They put their home at my disposal and welcomed me like a member of the family. In St. Malo, a small medieval town in Brittany, a local shopkeeper treated me to cookies and coffee and refused to take any money from me. The owner of my hotel in Caen traded me French lessons for English lessons one night.
My tour of France ended in Marseille, where I met a lovely French couple who were both about my age. They spoke limited English, but with the aid of sign language and the basic French vocabulary I'd picked up over the preceding weeks, we managed to understand each other. The following day I was soaking up the sunshine at an outdoor cafe when the same couple approached me. The husband motioned to my camera and pantomimed taking a picture. Sure, I nodded, thinking he wanted to take a photo of all of us. Instead, he snapped a couple of quick shots of me. He handed back my camera and, leaning close to my ear, said: "God Bless America." They waved and smiled, then walked off into the crowd, leaving me teary-eyed. It was the last I saw of them.
During my six weeks in France I experienced only kindness and extreme generosity. French rudeness is nothing more than a myth, especially if you start conversations with the magic words: 'Bonjour Madame/Monsieur.'
Check prices for accommodations in Paris at Booking.com, Hotels.com, or HotelsCombined.com. Read reviews about hotels and guest houses in Paris, France at TripAdvisor.
Disclosure: This article contains affiliate links to hotel booking sites. If you click on any of the links and make a booking, I may earn a small commission, which keeps this blog free to read.