Mercè Barceló never expected to own a hotel. At university she studied philology, which qualified her to teach English and German. For years she tutored private language students until, in 2006, her world changed forever.
"My big changes came when I decided to divorce," she explained. "I have a very open personality, as my mother. We always have people in our home…and we always talk and are very spontaneous. So I thought this (hospitality) business could fit in my world."
"Are you from this town?" I asked.
"I grew up here. This was my house."
I looked around, trying to imagine Niu de Sol Hotel Rural as a private home. The rear sitting room, with its old brick fireplace, had been her parents' original house. Mercè swept her hand around the dining room where we sat chatting. "This was the new house I built with my ex-husband. When I decided to divorce, it was also a (way of) not keeping memories of my past life."
Initially, Mercè converted only the front of the building but soon after completing construction her father suffered an embolism and could no longer climb stairs. She helped her parents relocate to a ground-level apartment, then converted the rear portion of the building, increasing the size of the hotel to its present 14-room configuration. Her plan was risky. With only three restaurants and a bar that offers live jazz music each Friday night, the town where Niu de Sol is located, Palau-Saverdera, is anything but a tourist mecca. Yet this sleepy village, located in the exquisitely beautiful foothills of the Costa Brava region in Catalonia, Spain, offers something more precious than excitement.
"People who come to me want to be near the coast but a little bit interior. They are searching for a charming hotel in quiet village."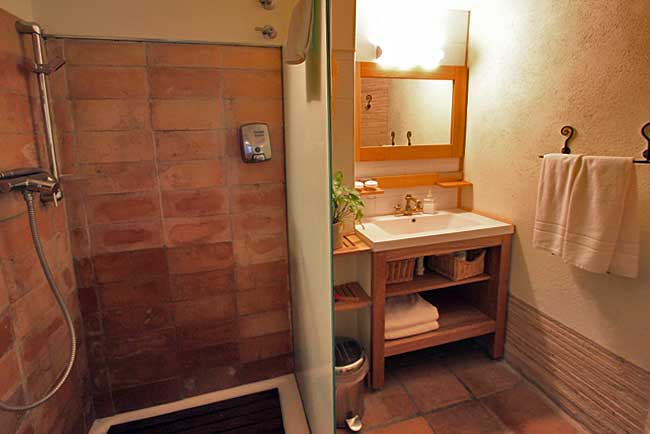 The serenity of this charming hotel was just what the doctor ordered. I'd been on the go since arriving in Spain, attending a business conference and two back-to-back press trips. I was exhausted and welcomed the opportunity to just relax for a while. I began each day on my private balcony, looking down on whitewashed cottages strung like pearls along the sparkling blue Mediterranean coastline in the nearby town of Roses. In the evenings I climbed to the rooftop terrace as the setting sun painted the sky in myriad fiery colors. Many of my fellow guests followed suit, sipping glasses of wine on patios scattered around the property or reading a good book in front of the fireplace.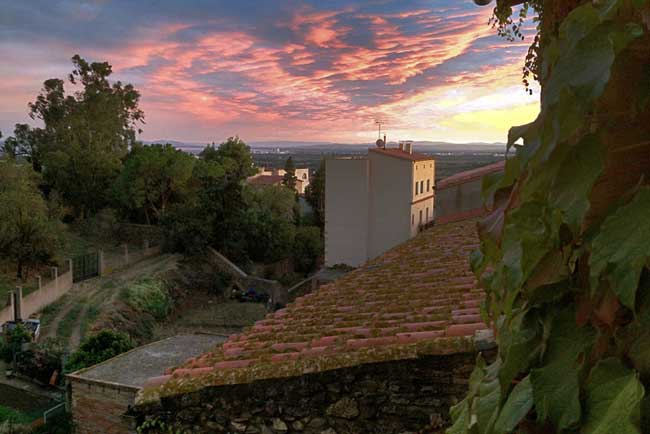 Relaxation may have been the order of the day but those who preferred a bit more excitement found no lack of things to see and do. The area offers everything from museums and historic Roman ruins to fabulous beaches and adventure sports like scuba diving, hiking and sea kayaking. I sampled a little of each on the day I went exploring, touring the home of painter Salvador Dalí in the delightful coastal town of Cadaqués, followed by a late afternoon hike along the rugged coastline in Cap de Creus Natural Park.
Whether relaxing or sightseeing, most guests returned each evening to enjoy a three course meal, lovingly prepared by Merce's mother. My gourmet salad featured fresh, local produce and her Spanish omelet, made with potatoes, onions and eggs, was crusty on the outside but creamy on the inside. It literally melted in my mouth and was so huge that I couldn't finish it, much less consider dessert.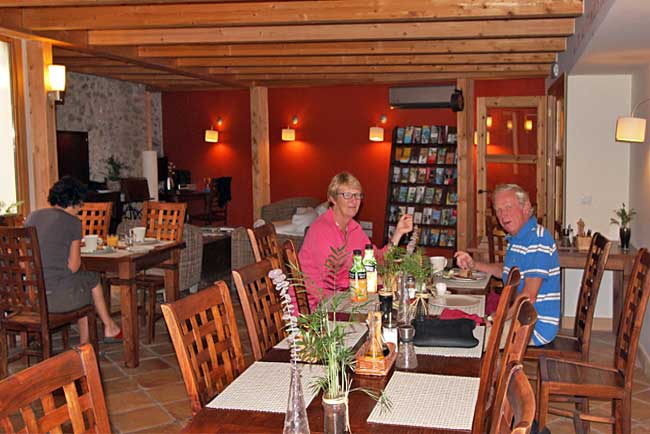 I could easily have spent another week in the area, visiting the Sant Pere de Rodes Monastery, wandering around the medieval villages of Pals and Peratallad, or learning about the art of pottery making in La Bisbal, but in the end, it was the remarkable serenity of Niu de Sol Hotel Rural that impressed me the most. The next time I need to regain my sanity, I know where I'm going.
Visiting Niu de Sol Hotel Rural:
For reservations, visit the hotel's website, contact them by email at [email protected], or call 671-600-303 or 972-982-549 (country code +34).
While it is possible to take public transportation to Palau-Saverdera, buses run infrequently and are often not on time. To really enjoy this area of Catalonia, a car is essential. From the E-15 motorway, take exit three or four. Drive toward Roses and watch for the signs for Palau-Saverdera. Take the main street up through the village (Calle Nou) until you reach number 34, a red wine-colored building.
Low season rates range from 88 Euros for a standard double to 100 Euros for a superior room with a private patio, while shoulder season prices range from 112 to 129 Euro and high season prices are 136 to 153 Euros.
A fantastic buffet breakfast, served until 10 a.m. each morning, is included in the price of the room. Dinners are priced at 24 Euros.
Niu de Sol Hotel Rural kindly hosted my stay however, the receipt and acceptance of complimentary items or services will never influence the content, topics, or posts in this blog. I write the truth, the whole truth, and nothing but the truth.