Fourteen people, including an 8-month old baby, were hospitalized yesterday as a result of injuries sustained during clashes between ethnic groups in Pokhara, Nepal, just a few miles from where I am staying. Yesterday was the second day of a three day bandh (general strike), called by the Nepal Federation of Indigenous Nationalities (NEFIN) to address concerns of various castes in the final days before the May 27th deadline for adopting Nepal's new constitution. Pokhara has a large Gurung population, one of the ethnic groups represented by the NEFIN, so the bandh is being very strictly enforced. No buses or taxis are running; all stores, general services, government offices, and schools are closed. Hospitals, police, ambulances, newspaper, TV are all working (most of the time), and police are escorting tourists who have managed to get to Kathmandu to the airport for their flights, but but Internet is intermittent and it is becoming increasingly difficult to go online to report what is happening.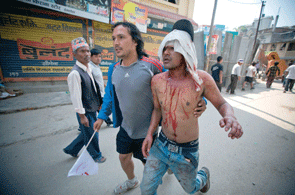 Bandhs began about two weeks ago, as the more than 100 castes in the country became increasingly upset over the wording of the proposed constitution and division of the country into States. Various ethnic groups demanded general strikes on days of their choosing, often called at the last minute, in attempts to force the government to make changes prior to the adoption of the constitution. Last Wednesday, following a brief respite from the strikes, it was rumored that bandhs would begin anew the following morning and extend until the deadline date of May 27th. Indeed, on Thursday everything in Pokhara was once again shuttered and the streets looked like a ghost town. By yesterday, tempers were short. With nothing better to do, activists congregated at Prithivi Chowk and Zero Kilometer, two of the major intersections in town. Gurungs erected a sign demanding that the area around Pokhara be designated a Gurung State, where only members of their caste would be eligible to hold elected office or government jobs. Opposition forces subsequently put up a banner calling for a "United Nepal," where all ethnic groups live and work together in peace, as has been the case for hundreds of years in this tiny nation. Violence erupted when Gurung factions tried to tear down the "United Nepal" sign; rocks were thrown not only at the demonstrators but through the windows of local houses, in one instance gashing the skull of an infant sleeping in side the home. Fighting continues today. Local radio is reporting that a Brahmin man was bashed over the head with a pipe and a number of demonstrators have been arrested for smashing windows of a local hotel.
The situation is even more serious in other parts of the country. In Kathmandu, rioters have burned motorcycles inside family compounds and severely beaten members of the media as they attempted to cover events, forcing police to respond with tear gas canisters. In the Terai, the sultry lowlands that stretch across the southern portion of Nepal, bandhas have been even more prevalent and more violent. Locals and tourists alike have been stranded in bus stations for weeks at a time as all transportation into and out of the Terai came to a screeching halt. Families who had expected to be gone for a weekend holiday found themselves stranded and quickly ran out of money for food and lodging; many were sleeping on the ground next to their abandoned buses. It does not appear that this stalemate will end any time soon; Tharu and other ethnic groups that comprise most of the population in the Terai are demanding the entire southern belt be designated a single ethnic State. It is unlikely their demands will be met, as a single Terai State would be able to blockade access to India, from where many of the goods Nepalis rely upon are imported.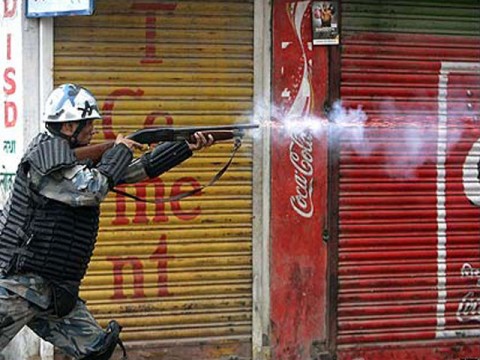 In real time the bandhs make life difficult and frustrating but the long-term effects are likely to be much more significant. According to the Chinese news service Xinhua-ANI, "around 1000 vehicles carrying essential goods are stranded in the northern and southern border areas of Nepal…compelling importers to pay extra cost, which will eventually be transferred to consumers." China and India, the two giants that sandwich this tiny nation, are undoubtedly watching with more than a little interest as events play out. Home to Mount Everest and many of the world's tallest mountains, Nepal has an impressive potential for the generation of hydro-power, a commodity highly coveted by its two power-hungry neighbors.
Much of the present strife stems from the influence of the Unified Communist Party of Nepal (Maoist), which was behind the "Nepalese Peoples War" that began in 1996. Communist Maoist insurgents enticed poor Nepalis (generally members of the lower castes) to join their army by promising free land, food, and restructuring of the government that would include ethnic States – a scheme they labeled "Federalism" – if they were successful in overthrowing the current government. After some years of fighting, a truce was reached and Maoists became a legitimate part of Nepal's government. Now, they cannot lose face by reneging on their promise of Federalism. Though the fighting is nowhere near as severe now as it was during the Maoist wars, the tension and violence are ramping up at an alarming rate, causing some to call for a state of emergency to be imposed across the country.
For the moment, I am safe. The Nepali family with whom I stay has stores of food and drinking water to last quite some time and yesterday I finally found an ATM that was working, so I now have additional cash on hand. My plans are to stay in Pokhara until mid-June, at which time I will return to Kathmandu before continuing on to Tibet, however I am taking it one day at a time and hoping that things will settle down after May 27th. In the meantime, I feel fortunate to be here to witness first hand the re-making of a country. I will try my best to bring you the news, both here on the blog and on my Facebook Page (http://www.facebook.com/holeinthedonut), as long as we have power and Internet.