Though I was sorely disappointed by the touristy nature of Costa Rica, I did return with one bit of true Tico culture, a giant bottle of the Costa Rican national condiment, Salsa Lizano. No kitchen or serving table in Costa Rica is complete without this slightly spicy, slightly sweet brown sauce, which usually stands side-by-side with its cousin, the very spicy Lizano Chilero. Ticos pour the stuff on everything: eggs, rice, beans, gallo pinto, tamales, cheeses, steaks, soups and even use it to marinate meat.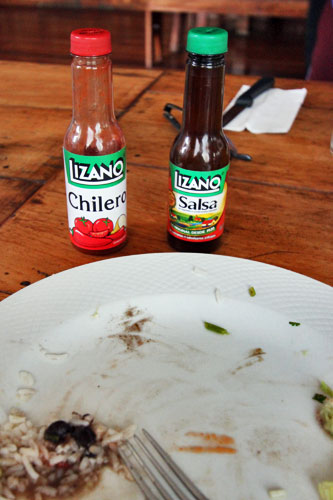 Developed in 1920 by the Lizano Company, the condiment is often referred to as the "Worcestershire sauce" of Latin America, but its ingredients (water, sugar, iodized salt, onions, carrots, cucumbers, cauliflower, molasses, mustard, celery, spicy chiles, spices such as black pepper and cumin, corn starch, acetic acid, and hydrolyzed vegetable protein) have little in common with the traditional English condiment. For years, visitors to Costa Rica have been carrying it home by the gallon jug, as it was not sold outside of Central America. After my first taste I, too, succumbed to its charms and upon returning to San Jose I asked my hotel owner for directions to a grocery store where I could buy a large bottle.
According to the manager at Casa las Orquideas Boutique Hotel, Salsa Lizano was manufactured for many years by a well-known Costa Rican family, in one of the country's most modern factories. Several years ago, Kraft contracted with the factory to do some bottling for them. One thing led to another and Kraft ended up buying the factory. The public outcry was apparently swift and vehement, with charges that the country's heritage was being sold. The original owner of the Lizano operation had to go on TV and explain that he was getting too old to run the company and that no one in his family had any interest in taking over, thus he had no choice but to sell.
Bottles of Lizano today say the product is made and distributed by Unilever, so I assume that Kraft spun it off at some point. As a result, Salsa Lizano is now readily available in the U.S.; I found it online at Amazon.com, listed at $7.70 for a 23.7 ounce bottle. For the same size bottle in Costa Rica, I paid about $1.50 but this stuff is so good I'll gladly fork out the $8 bucks when I run out.