Following a disappointing week at the beaches of the Nicoya Peninsula in Costa Rica, I hopped on a bus back to San Jose, where I met up with a group of people for a nine-day tour. As an independent traveler who wanders with no set schedule, I have never been on an organized tour, however this past December I won a tour of Costa Rica with gAdventures so I decided to try it out. The itinerary began and ended in the capital of San Jose, with enough free time see the city center and shop in the local markets, then continued on to La Fortuna/Arenal, Monteverde/Santa Elena, and Quepos/Manuel Antonio National Park, returning to San Jose on the final day.
In La Fortuna, the town that squats at the foot of Arenal Volcano, I found little in the way of local culture. In part, this may be due to the 1968 eruption that completely wiped out the original town. Only a handful of locals were willing to stay following the devastation and those that did rebuilt with tourism in mind. Today the streets of La Fortuna are lined with tour operators who hawk river rafting, rappelling, canyoneering, mountain biking, stand-up paddling, wind surfing, zip lining, horseback riding and hanging bridge walks.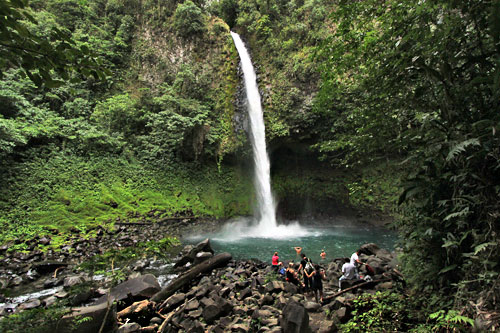 Our bus rolled into town and stopped at gAdventure's preferred operator, Desafío Adventure Company, even before we checked into the hotel. I scanned the menu of trips and found only two that might be considered cultural in nature, a visit to a sloth rescue center or a local organic farm. Unfortunately, the sloth center had closed and the organic farm tour was not available so I settled for a boat trip in the Caño Negro Wildlife Refuge the following day, which guaranteed sightings of wildlife. Then, uncomfortable with the prices for these add-on tours, I separated from the group and headed out on my own. Rather than pay $55 for a four-hour combination horseback ride and hike down to La Fortuna Waterfall, I grabbed a taxi for $6, paid the $10 entry fee at the park and hiked down by myself.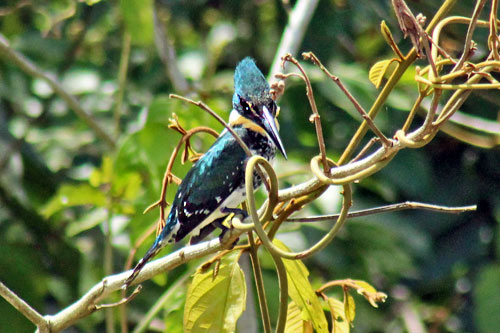 Two days later we motored across Lake Arenal and boarded a bus for a ride up into Monteverde Cloud Forest Biological Reserve, where we stopped at El Trapiche coffee and sugar cane plantation. Following a scrumptious lunch prepared by the owners in their personal kitchen, we strolled through the coffee fields and production facilities, sampled brown sugar made from their sugar cane, and whipped up a batch of our own fudge with huge wooden paddles. Later that evening, I opted for a night nature walk at Finca Santamaria to see the nocturnal animals. Our guide pulled apart low-lying shrubbery branches, revealing a vivid lime green pit viper curled up within the bush and fascinated us with facts about thousands of leaf-cuttter ants trooping in and out of giant mounds, but the highlight of the evening came when he shone a high-powered flashlight high up into a tree, illuminating a slow-moving sloth. Fascinated by this second-laziest of all creatures, the next day I spent an hour watching another sloth hang on for dear life as strong winds buffeted the high branches of a tree behind our lodge.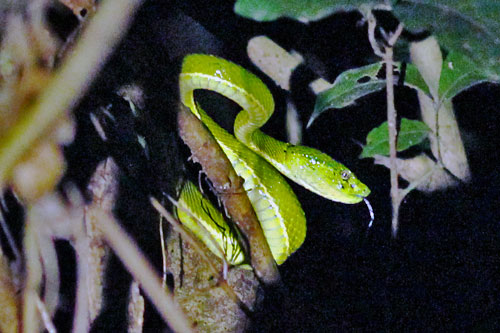 Perhaps because Monteverde has retained its cultural heritage despite being a prime tourist destination, this was my favorite part of the tour. Rather than book adventure activities, I wandered around the charming mountain village of Santa Elena, chatting with locals about the history of their village. The Monteverde area, which encompasses a series of small burgs including Santa Elena, was founded in the 1950's by Quakers from the United States who chose Costa Rica because of its commitment to a non-militaristic economic path. Though they were farmers, the Quakers quickly recognized the need to preserve the rare cloud forest and today the surrounding mountains are a natural wonderland of butterflies, hiking trails, waterfalls and moss-draped trees that begin many days beneath dazzling rainbows generated by the pervasive mist in the air. In Santa Elena, traditional Quaker ice cream shops and a cheese factory mingle with coffee shops and Peruvian restaurants, and a Ranario displays some of the world's tiniest – and most deadly – frogs. Capping off what was for me the best cultural experience in Costa Rica, dinner on our final evening in Monteverde was at Rancho Makena, a working ranch and dairy farm, where the family who owns the facility personally served us and performed traditional dances.
Can't view the above slideshow about Costa Rica? Click here.
Too soon, we descended from the chilly mountaintop to the coastal plains, bound for the small town of Quepos, which is the gateway to Manuel Antonio National Park. Though the hotel was advertised as being across the street from the beach, it was perched atop a hill, set substantially back from the road and a high cliff that made the ocean inaccessible. The rest of Costa Rica had seemed inordinately expensive to me, but Quepos prices shocked me. Taxi drivers demanded $10 for a five-minute ride into town and meals averaged $15-20. At one of the restaurants where we dined as a group, the cheapest entree on the menu was $35, not at all what I had expected in a Latin American country.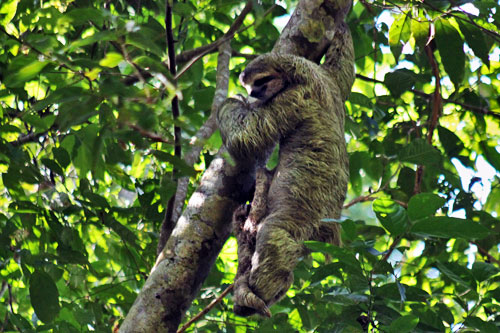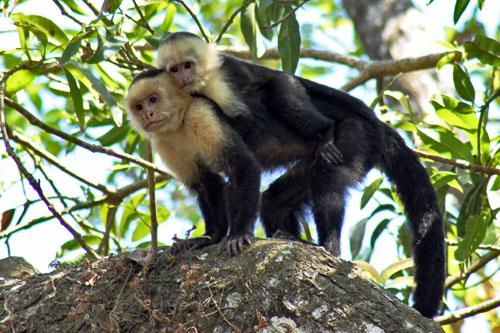 Even Manuel Antonio National Park was something of a disappointment. I had a close-up view of a mother and baby sloth and saw dozens of White-faced Capuchin monkeys scrambling through the trees with babies on their backs, but was appalled that park officials made no efforts to keep visitors from feeding the animals. Most disturbing was a new policy that does not allow visitors to return to the park on the same day without paying a new $10 entry fee. Since there are no commercial services inside the park it is virtually impossible to spend the entire day under a blistering sun at the gorgeous beaches without food or water. Not only was this another means to rip off unsuspecting tourists, it creates a downright dangerous situation.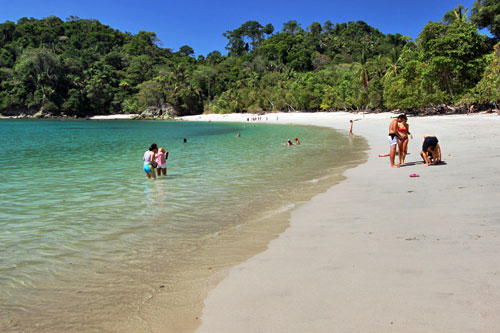 At the end of the nine days, I'd had a whirlwind tour of the most popular tourist sites in Costa Rica but still felt relatively detached from the country and its residents. Having a true cultural experience requires a degree of immersion, and rushing from place to place just left me frustrated and wanting more. I can see the benefit of this type of tour for people who are timid travelers, or for those who have a short time to see a country and prefer to have all the arrangements made for them, but it's definitely not a style of travel that suits me. Next time, I'll travel independently (which is always my preference), and I'll be referring to this wonderful Costa Rica Vacations Travel Guide that I discovered on the Universal Traveller blog.