The old saying, "Expectations are resentments waiting to happen," is perhaps the best way to describe my recent trip to the Nicoya Peninsula of Costa Rica. For years I'd heard tales of the beautiful beaches around Montezuma and Mal Pais, so when I won a nine-day tour of Costa Rica, I decided to go a week early and soak up some rays in Santa Teresa, a small town on the southern tip of the Nicoya peninsula. The beaches were nothing like what I expected. Rather than pure, powdery white sand I found drab brown granular sand interspersed with outcroppings of sharp volcanic rocks. Surfers will appreciate the clean, reliable waves, but since I stopped surfing long ago, the best part of the beaches for me were the spectacular sunsets.
Can't view the above slide show of the beaches of Santa Teresa, Costa Rica? Click here.
The sleepy towns that stretch along the single sand road leading to the mainland were equally disappointing. Not only were prices for food and accommodations almost as expensive as the U.S., every restaurant and shop I visited was owned by Argentinians who had immigrated to Costa Rica. Little of local Tico culture is apparent in this part of the country.
Even given the above, I would have enjoyed my stay more if I'd had a pleasant place to stay. At first blush, Funky Monkey Lodge looked like a nice place, but as the week wore on I saw behind the facade and it wasn't a pretty picture. Rules, rules and more rules were posted everywhere. Just one example, check out the rules posted on a sign at the pool: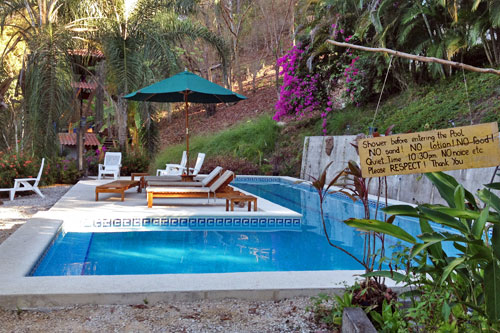 Shower before entering I can understand. Maybe even no food. But no sand? The whole place is sand. And no lotion ? I guess I was just supposed to suffer second degree burns in the intense Costa Rican sun.
The sign at the pool was the least of it. When I checked in, I was taken on a brief orientation tour and advised that they were experiencing a severe water shortage. A sign in the shower instructed us to turn on water for 30 seconds to get wet, soap up, then turn on water for 30 seconds to rinse off. Since the water in the shower was little more than a dribble, what they suggested was quite impossible. Yet the owners freely watered plants around the property with the well water and one day even let water at an outside shower next to the restaurant run continuously as they washed one of their dogs. We were instructed to rinse the sand off at this same outside shower after returning from the beach, but another sign warned not to go up to the rooms wet, so I was forced to sit in the common area until I dried off. If I did dare to go to the room while still damp another sign warned not to hang wet clothes on the hooks on the walls, which were constructed from worn wooden planks that couldn't possibly have been hurt by a few drips of water.
Speaking of my dorm room, those wide planks used in its construction had gaps between them. Since my bed backed up to the bathroom, not only could people look into my room from the bath, but I could hear and smell everything that went on in that bathroom. Though each of the two dorms were furnished with four bunk beds, there was only one key per room, so I was instructed to leave the key at the front desk whenever I left. As you can imagine, when the room was full, that led to some confusion; we all just ended up leaving the room unlocked. Fortunately, my dorm room had a set of metal storage lockers, so I could lock up valuables, but the other dorm did not.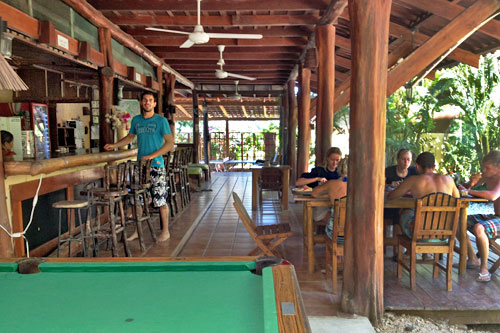 I repeatedly saw choices made to accommodate management rather than the guests. Loud Spanish rap music was turned on at the dinner hour; the employees behind the bar may have liked it, but I'm quite sure the baby boomers from Utah, the young couple who were expecting their first child, or the young lovers trying to enjoy a quiet romantic dinner did not appreciate it.
Perhaps most aggravating was the poor wifi connection. Though I had confirmed in writing prior to booking that wifi would be available in my room, the connection was horrible during my entire stay. Management repeatedly blamed the Internet service provider, insisting that it was poor everywhere, but I tried three other restaurants and hotels in town, all of which provided me with a speedy, stable connection. When forced to use the wifi in Funky Monkey, I had to work in the common area, sitting on one of two daybeds covered in green sheets that were never changed during my week-long stay.
Sadly, Funky Monkey Lodge could be a fabulous place, especially since their cook, Juan, is an absolute master. But they are charging $80-120 per night for cabins ($18 per night for a bed in a dorm room) in a poorly maintained facility with so many rules that I felt I was in an occupied country. My overall impression was that the owners are tired of running it. The comfort of guests should be the prime consideration, rather than the inconvenience associated with, for instance, sweeping up a little sand on the floor. Owners who can't function from that mindset shouldn't be in the hospitality business.