As a single woman who spends most of her time on the road, it's no surprise that I don't cook. I rarely stay in accommodations with kitchen facilities and even if I did, it would be too expensive to buy all the spices and staples needed to prepare a decent meal. But though I rarely cook, I LOVE to eat! Eating local fare is one of the best ways to tap into the culture of the countries I visit, thus I'm always eager to try vegetarian dishes at street vendors, restaurants and during home stays as I travel.
Laos offered one of the most rich culinary traditions I have ever experienced. From the moment I arrived in Luang Prabang, I was tempted by mouth-watering delicacies like deep fried crispy spring rolls; sesame and seaweed crackers; sticky rice with a variety of exotic dipping sauces, and famous entrees like Padsapao and Mok Pa. By the time I arrived in Vientiane to visit my friend and fellow blogger, Candice Broom, I was hooked on Lao food, so when she offered to introduce me to one of the capital city's gourmet restaurants I jumped at the chance.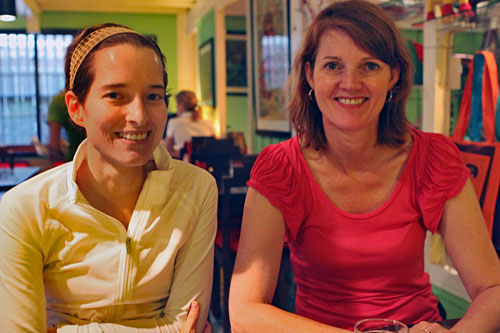 Candice, who has been living in Laos for a number of years teaching English at a local elementary school, brought along a fellow teacher Morven Smith when we dined at Mak Phet Lao Restaurant. Between bites of dipping sauces I learned that Morven had recently opened Lao Experiences, a company that offers half-day cooking classes focusing on traditional Lao dishes made with fresh, local ingredients. Though her concept had been under development since 2010, the company had opened just one month earlier and the timing couldn't have been better; Morven was looking for guinea pigs and I was anxious to learn more about Lao foods and cooking. Before we were halfway through dinner, she invited me to be one of her first students.
The following morning a tuk-tuk picked me up and transported me to Morven's home along the shores of the Mekong River just beyond downtown Vientiane. Sang, Noy, and Tuk greeted me at the gates and led me into a lovely enclosed garden compound, where tables were laid with platters of gorgeous vegetables, spices, and fresh-caught Mekong fish. I tied on an apron and was quickly put to work grinding up sticky rice, spices, and chunks of fish in a traditional mortar and pestle. Once thoroughly mixed, I spooned the concoction onto a banana leaf square, folded and fastened it with a toothpick, and placed it in a wicker basket sitting over a bed of coals. While the Mok Pa steamed we skewered fresh eggplant, chilis, tomatoes, onions and garlic, basted them with black bean sauce and cumin.
While the veggies were roasting I checked on the progress of a whole salt-encrusted fish sizzling on yet another grill. The clump of lemongrass protruding from its mouth sent a scrumptious fragrance wafting through the air, making my mouth water with anticipation. I stripped the golden brown vegetables off their skewers and pulverized them in my mortar and pestle, making tomato and eggplant Jeows, traditional Lao dipping sauces that are eaten with sticky rice pinched between thumb and two fingers. Meanwhile, the girls prepared Tam Mak Hoong, a spicy green papaya salad with tomatoes. When everything else was ready the Mok Pa packet was removed from the steamer, unwrapped, and carried to a dining table set amidst flowering bushes and blooming flowers.
For half an hour we gorged. I plucked clumps of steamed rice from my wicker baskets, pinched them together with bits of Mok Pa, and shoveled them into my mouth. I munched on grilled veggies bursting with sweetness, tucked into the dipping sauces and spicy papaya salad, and washed it all down with ice cold water while the girls told me a little about their lives. Tuk supports her two sons by working at Morven's house until 3 p.m. each day. Following a two hour rest, she opens her street stall on the banks of the Mekong, where she cooks for tourists and locals until 10 p.m. every night of the week. Seng has been with the house for more than ten years, working for a series of expat tenants who have occupied it. Just when I thought I couldn't take another bite, the girls led me back to the portable burners to make sticky rice and mangoes. There was no turning down my all-time favorite dessert; I forced myself to eat every last morsel before waddling to the tuk-tuk.
Frankly, there's no way I could ever recreate the recipes I learned that day. Not only would it be difficult to find the right ingredients in the U.S., the steaming baskets and clay pots over which we cooked the food are simply not available. Even so, I highly recommend the half day cooking classes with Lao Experiences, not only for its delicious food, but also because it's an excellent way to connect with Lao culture for an extremely affordable price of $35.
Lao Experiences graciously provided their cooking class free of charge for the author, however, the receipt and acceptance of complimentary items/services received will never influence the content, topics, or posts in this blog. I write the truth, the whole truth, and nothing but the truth.