On my seventh day of seeing the sights of Luang Prabang, I rested. For the past week I'd rushed around, visiting temples and museums, attending cultural events and scouring the night market. Finally, satisfied that I had seen all the most important sites that the historic town had to offer, I plopped down at a street side table in the open air Lao Lao Garden Restaurant for a leisurely lunch and settled into the gentle flow of Lao life.
Eschewing my normal penchant for bitter black brew, I stirred sugar and milk into my Lao coffee and savored the sweetness as I gazed out on the lazy street. A produce man pedaled by, hesitating ever so briefly as he called to the owner, offering the green, gold and crimson vegetables heaped in upon his wooden cart. Getting no response, he glided away. The rice cake lady arrived next, seated side-saddle on a purring motorbike, laden down with freshly fried treats wrapped in pretty pastel cellophane tied with pink ribbon. Having sampled her wares several days earlier, my mouth watered like one of Pavlov's dogs.
Between transactions and breast-feeding her infant, the owner somehow found time to prepare my Padsapao, a traditional dish of tofu or meat stir-fried with Lao-style veggies, herbs and spices. At my request, it was served with a helping of sticky rice, which arrived in a small round wicker basket. Popping of the lid, I dug out a chunk of rice with my fingers and pinched it together with with some of the Padsapao, eating in typical Lao style. The lightly fried vegetables and crispy herbs were "sep-lau" – very delicious.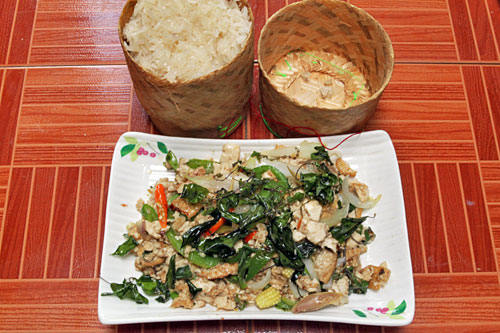 My one hour lunch became two, then three hours long. Young boys dressed in matching jerseys rode by in the back of a pickup truck, sounding an ah-ooga horn and hoisting a golden trophy aloft. Nothing was lost in translation; the joy of victory was palpable. Thunder rumbled and dark clouds rolled in, creating midday dusk. Boys carrying crates of Singha beer on their shoulders strolled languidly down the sidewalk, despite the fat raindrops that began to fall. Two girls puttered by on a motorbike, the rear passenger holding a purple umbrella over her driver. And still I sat. Three  hours stretched into four. No one asked me to leave or even pay the bill. Except for the massage I had scheduled, I might have stayed well into the evening.
Can't view the above slide show of seeing the sights in Luang Prabang, Laos? Click here.
On my seventh day of seeing the sights of Luang Prabang, I emerged from my tourist chrysalis, spread my wings, and once again metamorphosed into a traveler.