The Royal Ballet Theatre troupe in Luang Prabang achieved the impossible on the evening I attended a performance of Phra Lak Phra Lam, the Lao version of the sacred poem known as the Ramayana. Dancers in monkey masks sat on their haunches, scratching the backs of their necks. Tall men wearing hawk-billed masks and elaborate silk costumes glided around the stage flapping their arms. The dancers were so thoroughly in character that reality was suspended; I believed they were monkeys and giant birds of prey.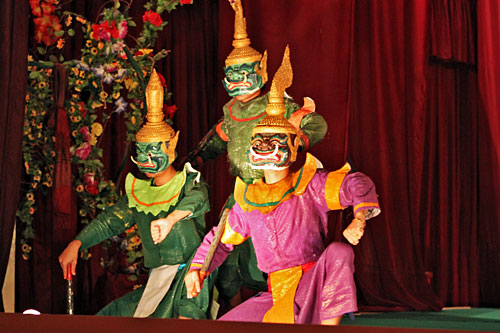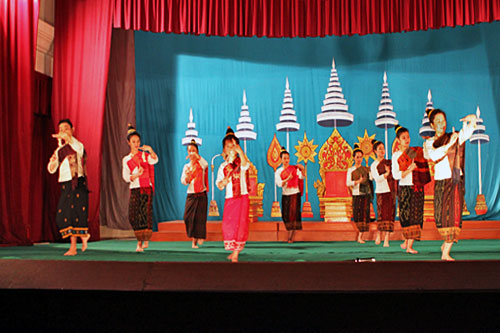 That the Phra Lak Phra Lam is even performed today is something of a miracle. Unlike the brutal repression of the Khmer Rouge in Cambodia, which killed thousands of monks and destroyed monasteries during their reign, the Pathet Lao communists in Laos attempted to influence Buddhist clergy to achieve political goals. As early as the 1950's, when the Pathet Lao began to emerge as a political force, they discouraged religious practices deemed counter to the communist philosophy, such as making large donations to monasteries, the tradition of alms giving, and many cultural festivals and activities. When the Pathet Lao officially came to power in 1975 the Phra Lak Phra Lam, which had been performed for members of the royal court for 15 centuries, was banned.
Surprisingly, in 1979 the communist government began easing restrictions, resulting in a gradual resurgence of Buddhist institutions and practices, and by 1993 a committee had been appointed to revive performances of Phra Lak Phra Lam. The theater reopened in 2002 at the National Museum in Luang Prabang, located on the site of the old Royal Palace. The 1.5 hour show, which is  every Monday, Wednesday and Saturday at 6:00 p.m., is well worth the $10 price.