Though I resisted the idea of climbing out of my cloud-soft king size bed and leaving Luang Say Lodge, the second day of my slow boat to Luang Prabang Mekong River cruise beckoned. As the captain expertly piloted our white yacht through rippling rapids encased by jagged rocks, I swayed with the gentle motion of the boat and made my way to a cushy leather captain's chairs in the bow. By 7 a.m., a searing sun was burning off mists clinging to the liquid mud flowing past our hull, gradually transforming the surrounding landscape from sepia to a vivid palette of greens and golds.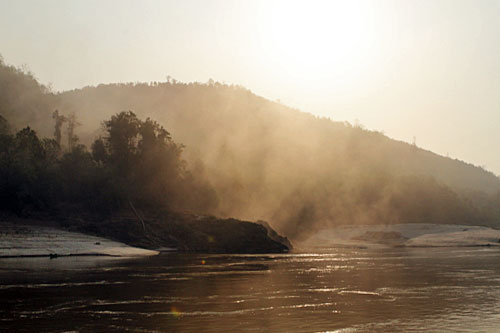 I savored my morning Lao tea, brewed from local ginger root wrapped in gauze balls and pondered the notion that if ginger is an Ayurvedic cure for high blood pressure, the combination of Lao ginger tea and the Luang Say Cruise with Mekong Cruises must surely be the cure for any stress-related malady. From my backpack I pulled a dog-eared paperback book and flipped to my bookmark, but the soothing sway of the boat lulled me as it had the previous day; my chin drooped and I was soon fast asleep.
Excited chatter snapped me back to consciousness. I peered over the side of the boat just in time to see hill tribe fishermen pull up to the side of our vessel. Our eagle-eyed captain had spotted a large catfish in their flat-bottomed wooden boat and wanted it for his dinner. He drove a hard bargain, buying the fish for 30 Thai Baht, about one US dollar. Still groggy, I shook my head. We were no longer in Thailand, so how could I understand what was being said? Sensing my confusion, our guide magically appeared at my elbow and explained, "Thailand and Laos are the only two countries in the world that need no interpreter to understand each other because our spoken language is so similar. Plus, Lao children watch Thai TV, so most of them understand Thai. And of course, Thai Baht are accepted almost everywhere in Laos." A surprising side benefit of many years spent traveling around Thailand was that I could understand much of what was being said in Lao.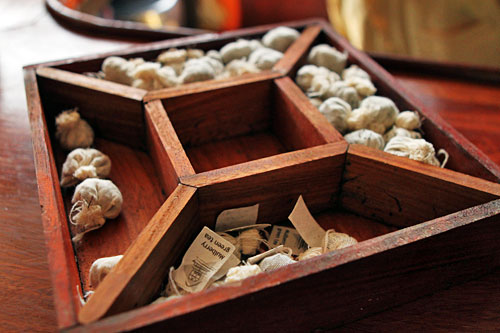 With his dinner secured, the captain turned our boat toward the shore and placed its nose onto a glittering white sand beach, where we disembarked for a visit to the hill tribe village of Ban Baw. For over 600 years the village has been inhabited by three different ethnicities: Lao Loum (the majority in Laos), Tai Lue and Shan. The 180 residents live together in harmony as family, communicating in Lao rather that their native tongues. Over the years they have developed similar customs, wearing indistinguishable clothing and celebrating events such as weddings in the same fashion.
This ethnic diversity is interesting, however the village's real claims to fame are the products produced by its residents. At the top of the hill, hand-loomed textiles were displayed on blankets lining both sides of the main dirt road. Woven from locally grown cotton and silk thread purchased in Luang Prabang, scarves and shawls were interlaced with gold lame thread that highlighted their intricate designs. I wandered between the women, looking for a more muted option among the brilliant reds, oranges and golds. Finally an ochre scarf with gold thread and brown fringe caught my eye, a perfect complement for my mostly khaki traveling wardrobe and only $5 US.
While the women riffled through scarves the men had congregated around the still to sample Ban Baw's other famous product, Lao Lao whiskey. Husked rice is soaked in water overnight, after which it is steamed, rinsed with clean water, then mixed with powdered steamed rice flour and the leaves of the sang bong tree. The mixture is placed in a large clay jar and left to ferment for about ten days. Finally, the stored rice mixture is boiled in a large pot where the steam rises and is caught on the pots lid. As it condenses and cools, the liquid drips out of a spout and into a waiting jar. While I did not sample, I was assured by those who did that it had quite a kick, as well it should have, given its alcohol level of 45-55% proof.
Clutching our prizes, we slid back down the searing sands to our Mekong River Cruise boat, where crew members greeted us with cold towels, icy glasses of water, and the welcome news that lunch was served. I wrapped the towel around my neck and loaded my plate with a smorgasbord of vegetarian dishes: vegetable curry, egg omelet, stir-fried rice and veggies, all topped with the best fish sauce and hot peppers I have ever tasted.
Can't view the slide show of cruising down the Mekong River in Laos? Click here.
In the late afternoon we pulled up to Pak Ou Buddha Caves for our final stop prior to arriving in Luang Prabang. Comprised of Tham Thing (lower cave) and Tham Phoum (upper cave), these caverns were converted into Buddhist temples in the 15th century and are used as a site for thousands of old Buddha images that can no longer be venerated in a temple, either because they are damaged or the temple they were displayed in has been destroyed. I climbed the long stairway into the mouth of the lower cave, purchased a devotional flower and incense bundle and paused to pay my respects at the foot of the largest Buddha. Standing, I turned slowly in a 360 degree circle. Every nook and cranny in every direction held statues of Buddha, ranging from a tall cast bronze sculpture to termite-ridden wooden icons and crumbling concrete icons. Hundreds more lined rock crevices that stretched to the ceiling, where a final seated Buddha dissolved into the shadows. We had too little time here. I could have wandered for hours but we were due in Luang Prabang, so I headed back to the boat with a promise that I would return one day during Laos New Year, when Lao people make a pilgrimage to the caves and perform the washing ceremony of all the old Buddha images.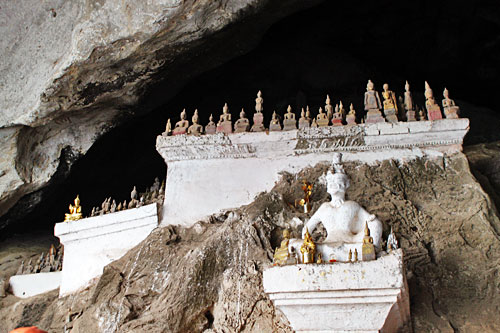 Following a final treat of fresh pineapple and watermelon, we pulled into Luang Prabang, where I was met by representatives of the recently opened Luang Say Residence, which would be my home for the next three days. Though I was sad to leave the boat, being greeted with another cool scented towel and a bottle of ice cold water assured that more luxury and pampering awaited me, and my first glimpse of the town's stunning temple architecture promised that my visit to Luang Prabang would be every bit as exciting as the Luang Say cruise had been.
Stay tuned for part three of my enchanting tour with Mekong Cruises…
Mekong Cruises kindly hosted the author on the Luang Say Cruise. However, the receipt and acceptance of complimentary items/services received will never influence the content, topics, or posts in this blog. I write the truth, the whole truth, and nothing but the truth and in this case, Mekong Cruises is one of the best tour operators I have ever had the pleasure to work with. Their administrative staff was well organized, their boat crew was highly trained to meet every need of the passengers, and I simply cannot say enough about the skills of the captain, who knew every inch of the treacherous river by heart.