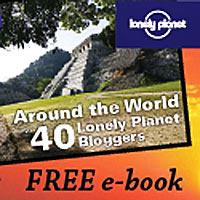 Nearly a year in the making, the new photo ebook "Around the World with 40 Lonely Planet Bloggers" is finally a reality. As one of the 40 bloggers featured in the book I am happy to be able to offer my readers a free copy.
New readers can receive the ebook by subscribing to receive an email each time I publish an article on Hole In The Donut. Simply fill out the form in the right-hand sidebar and click on the "subscribe" button. A follow-up email will contain a link that must be clicked to confirm the subscription. Once confirmed, a final email will provide a link to download the ebook. Readers who are already subscribed will automatically receive an email with a link that will allow the ebook to be downloaded.
This first ever joint effort by Lonely Planet BlogSherpas, as they are called, features photos of almost 70 countries, taken by bloggers who are experts in travel modes ranging from family to solo to couples travel; expat living to long-term and perpetual travel; others who specialize in adventure; and even those who focus on a particular destination or region. The gathering of this eclectic group of travel experts was born out of Lonely Planet's effort to broaden content for their audience. They sought to shine a light on the very best writing and photography around the globe by importing articles published by top travel bloggers into destination pages of Lonely Planet's website.
Our ebook was spearheaded by Todd Wassel, who has been on the road more than ten years and publishes the popular travel blog Todd's Wanderings. After a few years of vagabonding Wassel could not conceive of a 9 to 5 job in an office, so he created a career as an international conflict resolution specialist for the United Nations, which requires him to move every few months to hot spots around the world. Wassel is indicative of the creative solutions that the 40 featured BlogSherpas have employed to pursue lives of travel.
Aside from being a stunning collection of photos, "Around the World with 40 Lonely Planet Bloggers" is an ideal read for anyone seeking suggestions for summer travel. Please accept it as my gift to wanderlusters everywhere.