Hoping to get a better feel for the local culture during my short stay in Phonsavan, Laos I went in search of a fresh market. I found it just off the main road near the center of town, a large open-air shed where scores of vendors had set up stalls stacked high with fresh produce, baked goods, live fish, dairy products and butchered meats. I wandered around the shadowy interior, taking care not to trip over makeshift wooden steps and cords stretched across aisles to naked bulbs that swung overhead. At the sweets aisle I sampled coconut candy and cakes; in the vegetable aisle I oohed and aahed over royal purple eggplants and three-foot long string beans.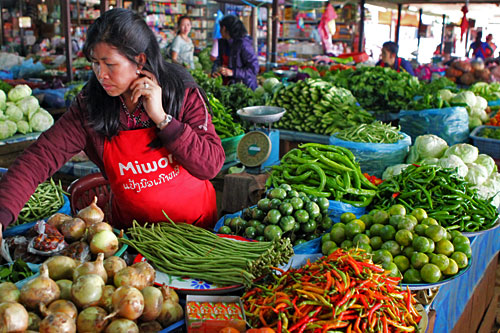 Like dozens of other fresh markets I've visited around Asia, the butcher aisle at the Phonsavan market announced itself long before I arrived; I breathed through my nose so as not to retch from the odor of rancid meat and marveled that fly-covered chicken carcases don't seem to make people sick.
At the end of the final aisle I wandered outside and snooped around a surrounding three-block area chock full of shops that displayed everything from giant bags of rice to metal scythes. Motorcycles roared around a truck where women offloaded enormous cabbages fresh from the farm. Next door, a storekeeper casually hung strips of raw meat in the sun to cure.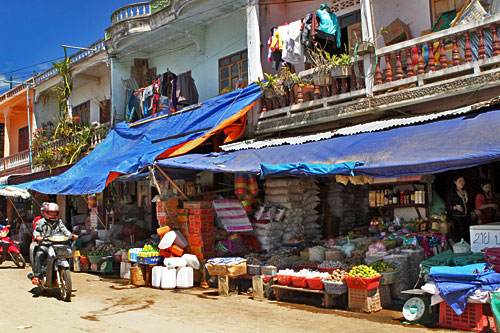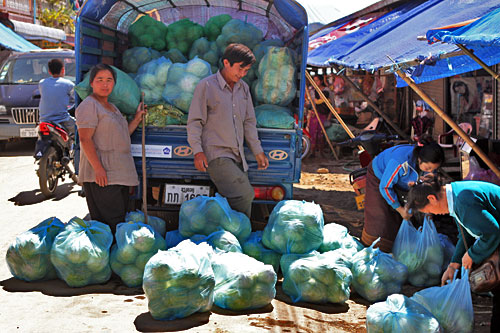 Around the corner, giant upside down wicker baskets stood in a row on the dirt shoulder of the road. Curious as to what they contained, I approached a group of locals clustered around one of the chest high baskets. One of the women reached into a hole in the top of the basket and extracted two chickens. She hefted each in turn and gauged its weight before returning it to the basket, repeating the process with each of the captive hens. After fluffing their feathers and examining their anuses (I assume to determine the sex), negotiations began.  I didn't need to understand the language to know that the seller was pointing out attributes of his hens while the buyer was pointing out their deficiencies. Throughout the process, Lao gentility prevailed. Twenty minutes later bartering was still in full swing and neither buyer or seller had raised their voices or exhibited the least bit of frustration.
Unable to wait around to see how negotiations ended, I turned to go and nearly tripped over three strange wicker baskets lying on their sides. Round like a cylinder, the baskets tapered from a wide bottom down to a narrow conical tip. I bent down for a closer inspection and started when I realized they each contained a small hog. So perfectly were the baskets designed that the hogs couldn't move, yet they endured the indignity of being trapped in wicker corsets without complaint. Having witnessed poultry being examined prior to purchase I wondered about the process involved in buying a pig. Do they check the hog's teeth? Palpitate the belly? Pull it's curly tail? Sometimes, not knowing is more fun.