As I waited to fill my plate during the International Human Rights Day celebration at Tashiling Tibetan refugee settlement in Pokhara, kids darted back and forth through the dinner line, playing tag. When one of them unexpectedly scooted in front of me, I reflexively took a step back and bumped into Tseten Chomphel. He laughed, diffusing my embarrassment, and introduced himself. By the time we made it to the head of the buffet line we were chatting like old friends. For the next hour I sat cross-legged on the concrete floor of the community center with Tseten, his wife, niece and mother-in-law as he related how he came to be an artist and art teacher in Nepal.
Tseten came to Nepal from Tibet at the age of six. Like his older brother and sister before him, Tseten's parents sent him out of the country to receive a better education than he could hope for in Tibet, especially since he'd shown great artistic promise from the time he could pick up a pencil. At the Tibet-Nepal border his parents handed Tseten over to his older brother who, with help from the Tibetan Assistance Agency in Kathmandu, arranged for him to attend school in India. After graduation, Tseten returned to Nepal, where he reunited with his brother and began focusing on his Tibetan art.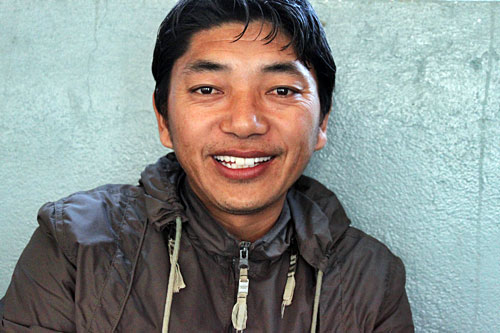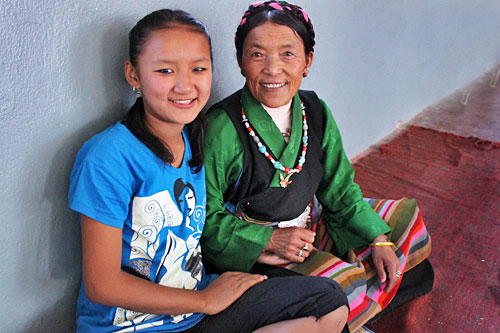 Although he is happy living in Nepal, the forced separation from his family is a difficult burden to bear. Since the day he left Tibet, Tseten has seen his parents only once and they have never even met his wife. In 2007 the Chinese government finally granted permission for his parents to travel to the Nepal-Tibet border to reunite with their son, but only for six hours. They huddled together in the bleak landscape that marks the border between the two countries, enduring the scrutiny of Chinese soldiers as they shed tears of joy and despair.
Fascinated by his story, I could hardly believe my good fortune when he asked if I would like to see his paintings. At the elementary school he pulled aside a floor-length tapestry covering the front door of his tiny apartment in the teachers' residence area and stepped aside for me to enter. A huge oil painting of a leopard chasing prey dominated one wall of the front room and smaller paintings covered much of the remaining wall space. He served up tea and offered me Yak cheese and dried sheep yank that his mother-in-law had carried all the way from Tibet, then pulled out a large portfolio and began spreading piece after piece in front of me on the sofa table, most of which were produced in watercolor on art paper that Tseten makes by hand, since canvas and oil paints are expensive and rarely available.
Though he is a talented painter, there is little opportunity to sell his work in the small camp that is tucked into a backroad off the main highway. An occasional tour bus arrives and disgorges passengers; most make the rounds of a couple dozen shops that sell Tibetan handicrafts and buy a trinket or two, but Tseten has no resources to open a shop and therefore no way to display his art. However, when he explained that it is possible to purchase his paintings by sending funds though Western Union, I offered to feature his work on my blog: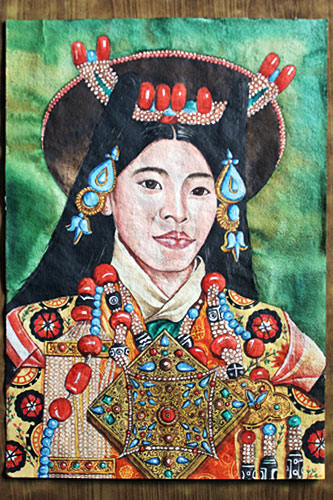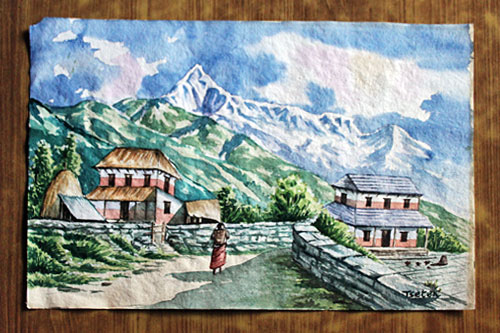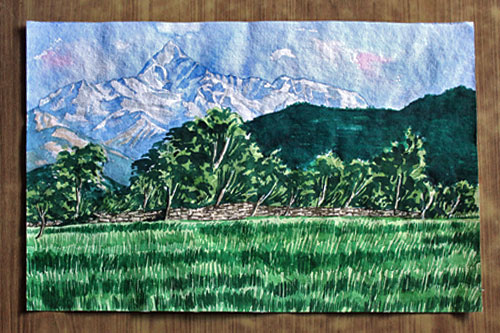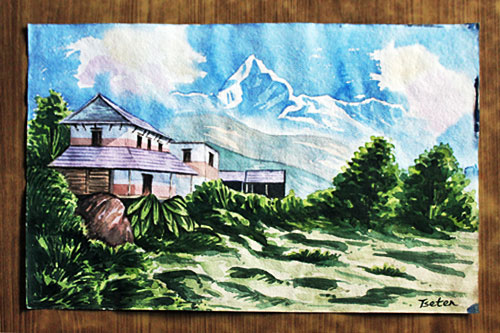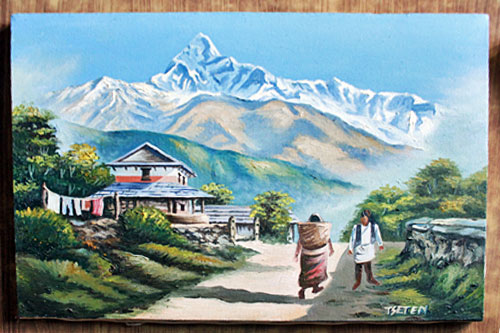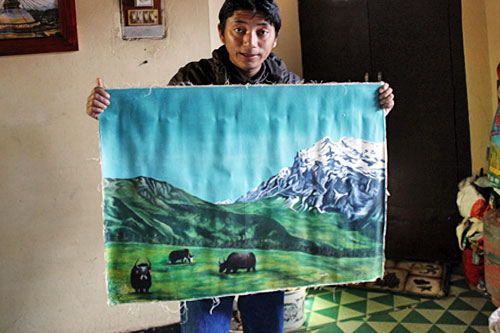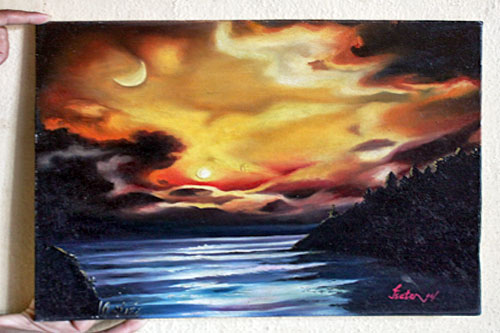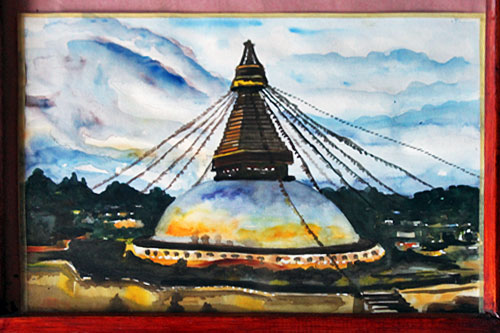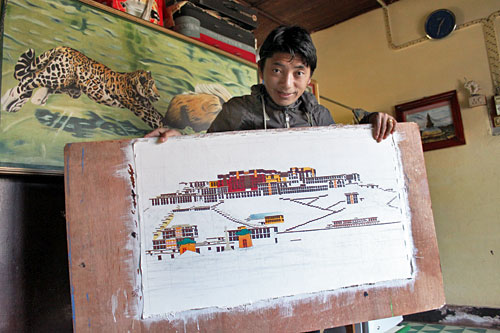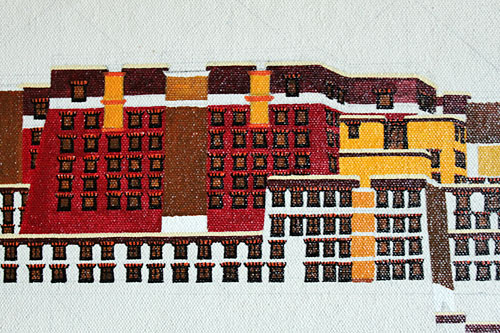 Prices are quoted in Nepali Rupees (NRS), which exchange at a rate of 70 Rupees for every U.S. dollar at the time of this writing, thus a 3000 NRS painting would be approximately $43 USD. Buyers will also be responsible for the cost of shipping, which is available through FedEx or DHL. However, exchange rates fluctuate, so if you are interested in purchasing one of Tseten's paintings, be sure to check the current exchange rates with a service such as XE.com. Contact Tseten Chomphel directly to arrange for a purchase. His email is [email protected], his mobile phone is +977 98039 04577, his Skype user name is tsetentsering, and his website is www.bluecanvas.com/tsetenartist.