On my first full day in Pokhara, Nepal, a petite woman strolled down the sidewalk and stopped in front of my table at the open-air restaurant where I was enjoying lunch. Her muted, horizontal striped apron was cinched around an ankle-length gray dress and long, glistening black braids wound around her head. A wide smile split her ruddy cheeks as she greeted me in Nepali fashion.
"Namaste. How are you?" My polite reply was enough encouragement; she sat down at my table.
"I am Tibetan," she announced as she pulled pouches and bags out of her backpack. Soon, every spare inch of tabletop was covered with handmade earrings, necklaces, rings, and bracelets. She was the first Tibetan person I had ever met, but she would not be the last.
In 1959, thousands of Tibetans crossed the rugged Himalayas on foot, fleeing a brutal occupying Chinese army that destroyed monasteries and massacred thousands of monks as they advanced. Those who made it to Nepal were granted refugee status and allowed to settle on land donated by the Nepali government. Although many Tibetans have since emigrated to other countries, about 20,000 still reside in these original refugee camps, many of which are located in and around Pokhara.
Eventually, realizing I wasn't interested in buying anything, my new Tibetan acquaintance stuffed the jewelry back in her bag but made no move to get up. Instead, she pulled off her thick black shoes and began rubbing her swollen feet. "All day walk, up and down, but no customers. Business very, very bad," she sighed.
Shoving my plate into the center of the table, I encouraged her to share my lunch as she told me about her life. The jewelry she sells is handcrafted by her disabled husband in their home in the Tarshi Palkhiel Tibetan refugee settlement, located on the outskirts of Pokhara. Each day, though her doctor has advised her not to carry heavy weights, she slings the overloaded pack on her back, takes the bus to town and peddles her wares to tourists, hoping to earn enough money for daily living expenses and save a bit for her children's college education. Too soon, she pushed back her chair, flashed me a beaming smile, and was on her way, leaving me to ponder how someone who lived with such hardship could seem so content and joyful.
In the weeks that followed this initial encounter I befriended many more Tibetan refugees in Pokhara, who eagerly shared their stories with me. Those who arrived in Nepal prior to 1990 are recognized as refugees and have legal residence and religious freedom, however, their civil, political and economic rights are limited and many have no identity documents. Even Tibetans who have been born and raised in Nepal are denied citizenship due to political pressure from China, which insists that all Tibetans should be arrested, charged as criminals and repatriated to Tibet. Sandwiched between two superpowers – China and India – tiny little Nepal bows to pressure from both the north and south.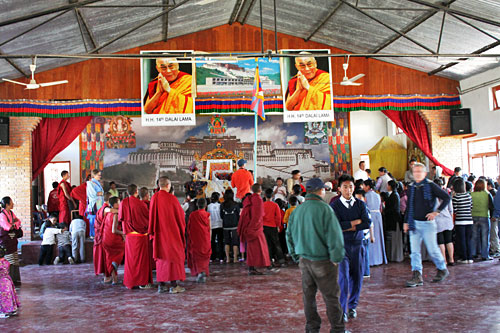 The approximately 1,000 new Tibetan refugees who arrive each year are not allowed to stay permanently in Nepal but they are officially allowed to transit Nepal on their way to India, although a recent wikileaks document revealed that China has been paying Nepali police officers to capture and return Tibetans who attempt to cross the border. For the 20,000 refugees who legally reside in settlement camps around the country, life is somewhat of a dichotomy. Supported by subsidies from Dharamsala, India, the seat of the Tibetan government in exile, they live in homes that are comfortable and relatively modern, by Nepali standards, and the cost of each child's education is largely subsidized. But the attention being paid to Tibetans in Nepal by the Chinese government is causing a new level of discomfort for the refugee community.
Last year, as Tibetans in Kathmandu celebrated the 51st anniversary of their failed struggle for independence from China, police rounded up and jailed dozens of undocumented Tibetans. Scores of videos showing police brutality toward Tibetan who participate in Free Tibet protests have been uploaded to the Internet. Yet in many cases jailed Tibetans are quickly released, indicating that Nepal may be taking halfhearted measures designed to appease a Chinese government that provides an ever increasing amount of foreign aid to Nepal.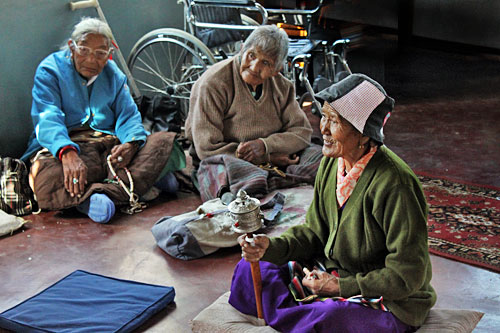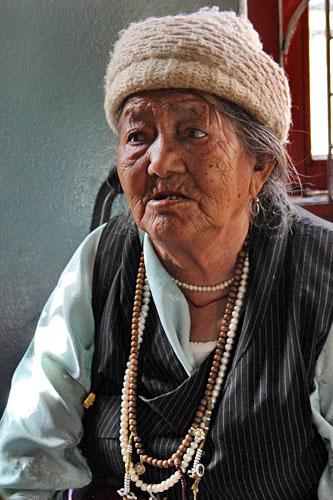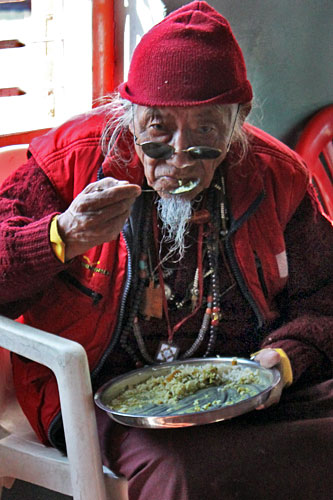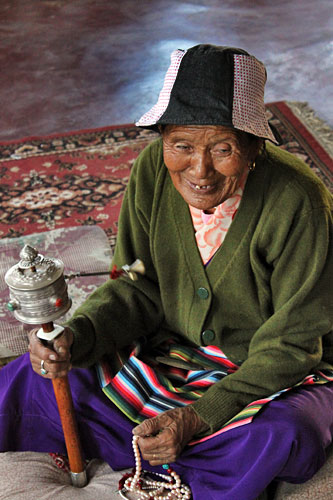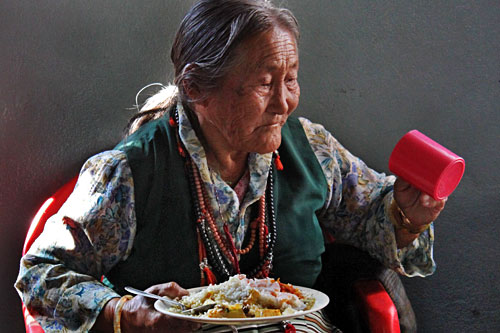 Fortunately, most, if not all, of the protests against the Chinese government occur in Kathmandu, thus this type of violence is rarely seen in idyllic Pokhara. Tibetans come and go without harassment, sell their wares on the sidewalks, and even own businesses. As a regular visitor to Tashiling, I was welcomed into the refugee community. Monks at the monastery automatically unlocked the door when I arrived to meditate; my friend Sinon, who runs the book and gift stores at the monastery fed me more than one meal in her home; and one of the village elders invited me to stay in the community guest quarters. On December 10th, International Human Rights Day, my Tibetan friends insisted I join them for an annual celebration that marks the anniversary of the Dalai Lama being awarded the Nobel Peace Prize in 1989.
When the games were over and the last morsel of food had been devoured, I sat in the shade beneath a giant tree in front of the community center, watching energetic children play tag and men with crafty grins slap dominoes on plastic patio tables. Gazing out at a sea of smiling faces, I was suddenly in awe of these inspiring people, who have endured almost insurmountable difficulties without becoming bitter. Without exception, every Tibetan I interviewed expressed gratitude to Nepal for allowing them to stay in the country and for donating land on which they settled. And I realized that this is their greatest strength. The Sleeping Dragon – China – may be stoking its furnace, but it is no match for the resilience of Tibetans. Despite everything, they endure.