As the crow flies, I was only a mile or two from the beach, but it might as well have been a thousand miles away. Despite ominous skies and the threat of rain, I climbed into my lemon yellow kayak, pushed off the ramp and slipped into Graham Creek. Silently gliding through slate waters, I navigated narrow twisting channels bordered by tall wire grasses that reflected subtle green mirror images on the slick water. Giant pines loomed over the dense vegetation like overarching staves of an ancient church and I paddled in silent reverence, awed by the overwhelming stillness of the place. My guide, Captain Chris Nelson, interrupted the hush to point out a cormorant at the edge of a marsh and a great blue heron standing stately in a high tree branch. As if on cue, the heron took flight, its beating wings echoing across the waterway.
Half an hour into the paddle, the stream untwisted itself and emerged into Wolf Bay. According to Chris, dolphins are often spotted in the bay but they were hiding on that particular day, perhaps sensing the imminent storm. When lightning cracked in the distance we beat a hasty retreat, but not soon enough. Fat, gentle raindrops plopping into the creek became our metronome for the return paddle.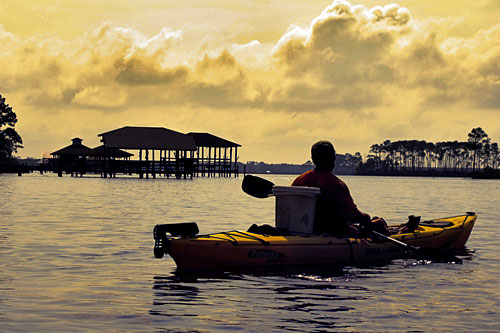 The 484 acres that constitute Graham Creek Nature Preserve were acquired by and Riviera Utilities and the town of Foley, Alabama back in 2004, and the lands were just opened to the public in January of this year. Captain Chris decided to offer kayaking trips because they are less disruptive to wildlife and allow visitors to listen to bird calls without the interference of motor noise. Graham Creek attracts diverse avian species including Northern Bobwhite, Loggerhead Shrike, Bald Eagles, osprey, heron, warblers, vireos, tanagers, grosbeaks, sparrows, waders and raptors. Horticulturists have also identified more than 700 plant species, including a dozen orchids, wildflowers, sunflowers, pitcher plants, lilies and arums.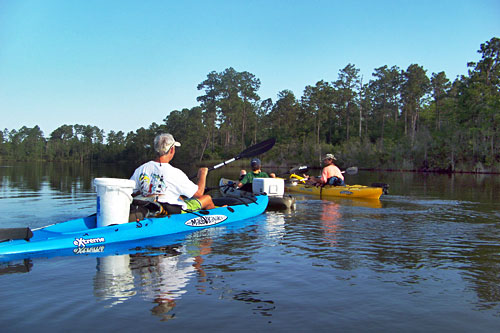 Graham Creek habitat was one of the most beautiful places I have ever visited, and I highly recommend this trip to anyone planning a visit to the Gulf Shores or Orange Beach, Alabama area.
Photos courtesy of Captain J.Chris Nelson at Alabama Kayak Adventures