I followed the bellman down a long covered portico, where lustrous marble floors gleamed like polished bronze in the slanting rays of a late afternoon sun. At the end of the terrace he stopped before a massive set of wooden doors and jiggled a large metal skeleton key in the lock. Shifting my backpack impatiently, I focused on how wonderful it would be to drop my heavy load for a few days and do absolutely nothing. After what seemed an eternity, the door finally swung open to reveal an exquisite Master Suite. I nearly wept. For the past three months I'd been trekking around Mexico, staying in hostel dormitories and modest inns, until Hacienda Xcanatun had kindly offered to host me. Dog-tired and desperately in need of a rest, I'd jumped at the chance to sleep in a "real" bed in a private room for a change, but this was more than I had expected. This Master Suite was larger than most of the hostels I'd stayed in.
I tried not to show my embarrassment as the bellman rolled my small dust-caked suitcase through the sitting room and set it up on a heavy wooden bench in the bedroom. He pointed out myriad switches that turned on lamps, wall sconces, and overhead fans and then explained how to work the multiple rain heads in the glass shower enclosure and operate the separate whirlpool soaking tub. Stepping to the far wall in the bathroom he tugged on cords that drew back a ceiling drapery, revealing a skylight; did I wish to let sunlight stream in or would I prefer dimmer lighting? Open. No, closed. Oh, I don't care. Whatever would make him leave faster.
I hustled him out of the room and hung the do not disturb sign. Reverently, I sat on the edge of the bed and fell back against a bank of fluffy pillows, allowing the plush mattress to envelop me with its silky softness. Delicious. Heavenly. No bed had ever felt this good. Curious about this amazing property, located just 20 minutes north of Merida in the tiny settlement of Xcanatun, I propped myself up in bed and began reading about the history of the resort.
Hacienda Xcanatun, meaning small stone house in Maya, is one the large estates constructed by landowners who grew rich from trading sisal, a string-like fabric extracted from the agave plant that was once used to weave carpets, mats, and various other textiles. Located on what was a pre-hispanic settlement, the ranch began life in the year 1800 with agricultural and livestock activities. As demand for sisal grew, the hacienda switched to planting and harvesting agave plants and the ranch became a strategic hub in the marketing and export of the fiber known as "green gold."
A combination of the Mexican Revolution in the early 20th century, which saw the hacienda lands turned over to its workers, and the development of synthetic fibers resulted in a slow decline for Hacienda Xcanatun. The final blow came in 1988 when Hurricane Gilbert destroyed what was left of the nine acres of gardens, buildings, and coconut groves, leaving the site to be reclaimed by nature. Finally, in 1994 the overgrown property was acquired by a local visionary who painstakingly restored the ruins into 18 exclusively decorated hotel units surrounded by exquisite grounds, complete with lily pad strewn pond, fountains, and resident iguanas.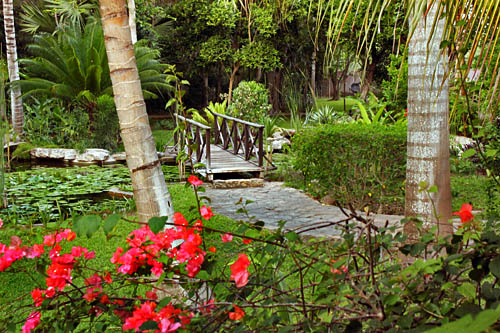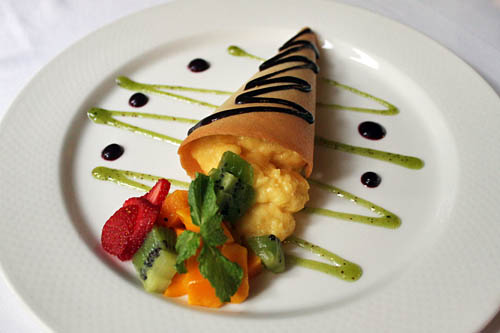 Though I hated to leave my inner sanctum, hunger finally got the better of me. Fortunately, the resort's gourmet restaurant, Casa de Piedra, was just steps away. As the Master Suite had titillated my body, Casa de Piedra tantalized my palate with exquisite salads composed from organic produce grown in local gardens, daily selections of fresh fish from the nearby Gulf, and mouthwatering desserts. Satiated, I returned to my room to find the lights had been lowered and a rosette of fresh-picked blossoms had been arranged on the tuned down corner of my bed linens.
For three days I lounged by the resort's two pools, read, wandered the tranquil grounds, and enjoyed an amazing massage at the resort's on-site spa, which specializes in holistic treatments & ancient Mayan methods of relaxation. And relax I did. By the time I left, both my mind and body were so well restored that my backpack seemed light as a feather, and I floated off to resume my exploration of the Yucatan.
Hacienda Xcanatun rates are $315 per night for Master Suites: $285 for Luxury Suites and $260 for Superior Suites. Although there are no TV's in the individual rooms, a large screen TV surrounded by comfortable seating is available in the lounge. The resort can also arrange for telephone, fax, wifi Internet access, car rental, laundry service, and tours to nearby ruins and Merida, the capital of the State of Yucatan and the second largest city in Mexico.
Hacienda Xcanatun is also a member of the highly respected Mexico Boutique Hotels, which arranged for my stay at the resort. Mexico Boutique Hotels was established in 1999 to promote upscale member properties that are carefully handpicked for their intimacy, high level of service and outstanding attributes.