On the spur of the moment I decided to hop on a bus to Tlacotalpan, a small fishing village about three hours south of Veracruz that is another UNESCO World heritage Site. Although the bus was not crowded I ended up sitting next to a young man named Miguel Angel Lopez who was returning to work after a long Cinco de Mayo holiday weekend. Miguel, who turned out to be the town judge in Tlacotalpan, spent the entire bus ride telling me about his adopted town and Mexican culture in general. Upon arrival I expected we would go our separate ways, but in the tradition of courtesy so prevalent around Mexico he invited me to walk with him to his office, where I met his secretary and we chatted some more. Half an hour later, as I was again making a departure, Miguel invited me to meet him for coffee at 9 p.m. that evening. I gratefully accepted and we talked until long after midnight, him teaching me about the area and me teaching him how to say English words that begin with the letter 'y.'
"Como se dice esta palabra?" (How do you say this word?) he asked, writing out the word 'yes' on a piece of paper.
"Yes," I answered.
"Jes," he repeated.
"No. There is no 'j' at the beginning. It is pronounced yes."
"Jes," he tried again.
"No. YYYYYes."
"Jes."
In Mexico the letter 'y' is pronounced with a 'j' sound in front of it and I quickly realized I would have to approach this from a different direction. I said both words to myself – yes and jes – and noted that my tongue was at the bottom of my mouth behind my teeth, when I used the English pronunciation, but was at the top of my mouth when I said 'jes.' And so began an evening of hysterical laughter as I instructed him where to hold his tongue, complete with open-mouth demonstrations, in order to get the English version to sound correct. Miguel did finally get the 'y' sound down pat, and in return he walked me through the tongue twisting name of his town (pronounced Tla coh TAHL pahn). I didn't fully grasp that pronunciation until a couple of days later, but I did soak up everything Miguel told me I needed to see while I was there.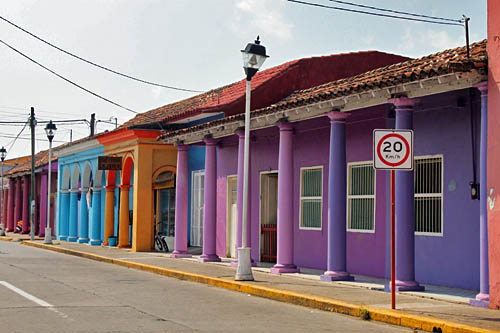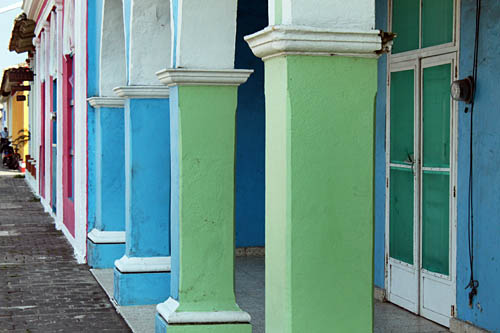 Armed with this information, the next morning I set out to explore. Tlacotalpan is renowned for its neo-classic buildings, most of which have front porticoes supported by columns or pillars that have been painted lime green, pale pink, sky blue, bright orange, deep rose, burnished gold, lavender, purple, turquoise, and yellow. I wandered the cobblestone streets, enjoying this ground level rainbow, eventually winding back to the Zocalo in the center of town. Officially named Plaza Zaragoza, this square stood more sedate that its colorful surroundings, with marble inlaid sidewalks winding through shade trees, in the middle of which stood a lacy band kiosk topped with an Moorish-influenced Onion dome. Bordered by an exquisite Palacio Municipal on one side, shops and open-air cafes on another, and two stunning churches on the remaining sides, the Zocalo held my attention for several hours.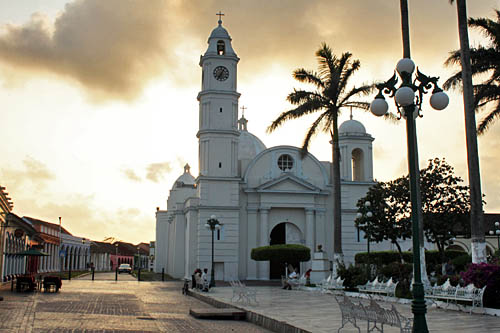 The enormous neo-classical Templo Parroquial de San Cristobal (Parrish Church of Saint Christopher) is considered to be the most important church in Tlacotalpan, but it is the smaller and much more beautiful Igesia de la Virgen de la Candelaria (Church of the Virgin of Candelmas) that gets all the attention, as it is the namesake for the town's one big event, Fiesta de la Candelaria. Reposing in sleepy, sultry quietude most of the year, Tlacotalpan comes alive each January 31st to February 9th, when thousands of tourists flock to town to revel in a cultural frenzy of traditional Son Jarocho music; Fandango and other native dance performances; competitions between Decimistas, who read ten line stanzas poems known as Decimas; an equestrian parade, a flotilla of decorated boats on the river and even a "Running of the Bulls."
Can't view the above slide show of Tlacotalpan, Mexico? Click here.
Later in the day, when I'd exhausted the environs of the Zocalo, I meandered down to the banks of the Papaloapan River. I strolled the length of Plaza Colon, with its rosy stone pavement and pink wrought-iron benches, and chose one of the many riverfront restaurants for dinner. Tlacotalpan's fisherman supply much of the shrimp consumed in Veracruz State, and nowhere is it fresher than on the banks of the Papaloapan. The variety of choices on the menu was mind-boggling and quite different than anything I'd seen elsewhere in Mexico, but I eventually settled on Arroz Tumbada – literally rice tumbled with shrimp. It was scrumptious; the shrimp had a delightful, full-bodied yet not fishy flavor and I woofed it down like a starving person. When I mentioned to my server that the shrimp tasted different, and better, than any I'd tasted in Veracruz, she smiled knowingly and explained that these were more flavorful river shrimp. Apparently the shrimp delivered to Veracruz are from the Gulf of Mexico, located just a short boat ride down the river; the tastier river shrimp are reserved for local residents and visitors.
After dinner, drawn magnetically back to the Zocalo, I watched local men slap dominoes, sampled coconut ice cream from street carts, and dodged ubiquitous bicycles seemingly ridden by everyone in town; it was easy to fall into the slow rhythm of Tlacotalpan. The following morning I boarded the bus back back to Veracruz, wishing I had more time to spend in this spellbinding, sultry village that will forever be indelibly etched on my memory as one of the wonderful places in Mexico, one definitely deserving of its status as a UNESCO World Heritage Site.
Note: The best place in town to stay is Hotel Posada D'Diego, located at Gutierrez Zamora 5, Zona Centro, Tlacotalpan, just a couple of short blocks from the Zocalo and around the corner from the bus station. They have 11 spotless, modern rooms with air conditioning, ensuite bathrooms, and in-room wi-fi for $400 pesos/night (about $34 USD). They have no website and are not listed in any of the normal search engines, so you must contact them directly for reservations by calling in Mexico: +54 288-884-3221.
The owners of the hotel also own the Brisas de Papaloapan Restaurant, located on the shores of the river on the north end of town. It is within easy walking distance from the hotel, the food is good and well priced.