Today I received an email from a staffer at the Washington Office on Latin America, informing me about HR 4645, a bill that would eliminate the travel ban to Cuba for U.S. citizens and increase U.S. agricultural sales to Cuba. The bill is currently in committee in the U.S. House of Representatives but is expected to go to the floor for a vote within two weeks.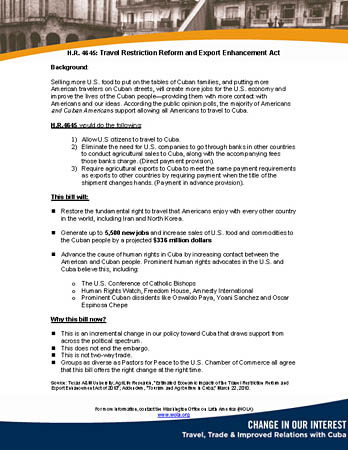 Normally, I don't discuss politics on this blog, but this subject is extremely timely for me, so I'm making an exception. Why is it timely? I'm currently in the Yucatan of Mexico and I discovered that I could go to Cuba for 4-5 days for as little as $500, including airfare, hotel, and all meals. I salivated at the prospect; going to Cuba has long been at the top of my travel wish list. Cuban immigration officials don't stamp the passports of U.S. citizens entering or leaving the country, so there would be no way for the U.S. government to know I'd been there, since I would have flown in and out of Cancun. But in the end I decided against going because I couldn't have written about my experience in Cuba and that would have killed me. So, like thousands of others, I decided to wait until the ban was lifted.
This could happen soon if the bill is successful, but our help is needed. If you agree with lifting the ban, please contact your State Representatives, tell them you support HR 4645, and ask them to vote for the bill. I've provided a one-page overview of the bill above. Click on the image to download it in a PDF format.