In addition to being Mexico's most beautiful city and having a fascinating history, Guanajuato, Mexico is a cultural mecca. The city offers 15 museums, three major theaters, five major plazas, and five temples that display architectural styles ranging from Baroque to the New Spain Churrigueresca. Guanajuato also offers a schedule of festivals and special events that rivals any of the world's great cities.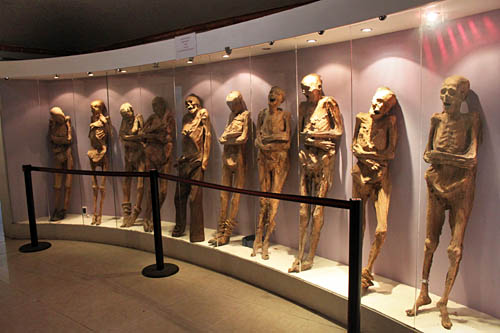 Guanajuato's wealth of cultural offerings meant I couldn't possibly see everything. But what to see and what to bypass? Since this city was the birthplace of the famous Mexican artist Diego Rivera, the Museo Casa Diego Rivera would have undoubtedly been a good choice. Then again, both the Regional Museum of Guanajuato's Alhondiga dde Granaditas, site of the battle that launched the Mexican Independence movement, and the Museum of the City of Guanajuato were worthy sites. In the end, with so many possibilities, I decided to see the Guanajuato mummies at the Museo de las Momias and the Museo Iconografico del Quijote.
The Museo de las Momias (Mummy Museum) is a macabre exposition of mummified bodies that have been exhumed from city graveyards. The collection of 111 bodies of mummified women, men and children in were exhumed from Santa Paula Municipal Cemetery between 1865 and 1989. The corpses are so well preserved that the hair remains on their head and the clothes in which they were buried are almost totally unaffected by decay. While fascinating, the extent of the preservation also has a horrifying side; many of the corpses were victims of the black plague, which often resulted in a coma that doctors misdiagnosed as death, and "scream" expressions on some of the mummified faces prove that they were buried alive.
Mummified remains from other places in the world are the result of religious rituals designed to preserve the cadavers, or result from conditions such as extreme dryness, cold, alkalinity, isolation from the elements or from microorganisms. However, the Guanajuato mummies are unique because they did not undergo any process of preservation or embalming, and the cause of their state of mummification is a mystery that is still being studied today.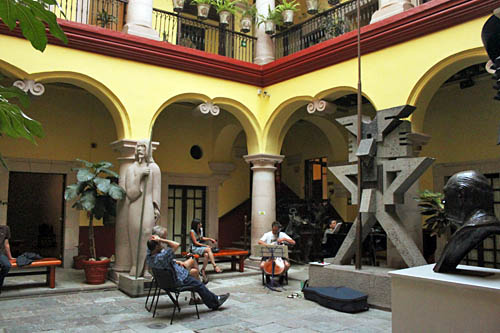 The Iconographic Museum of Don Quijote, dedicated to one the great literary figures of all time, Don Quijote de la Mancha, has a massive collection of paintings, sculptures and tapestries that were inspired by the figure of Quijote and his faithful sidekick, Sancho Panza, including works by Salvador Dalí, Pablo Picasso, and Mario Orozco Rivera, among others. The museum was spawned by the Festival Internacional Cervantino, an event named in honor of the book's author, Miguel de Cervantes Saavedra, which brings together artists of diverse cultural and artistic disciplines in October of each year and has become one of the most important cultural events in Mexico and throughout Latin America.
In between visiting Guanajuato museums, I delighted in the fancy footwork to be found around town. Although they are big business in Mexico, I'm not talking about shoes. From a quick-stepping Mariachi band performing for diners in Jardin de la Union to open-air ballroom dancing in Plaza San Fernando, Guanajuato is one very cultural and very fun city!
But as much as I have fallen in love with this exquisite, fun, friendly city, I know I must soon hit the road again. There is so much more of Mexico to see and so little time.