From the top of San Miguel Hill, the massive stone monument to Juan José de los Reyes Martínez Amaro gazes serenely over the valley that cradles Guanajuato, Mexico, but back in 1810 this uneducated miner was bent on revenge. Martinez was known by the nickname Pipila, which some claim was a reference to a deformity that caused him to walk like a hen turkey and others say referred to his pockmarked face, which resembled a mottled turkey egg. Further exposing himself to ridicule from his fellow workers, Martinez protected himself from falling debris by wearing a long, flat slab of rock on his back when working inside the mine, but events would soon conspire to turn this transform this simple worker into a hero.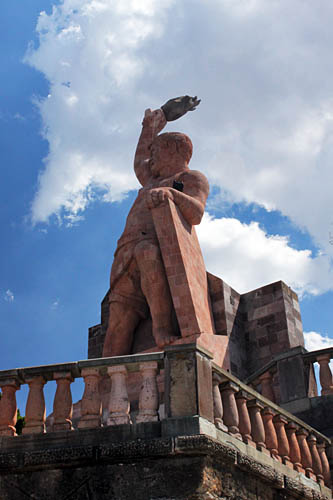 By September 28, 1810, independence sentiments had reached fever pitch in Guanajuato. Incited by the rhetoric of Miguel Hidalgo, a priest from the nearby town of Dolores Hidalgo, Mexicans and indigenous Indians attacked the Spaniards. The Governor, the soldiers under his command, and Spanish civilians living in the city gathered all the riches they could carry and barricaded themselves inside the Alhondiga de Granaditas, a stone granary thought to be invincible.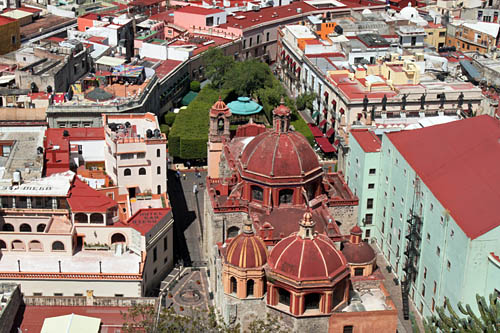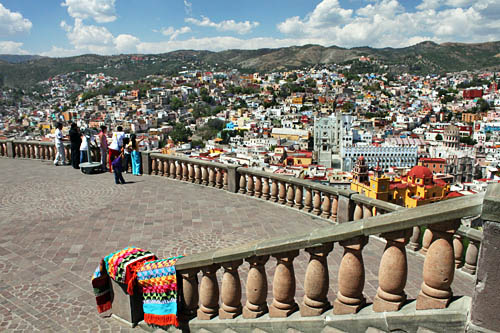 The insurgents attacked but were repulsed by Spanish musketeers firing from their position high atop the grain tower. Just when things were becoming desperate, Pipila donned his stone slab, crawled to the wooden door of the granary, covered it in pitch, and set it on fire. Once the door of the Alhondiga was breached, the outcome was certain, since the locals severely outnumbered the Spaniards. They massacred everyone inside, earning Guanajuato the title of birthplace of Mexican Independence.
Unlike the real Pipila, who is said to have walked hunched over, the stone monument stands tall and thrusts a giant torch into the air. Easily seen from most places in town, its hulk is often used by tourists to orient themselves on the maze of serpentine streets that make up Guanajuato. Several staircases lead from the bottom of the valley to Pipila but the climb is strenuous. Alternatively, a broad boulevard allows access by auto, but by far most interesting way to reach the top is to ride the funicular. Located just behind the triangular park known as Jardin de la Union, this tiny cog railway car provides sweeping panoramic vistas of the valley as it chugs up narrow, almost vertical tracks.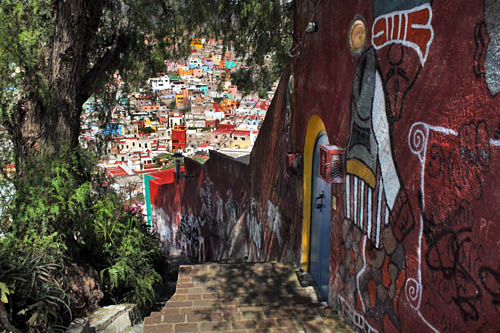 After climbing the stairway inside Pipila and drinking in the view from torch-level, you can return to town by following the terraced stone platforms to one of several winding stone staircases that afford gorgeous views of the valley, framed by old-growth trees and blooming hedges.