By the time all the Semana Santa festivals had finally drawn to a close, I was ready for some quiet time. I boarded a first class Primera Plus bus in Chihuahua and settled back in my plush reclining seat for the ten hour ride to Zacatecas. Whenever I grew tired of watching movies on the overhead TV screens, I stared out my window at mile after mile of desolate desert covered with thirsty bushes and stunted, gnarled trees, marking our progress by distant dusky blue mountains that drew incrementally nearer.
My only concern was whether I would have a place to stay upon arrival. I had been trying to get in touch with Hostal Villa Colonial for the past two days but the contact form on their website wasn't working. Finally, I emailed them directly and hoped for the best; the bus would arrive in Zacatecas at 11 p.m. and I had no way of knowing if the hostal would even be open at that hour.
From the bus station I grabbed a taxi for the short trip to the center of Zacatecas. This was a different world from northern Mexico. Stately colonial era buildings flanked stone-paved streets and despite being nearly midnight, the sidewalks were filled with people. Music drifted through the taxi's open windows: jazz, drumming, rock and Mexican ballads mingled as we slowly carved our way through pedestrian clogged avenues. Directly behind the cathedral, my driver pulled over and pointed to a doorway barely visible for the people standing in front of it. I pushed through the crowd to the front desk, where the manager immediately greeted me: "Barbara you made it. We got your email and we have held our last room for you. It is the top floor, a very nice room, you will like it. Let me show you the way."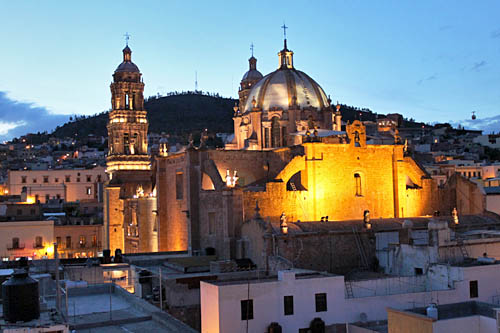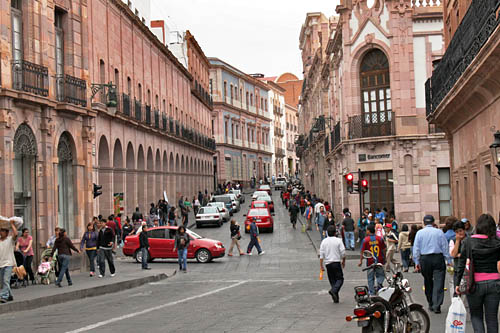 As I trudged up the narrow stairway to the third floor he apologized for the crowds and the noise; every inch of the hostel was crammed with people who were attending the fourth annual Zacatecas Cultural Festival. So much for a few days of quiet. Breathless and exhausted, I threw open the French doors of the penthouse and gazed out over the Centro Historico (historic downtown) of Zacatecas. The Cathedral's floodlit dome dominated my rooftop vista in one direction, while more distant illuminated buildings outlined the hilltop known as La Bufa in the other direction. There was no doubt I was going to like Zacatecas, despite not having my wish for peace and quiet granted. Frankly, I was just grateful to have a bed and bathroom.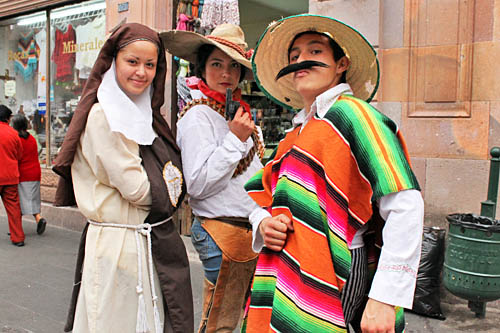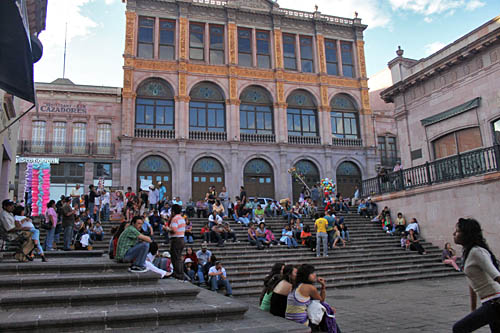 Bright and early the next morning I hit the streets to explore. The colonial center of Zacatecas is a UNESCO World Heritage site that features elaborately decorated buildings, lovely plazas and gardens, cobblestone streets, and wrought-iron lanterns. I wandered the better part of the day, stopping here to listen to a drumming troupe perform in one of the plazas, there to sample sweets from a street vendor, and everywhere to listen to actors in period costumes shouting through bullhorns, trying to entice visitors to join them for a "Legends" walking tour, designed to teach visitors a bit about the culture and history of Zacatecas. After dark, I grabbed a seat on the stone railings at Plazuela Goitia and enjoyed an hour of people-watching.
Can't see the above slide show of my walking tour of Zacatecas, Mexico? Click here.
Already I knew that my three allotted days here would not be enough, but having long ago abandoned my schedule, I was traveling completely without plans or itinerary. I would stay in Zacatecas until I'd had had my fill and then move on to the next place, wherever that may be.